Trouble Town Tour
Jordan Davis
with Hailey Whitters
Jan, 25 @
7:00 pm
( Doors:

7:00 pm

)
Majestic Theatre
All Ages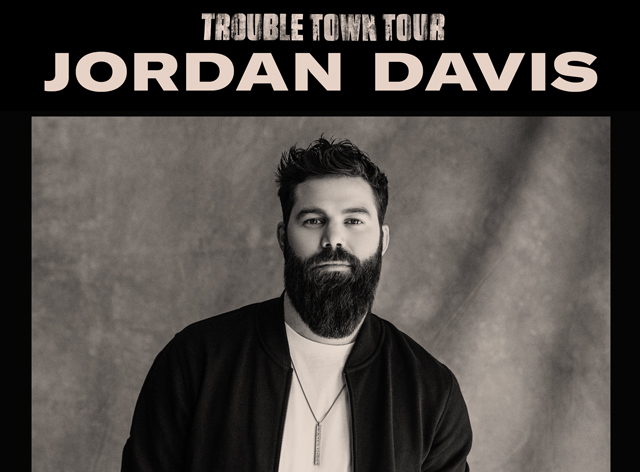 Additional Info
Artists
Jordan Davis
Jordan Davis is a Shreveport-born, Nashville-weathered creative soul with his feet firmly planted in two different eras. The imagery in his songs relies on the same specificity behind such classic, lyrically- driven songwriters as John Prine, Jim Croce and Bob McDill. But the tech-tinged production and silvery phrasing in those same songs embodies the genre-defying musicality of such current acts as Eric Church, Sam Hunt and Lady Antebellum.
Kris Kristofferson would likely brand Jordan a walking contradiction – repurposing a phrase he once applied to Johnny Cash – and Davis would heartily agree.
"The thing that is weird to me is the pure songwriting fan that I am compared to what I love production-wise," Davis notes. "I love these huge, big sounds – big drums, loud guitars – but my favorite show to go to is John Prine or Jason Isbell, you know just standing up there with a guitar. They're seriously opposite ends of the spectrum, but I think that marrying the two, there's a cool way to do it."
Working steadily on his debut album for Universal Music Group Nashville, Davis is welding those two ideals nicely. The jangly, skittering "Singles You Up," the picturesque come-on "So Do I" and the propulsive "Take It From Me" each mix those elements in varying degrees, some leaning heavier on the production, others focused more on the lyrics, but all of them held together by Davis' unique, laidback phrasing. His easy-going nature and focused interpretation of the world around him is easy to identify in those songs, the same way that Jim Croce's personality came through in some of the music that influenced him.
"Those songs take on so much more life if you find out how introverted he was," says Davis. "He really just wrote songs because they let him say what he wanted to say. You hear a song like 'I'll Have To Say I Love You In A Song' – that probably was him not knowing how to say it, but he knew he wouldn't screw it up if he sang it. Those songs are awesome."
Davis' appreciation for competing musical ideas harkens back to his upbringing in Shreveport. The Louisiana city is overshadowed nationally by New Orleans, whose jazz and funk culture are the stuff of legend. Just a couple hundred miles to the east of Shreveport is Mississippi, the hotbed of gut-bucket blues, while just over the border to Shreveport's west is East Texas and its deep association with hard country and honky-tonk.
Writing and playing music was a passion that was passed down in the Davis household. His uncle, Stan Paul Davis, wrote two Top 5 titles for Tracy Lawrence in the 1990s – "Today's Lonely Fool" and "Better Man, Better Off" – and his dad often wrote songs as a hobby between taking Jordan and his brother, Jacob, to Shreveport Captains minor league baseball games.
"Music was around so much, it was just part of our everyday life," Jordan says.
In fact, because music was always around, Davis hadn't really thought about it as a career
possibility. He majored in resource conservation at LSU in Baton Rouge and thought he would pursue a job that would protect the world's physical attributes.
"Conserving the beauty of what makes the country so awesome is important," he says. "It's easy to think that it's gonna be here forever, when really we need to take care of it. Louisiana's losing land as it is – you know, the state's disappearing year by year – so it's definitely a passion of mine."
But so was music. After his graduation from LSU, Jordan got an entry-level environmental job, but he spent plenty of time dreaming of Nashville, where his older brother had already moved to become a songwriter. Jordan periodically sent unfinished songs to his brother, and when Jacob played one for a music executive, he urged Jordan to come to Music City.
It was not an easy process for Jordan. He struggled to find people to write with and instead, he tended bar regularly at Ellendale's – a Southern restaurant in Nashville's Donelson neighborhood. He continued to hone his songwriting craft on his own; the songs were unusual, mixing his long-running affinity for classic singer/songwriters and modern country radio. Davis heard repeatedly that he was the only person who could perform them and make them work.
His decision eventually paid off and after receiving a publishing deal in June 2015, UMG Nashville announced on Leap Day 2016 that the company had signed him to a recording contract. Paul DiGiovanni – a Boys Like Girls guitarist who's worked with Blake Shelton, Hunter Hayes and Dan + Shay – quickly became one of Davis' regular co-writers and his producer. "Paul would build a demo and have it done in a day, and you couldn't listen to it enough," Davis says.
DiGiovanni helped capture the anthemic quality in "Take It From Me" and the party attitude in "Singles You Up," but also built an appropriately slinky frame for Davis' conversational "So Do I." Their working relationship is an ideal pairing, as Davis adjusts to his new creative world. As solid a place as music has held in his life, it's been only a couple years since he started thinking of himself as an artist as well as a songwriter.
"Still to this day, I could tell you who wrote the song before I could tell you who cut it," he says.
Being an artist means rethinking his creative soul just a bit. It's one thing to write a story song to play in a coffee shop, but it's another to generate the kind of big-sounding piece that resonates with an arena full of people. Davis is up for the challenge.
"Marrying the two is tough because I've never until recently had to think about writing a song and how it's gonna go over live," he says. "That's a completely new thing that's come into my writing."
But he's seen plenty of signs that he's making the transition. Few were as obvious as when he played an afternoon set at the start of a New Year's Eve bash in Jacksonville, Florida. Four guys traipsed across the lawn with beers in hand during the show, and as he sang, Davis watched them stop and huddle, then wander up to the front of the stage, where they remained fully engaged for the rest of the set. Clearly, he had won them over.
"They could have easily kept going," he says. "That was a brand new song, it was the first time we had ever played it live, and it caught 'em and brought 'em back. That's the kind of connection I try to make."
With a creative foot in two places, Davis is well positioned to make a long-term connection. His songs are so musically engaging that they easily attract attention. But they're also deep enough to hold a listener through repeated exposure. Some of that is accomplished through the sense of physical place woven into his stories. From the street performers and moss hanging from the trees establishing the humid heartbreak of "Leaving New Orleans," to the painted white lines and late night security cop transporting the listener to a concrete ballroom in "Slow Dance In A Parking Lot." Jordan Davis has a unique ability to create a sense of place in his songs with his knack for relentless hooks and subtly smart lyrics
By melding classic lyric-writing with modern musical texture, Davis is similarly staking out his own spot on the creative map. The cool melodies and understated delivery bring you in. The soul in his characters keep you in place. In Jordan Davis' place.
Hailey Whitters
Hailey Whitters was closing in on her first decade in Nashville, that mythologized milestone when artists are supposed to finally start reaping the fruits of their labor. But despite 10 years of hard work, the singer-songwriter still hadn't had her breakout moment and, fed up with pushing the boulder uphill, she took a step back to reassess.
"I hit my 'fuck it' point," says Hailey. I felt like I was watering myself down to try and fit in with what this town was doing, and I was looking for Nashville to define my happiness. When I quit doing that I was able to dig into why I am on this journey in the first place: to create music that I love on my own terms. And that's when I wrote 'Ten Year Town.'"
At that moment, the native of Shueyville, Iowa, matured into the artist she was supposed to be: a probing, fearless songwriter who is more concerned with the busted and broken way things are than the pretty and polished way things are painted to be.
"Everything is so glossy and so perfect in society," she says, "especially for women, who are getting fillers and changing our face shape. Every single thing is so tweaked to perfection that it's boring. I'm craving something that is raw, real and imperfect."
She addresses all of that in "Ten Year Town," the song that at long last identified Hailey as one of Nashville's elite songwriters and artists. Written with Grammy nominee Brandy Clark, the ballad takes a stark look at what happens when life doesn't work out as planned and how rejection can ultimately lead to empowerment. "I didn't come this far, to only go this far," sings Hailey.
While it's a song of frustration laid bare, Hailey isn't bitter or jaded. Rather, she's encouraged and inspired — "This next song could turn it all around" goes the final verse of "Ten Year Town" — looking ahead to the release of her new album The Dream, a project that she's splitting up into two acts. The first half, titled "The Days," looks at where she came from, while the second part, also called "The Dream," explores where she's going.
"This is the first record that feels 100 percent me. It's a time capsule of my time in Nashville and coming to terms with dreams and what they mean to you," says Hailey, who fully funded the project herself. Along with waiting tables, she sold a guitar and dipped into her savings, money that she had made from touring and stashed away. She also leaned heavily on royalties she received from writing songs for other artists, like Alan Jackson, Martina McBride and Little Big Town, who cut her "Happy People." (Hailey's ebullient version appears on "The Dream.") With money secured, she turned to BMG's Jake Gear to produce the album and Logan Matheny to engineer and mix.
Taken as a whole, The Dream is a collection of 12 tracks, all but two — renditions of Chris Stapleton's "The Devil Always Made Me Think Twice" and Brent Cobb's "Loose Strings" — written by Hailey and a roster of A-list women collaborators including Lori McKenna, Hillary Lindsey, Nicolle Galyon and Brandy Clark. She sings of getting day drunk to medicate a heartbreak in "Red, Wine & Blue"; taps into an Eighties Jackson Browne vibe on the marvelous "Dream, Girl"; and romanticizes her Midwest upbringing in the swooning "Heartland." Elsewhere, she inhabits a tough but secretly vulnerable character in "All the Cool Girls"; laments the worst kind of person to date in "The Faker"; and shares second-hand life lessons in the stunning "Janice at the Hotel Bar," written with McKenna.
"Janice at the Hotel Bar" ties the entire album together, mixing bits of Hailey's family wisdom (her grandmother was a font of advice, like "Have a glass of red a day") with the nuggets of the titular Janice ("Vodka over dessert because sugar goes straight to your hips"), a real-life 80-something woman who preached her worldview to a friend of McKenna's.
"I said to Lori, 'Let's write a song about the things that a mother would tell her daughter as she went through life,'" says Hailey. "I've been dying to have a story song and I love that ours is about a woman speaking to another woman."
Growing up, Hailey often found herself paying attention to influential women — not just in her family, but also on the radio. The Dixie Chicks, Shania Twain, Alanis Morissette, Pink and Gillian Welch all helped shape her songwriting. Instead of superficial party songs, Hailey was compelled to dig deeper, writing about personal yet relatable topics on the guitar she received when she was just 14.
Back then, she too was dreaming of being on the radio, riding around on a tour bus and performing for thousands of fans. But after hitting that "fuck it" point, Hailey's dream changed. Today, she's fulfilled simply by writing songs and lyrics in which everyone can find themselves. She's committed to making country music in the 21st century accessible to all listeners.
"Everyone should have a place in a country song," she says. "I'd like to bring open-mindedness and inclusion to the genre."
Hailey is also committed to restoring a sense of perspective with The Dream, the follow-up to 2015's Black Sheep. "I feel like there's a very shallow amount of life experience right now in country songs. But country music has always been about real life and transparency, and inviting listeners to come in and share these experiences."
In "Living the Dream," the album's last song, she poses a powerful rhetorical question: "Aren't we all down here living the dream?"
"We get so consumed with the next achievement and accomplishment that sometimes you forget that you're living right now. And that's what I want listeners to take away from this album and its two parts," Hailey says. "Be happy where you are in the present moment — because your dreams have to be worth it."
For Hailey Whitters, The Dream is right now.