Black Iris Presents
Black Christmas 2019
with The Suicide Machines, Esham, Anti-Flag, Mustard Plug, Koffin Kats, Death Before Dishonor, & More!
Dec, 21 @
6:00 pm
( Doors:

6:00 pm

)
Majestic Theatre
All Ages
Early Bird / $30 Adv./ $35 DOS
All Ages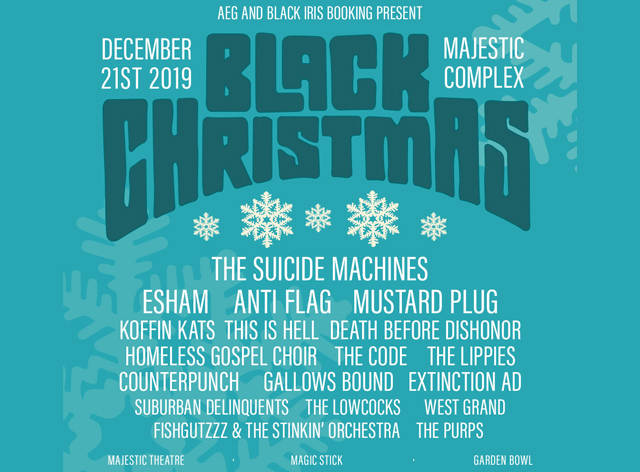 Additional Info
Full Line Up:
The Suicide Machines
Esham
Anti Flag
Mustard Plug
Koffin Kats
Death Before Dishonor
Homeless Gospel Choir
The Code
The Lippies
Counterpunch
Gallows Bound
Extinction AD
Suburban Delinquents
The Lowcocks
West Grand
Fishgutzzz & the stinkin' orchestra
The Purps
Artists
The Suicide Machines
Although many mistake alterna-ska punkers the Suicide Machines as being from California, where most of the genre's bands come from, they're in fact Detroit natives. Starting off in the early '90s, the quartet was founded by Jason Navarro (vocals) and Dan Lukacinsky (guitar/vocals), who saw some members come and go before recording their first demo in 1993 with Derek Grant on drums and Jason Brake on bass. The Suicide Machines did their first national dates the following year and by late 1994 Royce Nunley (bass/vocals) had entered the fray. A full national tour with Buck-O-Nine came next, and the guys soon signed a deal with Hollywood Records, releasing their major-label debut, Destruction by Definition, in 1996. The album received rave reviews from several publications, including Alternative Press, which named it one of the best American pop albums of that year; due to repeated touring, it sold 200,000 copies and was number 15 on Soundscan's ranking of 1997's best-selling alternative releases. Returning to the studio for their second album, the band spent more time strengthening their sound and songwriting. When Battle Hymns appeared in mid-1998, it was apparent that the hard work paid off -- it was an improvement over the debut. Drummer Erin Pitman, who had joined on earlier in 1998, left the band during this time, allowing Ryan Vandeberghe to step in. (Grant later went on to play with Thoughts of Ionesco and Alkaline Trio.) The Suicide Machines' self-titled third LP followed in early 2000. "Killing Blow," from the band's 2001 release Steal This Record, was another favorite among the punk crowd, but changes within the band were happening. Bassist Royce Nunley opted for a change, leaving the Suicide Machines in March 2002 and starting Blueprint 76. The rowdy retrospective The Least Worst of the Suicide Machines: 1995-2001 appeared in fall 2002. Their deal with Hollywood quickly fizzled before the year's end, but it wasn't a missed opportunity. The Suicide Machines signed with the indie imprint Side One Dummy months later and released A Match and Some Gasoline in June. (By this point Rich Tschirhart had been installed as Nunley's replacement.) The band also prepped for their sixth appearance on the annual Vans Warped Tour later that summer. Refreshed by the response to A Match and happy with their Side One Dummy deal, the Suicide Machines returned once again with 2005's War Profiteering Is Killing Us All. The album's release was accompanied by a triumphant homecoming gig at the Detroit stop of Warped, their only appearance on the tour that summer. The Machines then embarked on an extensive tour with Boston punk revivalists Lost City Angels in support. In spite of the positive response to the ferocity of War Profiteering, by May 2006 the guys had officially called it quits. ~ Greg Prato, Rovi
Anti-Flag
Anti-Flag is a political punk band, which is obvious from their name
alone. But over the course of 12 albums across more than 25 years
together, they've rarely set their sights on singular individuals in
songs. Unlike their punk predecessors in the 80s, who made targets of
Reagan and his cronies, Anti-Flag has always opted not to date their
work with current references, instead focusing on fighting ongoing
oppression and dismantling deeply rooted systems of injustice. But on
their new album, 20/20 Vision, the band is drawing a big, fat line in
the sand.

"We have actively chosen to not attack Presidents directly, either
with album art or songs about certain times in history, because we
recognize that the issues we're dealing with are cyclical," says
bassist Chris #2. "But this record in particular, we kind of said,
well fuck that, we need to be on the record in opposition to the
policies of Donald Trump and Mike Pence."

"This record is a warning to people holding neofascist ideas or people
who are enabling these types of positions, whether you're outright
racist or you're enabling racism or sexism or homophobia or
transphobia," adds guitarist Justin Sane. "You need to make a choice
at this point. What we've seen with this White House is that there's
no grey area anymore."


Produced by From First to Last's Matt Good, 20/20 Vision (Spinefarm
Records, January 17, 2020) kicks off with a soundbite of Donald Trump
speaking at a rally. And while just about anything the man has said
over the last few years would make for a fitting sample on a punk
record, Anti-Flag were deliberate in their choice. "In the good old
days, this doesn't happen, because they used to treat them very, very
rough," Trump is heard saying over the opening track, "Hate Conquers
All." "And when they protested once, they would not do it again so
easily."

"What I found compelling about that particular Trump sample is that
it's the quintessential move that he pulls, which is: Say the thing
into the world early, so that when it happens later, people are
already accustomed to it," says #2, who believes that dissenters like
journalists, protestors, and punk bands are not far down on the list
of those who will eventually be rounded up and detained. "We've always
cautioned that if you're not standing up for the most marginalized and
the most oppressed then you're not truly free."

"Hate Conquers All" seeks to dissect the lexicon we use around racism
to hold ourselves more accountable. "The song is a kneejerk reaction
to the idea of Love Trumps Hate and this idea that love can beat back
hatred," notes #2. "That equates racism with hatred. That's a false
equivalence of what the language should be. If you're racist, you're
racist. You don't just hate people. It should be considered a much
more vile term."

Later on the album, "Christian Nationalist" calls out those hiding
behind religious zealotry to mask their neofacism, and the chorus
makes it clear that these people will be held accountable: "We all
know who you are!"

"When you listen to David Duke talk, you're listening to Donald Trump
talk," Sane says of the track. "These people hide behind the veneer of
suits or speaking well and the various ways in which they hide their
bigotry, but the reality is that they're just as bad as the fascists
in the 1930s or the segregationists in America.

"I'm not saying doxxing is OK, but I think it is important to let a
community know that their neighbor is a racist who was chanting, 'Jews
will not replace us!' There has to be accountability."

On 20/20 Vision's title track, the band takes a deliberately poppy
approach to grappling with a tough pill they've had to swallow
recently: Seeing elements of the framework that punk bands like
Anti-Flag have established over the last couple of decades as it is
coopted and used as talking points by the alt-right.


"The roadmap that we created in the 90s, of alternative media and
forms of communicating, was a left-wing strategy to bring truth to
power," says drummer Pat Thetic. "The right wing has very effectively
taken all those skills we learned in the 80s and 90s and turned them
against the left. That's been a challenging thing for us, to see the
strategies that we grew up with being used against us in such an
effective way."


And while the newscycle moves faster than ever before, 20/20 Vision
aims to take a step back and stare down the most pressing problems of
our time: kids in cages, the fentanyl crisis, rolling back EPA
restrictions. It's a record that at once feels both timely and forward
thinking. 20/20 Vision is a work that Anti-Flag hopes will serve as an
immediate form of communication with those who are politically engaged
as well as a document of our modern times for a future generation.


As #2 puts it: "We hope that when someone trips over this record in
the sand of the post apocalypse, they'll know that there were people
who once stood in opposition to all of this."

Mustard Plug
"What is in a name?" The members of Mustard Plug must have considered this when they casually came up with the title of what seemed at the time to be a short-lived distraction. While also considering the equally ridiculous "Wanker Daddies," "Shrinky Dinks," and "Cookie Puss," it was the title "Mustard Plug" that was chosen as the masthead to carry forth in the band's crusade to bring ska-punk to their humble abode of Grand Rapids, Michigan. Twenty years, 1500 shows and 200,000 album sales later, it can not be denied that the band has surpassed all expectations and permanently staked their claim in contemporary music.
Mustard Plug started out in the punk clubs, basements and dive bars of the Midwest, playing punk influenced ska music during a time most people in the U.S. had never even heard of ska. They clung to a DIY work ethic that had been ingrained in them from growing up in the 1980's hardcore punk scene and applied it to everything they'd do for the next 20 years. They released their first cassette tape themselves (1992's Skapocalypse Now!), and played constantly to earn enough money to record their first cd. 1994's Big Daddy Mulititude was released on legendary NYC label Moon Records and with their new found national distribution and exposure, the band climbed into their van and performed their music to new fans across North America.
In 1996 the band went to the Blasting Room in Ft. Collins, Colorado to record their second cd with their hero, punk legend Bill Stevenson, who at that time had been mainly known as the drummer for the Descendents and Black Flag. This album, Evildoers Beware, was quickly picked up by the then up and coming L.A. punk label, Hopeless Records, and released just as ska-punk music was finally gaining mainstream exposure in the U.S. Evildoers Beware exposed the band to a broader fan base, outside their midwest roots and the international ska die-hards who had thus far rallied around the band. The late 90's became a blur as they hit the road, playing 150 shows a year and opening tours for the likes of Face to Face, The Bouncing Souls, Hepcat, MXPX, Less Than Jake, and many more.
In 1997, the band recorded their version of the Verve Pipe's "The Freshmen" for a local radio compilation. Their version infused ska-punk energy in to a top 40 pop classic and immediately got picked up by several large commercial radio stations coast to coast and became a fan favorite.
The band's momentum continued to grow, allowing them to headline tours throughout North American and eventually Europe, Japan, and Brazil, and play to huge crowds at seminal clubs like CBGB's in NYC, the Metro in Chicago, Emo's in Austin and The Whiskey in L.A.
Towards the end of the 90's the band returned to the Blasting Room to record the critically acclaimed Pray For Mojo and continued to hit the road constantly.
At the beginning of the new millennium, the band continued their mission of bringing their music to the masses. Despite ska music's fall from grace, the band returned to their grass roots base and continued to tour. In 2003, they released the ska-punk gem Yellow #5, this time going to Detroit to self produce and record it. In 2004 the band turned the public's perception of ska on it's head by co-headling the initial run of the Ska Is Dead Tour, playing in front of packed concert halls from coast to coast.
In 2007, the band returned to the Blasting Room to record In Black and White. The album was hailed by many as a return to form, while creating a modern take on the ska-punk genre. Since then the band has continued to tour internationally and write new songs. Several new singles have been released including split 7 inches with Bomb the Music Industry and Montreal's The Beatdown. During the past year, the band has continued to hit the road, including a tour of Europe that saw them at Belgium's massive Groezrock Festival and conquering the 1500th show benchmark in the U.S. The band continues to write songs for an upcoming album.
As Mustard Plug looks back over their twenty years of relentless touring and recording, they are proud of their accomplishments and see no reason to slow down.
Koffin Kats
Fusing the swing of classic rockabilly with the hot-wired energy and ghoulish imagery of the Misfits, Detroit's the Koffin Kats prove that high-octane psychobilly is still alive and kicking in the American Midwest. The Koffin Kats were formed in 2003 by lead singer and upright bassist Vic Victor and guitarist/vocalist Tommy Koffin, who had been part of the Motor City punk scene for some time before trying their hands at the doom-struck twang of their punk-rockabilly fusion. The band has had a number of drummers come and go over the years, with Damian Detroit having the longest run (from 2003 to 2005); E-Ball Walls, who played with the Kats for a spell in 2003, rejoined the lineup in 2007. The trio released their first album, simply titled The Koffin Kats, in 2004, and hit the road in support of the record. Since then, the Koffin Kats have maintained a busy tour schedule, frequently gigging on the West Coast as well as closer to home, and have released two more long-players, 2005's Inhumane and 2006's Straying from the Pack. ~ Mark Deming, Rovi
Death Before Dishonor
Forget what you think you know about Boston Hardcore.
Beyond the stereotype of "beatdowns", the "tough guy" exterior, the simplistic "chugga chugga" riffage, and so much more than just a mosh pit is one of the hardest working bands in hardcore: Death Before Dishonor. The band has been with Bridge Nine longer than anyone on the roster, making September 2014 a full decade with three full-lengths (one getting an expanded reissue as well), two EPs and one split on the label.