AEG Presents
Raphael Saadiq
with Jimmy Lee Tour, Jamila Woods, DJ Duggz
Feb, 18 @
7:00 pm
( Doors:

7:00 pm

)
Majestic Theatre
All Ages
$35 Adv./ $38 Day of/ VIP
All Ages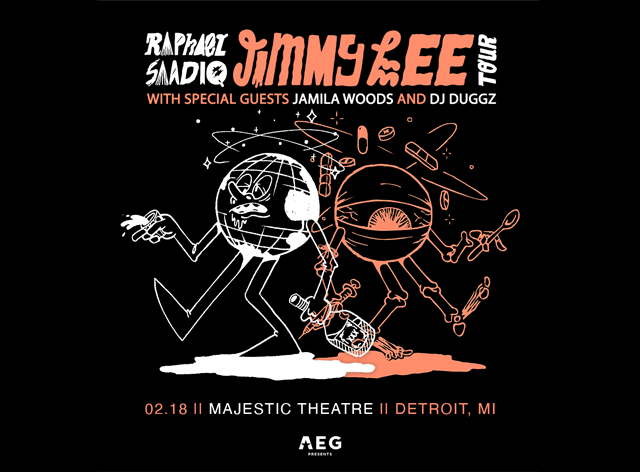 Additional Info
Moved from Royal Oak Music Theatre - All Tickets Honored
Raphael Saadiq - Meet & Greet Experience
General admission ticket
VIP early entry in to the venue
Meet & greet with Raphael Saadiq
On-stage Group photo opportunity
Private, pre-show soundcheck performance
Limited-edition tour poster signed by Raphael Saadiq
Exclusive merchandise item
Merchandise shopping opportunity before general doors
On-site experience host
Raphael Saadiq - Soundcheck Experience
General admission ticket
VIP early entry in to the venue
Private, pre-show soundcheck performance
Limited-edition tour poster signed by Raphael Saadiq
Exclusive merchandise item
Merchandise shopping opportunity before general doors
On-site experience host
Artists
Raphael Saadiq
Raphael Saadiq is a Grammy Award-winning musician, songwriter and go-to collaborator/producer for some of the biggest names in R&B. Solange Knowles, John Legend, Mary J. Blige, D'Angelo, Ne-Yo and Miguel are among the many artists who turn to Saadiq for his deep musicality, contemporary creative vision and encyclopedic knowledge of timeless pop music.
Born in Oakland CA, Raphael grew up singing gospel music in the church and started playing bass guitar at the age of six. On the strength of the musical and stage training he received at Castlemont High School, Saadiq auditioned for Sheila E and landed a spot in her band which supported Prince on his 1986 Parade world tour.
After honing his chops on the road, Saadiq returned to Oakland and formed the group Tony! Toni! Toné! with his brother D'Wayne Wiggins and cousin Timothy Riley. The trio went on to enjoy considerable success on radio and MTV in the late '80s and early '90s, racking up several hits including "If I Had No Loot," "Feels Good," "Anniversary" and the iconic "It Never Rains (In Southern California)."
Following four albums with Tony! Toni! Toné!, Saadiq formed the urban supergroup Lucy Pearl in 1999 along with Ali Shaheed Muhammad from A Tribe Called Quest and Dawn Robinson from En Vogue, yielding Dance Tonight. His solo career kicked off with 2002's Instant Vintage and 2004's Ray Ray. Critics began taking special notice with the release of his 2008 homage to Motown and Philly soul, The Way I See It, and its follow-up, Stone Rollin' (2011), which landed on many year-end Top Ten best albums lists. Consequence of Sound spoke for many critics in their review, writing, "Saadiq [is] a true soul master" who "revitalizes the...genre by taking nearly every step he can to create an almost flawless record." Saadiq's on-stage performances garner equal praise. NPR called his SXSW appearance in support of Stone Rollin' "a full-blown soul revue.... When a guy this cool exerts this much effort, it's a joy to behold."
While his solo career thrived, Saadiq honed his craft as a producer, working with a wide range of artists, including Snoop Dogg, Little Dragon, Erykah Badu and Stevie Wonder. He remains a true musician's musician, with Justin Timberlake, Elton John, Mick Jagger and Lady Gaga among the many superstars who tapped him to play bass or guitar on high-profile projects, including Gaga's memorable David Bowie tribute at the 2016 Grammy Awards. He co-wrote career-defining hits for D'Angelo ("Untitled (How Does It Feel)") and Solange ("Cranes in the Sky"), and his compositions have been covered, sampled or referenced by everyone from Ed Sheeran to Drake.
In 2012, Saadiq was named to Time magazine's 100 Most Influential People list and in 2017, he received an Academy Award nomination in the category of Best Original Song for "Mighty River" from the film Mudbound, which he co-wrote with Mary J. Blige. On television, Saadiq is the composer in residence for Isa Rae's hit HBO show Insecure. His highly anticipated next solo album, Jimmy Lee, is scheduled for release in August 2019.
Jamila Woods
Jamila Woods' cultural lineage–from her love of Lucille Clifton's poetry to cherished letters from her grandmother to the infectious late 80s post-punk of The Cure–structure the progressive, delicate and minimalist soul of HEAVN, her debut solo album released in the summer of 2016 on Closed Sessions. "It's like a collage process," she says. "It's very enjoyable to me to take something I love and mold it into something new." A frequent guest vocalist in the hip-hop, jazz and soul world, Jamila has emerged as a once-in-a-generation voice on her soul-stirring debut.
Born and raised on the Southside of Chicago, Woods grew up in a family of music lovers. It took a surprise poetry class with a high school arts program for Jamila to finally find her metaphorical and literal voice. "Through poetry, I realized you are the expert of your own experience," she says. Her poetry studies continued in college and in her professional career with Young Chicago Authors.
Music–like poetry– is personal. "It became a way to stop hiding, to actually be the most honest with myself through writing," she says. "It helps me check in with myself." And that honesty translated to HEAVN, an album she describes as a collection of, "nontraditional love songs pushing the idea of what makes a love song." You'll find the bits and pieces of her past and present that make Jamila: family, the city of Chicago, self-care, and the black women she calls friends.
Jamila is an artist of substance creating music crafted with a sturdy foundation of her passions and influences. True and pure in its construction and execution, her music is the best representation of Jamila herself: strong in her roots, confident in her ideas, and attuned to the people, places and things shaping her world.