AEG & React Present
DROELOE
with TASKA BLACK, Quiet Bison
Mar, 7 @
8:00 pm
( Doors:

8:00 pm

)
Majestic Theatre
Ages 16 and Up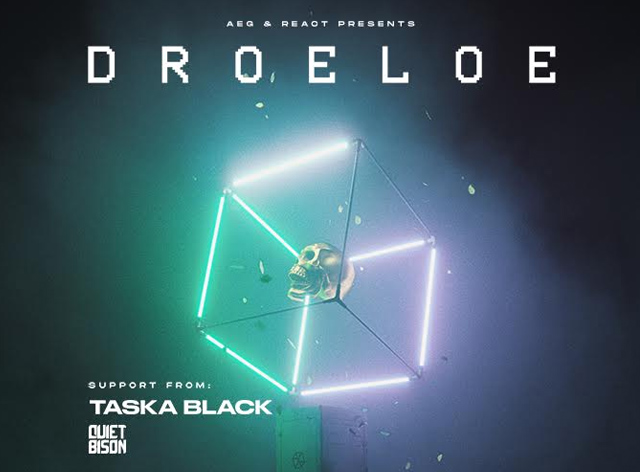 Additional Info
Artists
DROELOE
It's still strange to most. A new act bursting onto the scene, amassing hundreds of thousands of plays in the blink of an eye. They'll soon have fans screaming their names at shows around the globe. This is how electronic music superheroes are born.
Hailing from The Netherlands and branded with their signature skull, Dutch-duo DROELOE have taken the 'future bass' scene by storm. What began with a SoundCloud account–where they uploaded their own music and curated their favorite releases in their "Pokoe Pack" mixes–soon developed a reputation for creating impeccable percussion-heavy future bass infused with the catchiest melodies.
Comprised of producer Vincent Rooijers and visual designer Hein Hamers, the duo's emphasis of both the music and the visuals through both members' strengths has seen them weave intricate stories through both the music and the visuals.
Early 2016 they caught the ear of San Holo, who brought them aboard his bitbird imprint, teaming up for a string of successful single releases. "Make My Day" accumulated over half a million SoundCloud streams, but it was follow-up single "ZzZ" which hit #1 on the Hype Machine where the duo really made their mark. Tastemakers across the industry, including Martin Garrix, Mr Suicide Sheep, Majestic Casual, Trap Nation, and CloudKid all supporting.
Since then, the duo has gone on to put together a string of successful official remixes for bitbird, NEST HQ, and Atlantic which have all placed within the Top 10 of the Hype Machine charts. Their official remix of "We Don't Talk Anymore" by Charlie Puth and Selena Gomez' has 15 million Spotify streams and was premiered via Billboard. They followed this with the release of "Shibuya" on Elysian, which solidified their position in the bass realm.
DROELOE returned to their bitbird label home where they released "Wake the Warrior" which quickly amassed over 500,000 SoundCloud streams revealing a stunning self-directed music videofor the single which showcased the duo's creativity imagined in a hyper realistic visual perspective.
They followed up with Monstercat label debut "Bon Voyage" on November 7th which has since accumulated over 1 million streams across all platforms and a feature in the Best of Monstercat – 2016 compilation album once again cementing their growing reputation in the digital world. The release of the single was highlighted by a viral teaser campaign which featured the duo "hacking" into the Monstercat website, publicly defacing the Monstercat artist roster, and leaving encrypted messages within the code. When decoded, the messages revealed several altered previews of the song paired with stunning animations that revealed slightly more about the release with each video.
2017 saw them kick off the new year with another Hype Machine #1 and a Lowly Palace debut with "In Time." Once again, the duo showed off their visual prowess and knack for creating engaging visual content by digitally animating the shapes and textures within the single's artwork to bring the song's story to life.
With all of the hype building up, the duo debuted their first ever tour joining San Holo on the road through March across the United States. The experience on the road would prove a boon to both artists with some of the best works in their young careers coming following their travels.
April 2017 saw the duo return to their storytelling style of music with cinematic release "See Through Me" that once again topped the Hype Machine charts and quickly became a fan favourite closing in on 800,000 Spotify streams in under two months.
They also took their partnership with long-time mentor San Holo one step further teaming up for "Lines of the Broken" their biggest hit to date on bitbird. The single took the bass music world by storm crossing 1 million streams on both SoundCloud and Spotify in under a month. Once again, DROELOE showed off their aptitude for visual content by creating a 80's styled VHS lyric-video documenting their experiences on the road with San Holo.
With their current trajectory indicating future stardom, one might say the question isn't "will it happen?" but rather "when?".
TASKA BLACK
Breaking into the scene fresh with poignant electronic sound is 21-year-old Antwerp based producer Taska Black. His rare style utilizes an organic warmth in cohesion with raw heart-pumping melodies. By meshing his classical background with pulsating bass music styles, Taska Black continuously challenges the formulaic trends of electronic music today with his forward-thinking approach.
Taska Black's first taste of music began at a very young age with the introduction of the violin and piano lessons at only 4 years old. Initially dreading these classes and the structure of a musical education, Taska Black soon found that improvisation was what kept his inspiration and drive alive.
The producer continued to experiment with this improvisation and dropping the prioritization of rules and standards when it came to classical music. Eventually, Taska Black's renegade nature lead to him experimenting with the art of music production through dabbling in various genres.
Breaking rules while remaining true to his inner innovator, Taska Black took the project one step further and began to put his name on the map. Eventually the project took off and started garnering attention in the scene. Taska Black's track "Right Now" caught the interest of San Holo's imprint bitbird, marking a turning point for the young artist's blossoming journey.
That paved the way to a burgeoning partnership between label and artist culminating in his breakout single "Leave Me" which has accumulated over three million streams cross platform and topped the HypeMachine charts. Taska followed that up with a powerful remix for San Holo's single "Light" that was featured in Spotify's flagship New Music Friday playlist crossing 700,000 streams on the platform in just half a year.
Since his introduction in the electronic scene, Taska Black has found the support from YouTube music channels Trap City, CloudKid, and Trap Nation. His unique sound has amassed support from big names including San Holo, Zeds Dead, Alison Wonderland,and Marshmello. As Taska Black's recognition grows, it's best to keep your eye on the producer, as each coming single unveils further experimentation with the marriage of contemporary sounds in a classic demeanour.
Quiet Bison
At only 18 years old Portland-native Quinn Brown, creatively known as QUIET BISON, challenges the status quo of contemporary dance music. The 2018 release of his debut EP Trials and Tribulations signaled the genesis of a radically innovative career.
Diving headfirst into the fantastic world of avant-garde production, QUIET BISON is quickly becoming an act to watch. At the heels of his sophomore EP Sequence, the inventive aficionado went on to deliver a NEST HQ MiniMix paralleled by an interview with the media giant. His debut show was a riveting spectacle while he turned heads as the opening act for What So Not, billed alongside A-Trak, Whipped Cream, and Hex Cougar. His official remix for What So Not's single, "We Can Be Friends" was a wicked triumph that ultimately solidified his signature sound.
After landing a spot in Flume's "Hi This Is Flume" playlist, QUIET BISON released his third studio EP NIGHTFALL. Inspired by the symptoms of sundown, the 7-track effort is decorated with complex polyrhythms and comprehensive instrumentals. With a luminously paradoxical discography under his belt, QUIET BISON's polished and mutated sound design is steeped in a razor sharp attention to detail.