AEG Presents
Against Me!
with Baroness
May, 1 @
6:30 pm
( Doors:

6:30 pm

)
Majestic Theatre
All Ages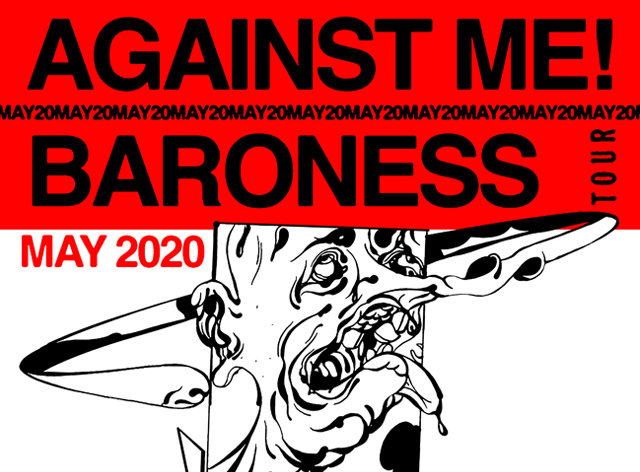 Artists
Against Me!
Four years is a measurement of time that America has used for centuries to indicate change. Presidential terms last four years; high school diplomas and college degrees typically take four years apiece, too. It's not an arbitrary thing, either: It typically takes that much time from the declaration of something changing for it to actually change.

Meet Laura Jane Grace. Four years ago, the Against Me! frontwoman came out as transgender; 18 months later, she released the band's sixth album, the fiery Transgender Dysphoria Blues, one which she began working on before her transition and helped document the struggles she was facing. It was an intensely personal record that took on a life of its own, connecting with thousands of new listeners drawn to Grace's honesty and complexity while still pleasing Against Me!'s dedicated fanbase.

Now, four years after Grace's public reintroduction, Against Me! is ready to release their new album, Shape Shift With Me, September 16 on Total Treble. While much has changed in the lives of Grace and her bandmates—guitarist James Bowman, bassist Inge Johansson and drummer Atom Willard—in that time period, it's clear that those intervening years have done wonders for creativity.

"Everything with Shape Shift With Me has been really about keeping momentum going," she says. "In between every tour we did for Transgender Dysphoria Blues, I would have a couple songs I had written and we would demo them. At the end of two years of touring, we had an album ready to record. Usually, you come off of touring for a record and you're back at square one. But this was so fully formed it felt like there was no choice but to go ahead and record the songs."

Shape Shift With Me has the distinction of the first album Grace has written truly from the heart, with no metaphorical cloaks cast over the lyrics. It's an album about love, that deceptively complex emotion we all struggle with yet has somehow eluded most of Grace's songwriting for the past 20 years.

"Tons of people have written about love. But while love is cliché, it's infinitely relevant. For me, having always been in a punk band that was expected to be political, I never felt like I had that option to write about feelings in that way. That's what I ended up being drawn to this time. It's writing in a way I thought I could never write before, and not giving a shit about expectations."

As such, Shape Shift With Me is a loose concept album about traveling the world and falling in and out of love, with Grace serving as the narrator. But even though she was opening herself up to new songwriting topics, she knew what her mission was from the start.

"Is there a record that is about relationships from a trans perspective?" she asks rhetorically. "There needs to be more records about trans rights and everything like that, but feeling like I already did that, I wanted to move on to write commentary on living from a trans perspective. I wanted to write the transgender response to the Rolling Stones' Exile On Main St., Liz Phair's Exile In Guyville and the Streets' A Grand Don't Come For Free. All those records are relationship records. There's been an infinite amount of records talking about what love means from a cisgender perspective. I wanted to present the trans perspective on sex, love and heartbreak."

With Grace's new motivation came a new outlook on the band, as well. Previous albums found the songwriting process to be a largely solitary experience, but she embraced the spirit of collaboration for Shape Shift With Me—so much so that when Cody Votolato of the Blood Brothers sent her some demos of songs he was working on for another project, she became inspired and ended up co-writing "Boyfriend" and "Norse Truth," two of the album's most memorable tracks, with him.

"It was just about opening up to whatever comes my way karmically," Grace says. "Whatever everyone in the band is willing to offer, I just wanted to be open to it. I didn't want it to be like what it was in the past where it may have felt closed. I want it to be different."

In a career already full of classic punk records, Shape Shift With Me feels like the definitive Against Me! album—it's poppy and catchy ("Rebecca," "Suicide Bomber"), aggressive and in-your-face ("ProVision L-3," "Dead Rats"), sentimental and longing ("Crash," "All This And More"). Moreover, it's the culmination of four years of existence as Laura Jane Grace—there's no going back now, so she might as well embrace it.

"While I've always wanted the moon and the stars, I have a certain amount of humbleness," she admits. "I just want to play shows and make records and write songs. That's what I've always wanted to do. Of course I always want the biggest and best things for those shows and records and songs, but when it comes down to it, I just love doing it. I have no other ambitions or career goals.

"David Bowie put out 27 full-lengths. Prince put out 39 full-lengths," Grace remarks. "That is so inspiring to me—working, creating art, creating records and let everyone else sort it out. That's what I've always wanted to do and that's what I will keep on doing."
Baroness
Gold & Grey
, the last album in Baroness' canon of kaleidoscopic releases, is available today.
The band has simultaneously debuted the video for "Tourniquet", with the Pam Strohm directed clip tying into the album artwork's color palette.
One of rock music's most anticipated releases of the year, the 17-track album is racking up accolade after accolade, with fans and music critics alike raving about the Dave Fridmann (The Flaming Lips, Mogwai) produced collection. Consequence of Sound awarded the album an "A", describing Gold & Grey as "a culmination of all their passion and discipline," while MetalSucks expanded on that idea, saying "It's fitting that the chromatic series that started with the blazing Red Album should close with a deep self-examination like this. Spontaneously melancholy and invigorating, Gold & Grey perfectly encapsulates how Baroness excel at reaching shining peaks and descending into gloomy valleys."
"The idea, initially, was just to do the traditional color wheel, which is six colors," explains Baizley in a forthcoming Revolver cover story. "Orange is the final one on the wheel, so calling it Gold & Grey is our way of circumventing calling our album Orange — that's just not a cool title, so this is as close as we get to it. I've listened to all five [Baroness albums] in a row, and this record feels like it's part of that. And I don't know that the next one won't, but it also feels like 12 years might be long enough chasing one idea."
Baroness make a special full band performance this evening at Brooklyn's Rough Trade as part of a mini-tour of Northeastern U.S. record stores. The band heads to South America later this month, with North American and European tours carrying them through the end of the year.