Black Iris Presents
Every Time I Die
with Guerrilla Warfare, Sanction, SeeYouSpaceCowboy, Vamachara, Typecaste, Crow Killer
Mar, 13 @
6:00 pm
( Doors:

6:00 pm

)
Magic Stick
All Ages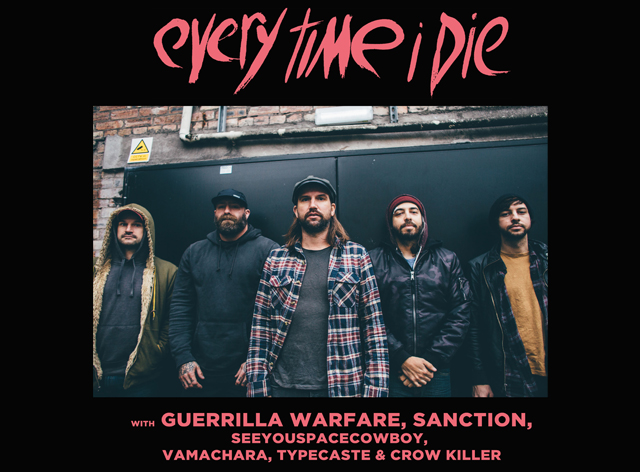 Artists
Every Time I Die
Every Time I Die is a hardcore band from Buffalo, New York, USA, formed in 1998. They have garnered acclaim for their energetic live shows and literary lyrics. They announced in July 2008 that they had left Ferret Music and signed with Epitaph Records. Their eighth and latest studio album Low Teens was released through Epitaph on September 23, 2016.
SeeYouSpaceCowboy
When their perfect band didn't exist, the members of SEEYOUSPACECOWBOY decided to create it themselves.

Combining the MySpace-era grind sound they loved as teenagers with more modern takes on the heavy music genre, the California-based SeeYouSpaceCowboy formed in October 2016 as a self-described "indulgence project" — but have since risen to become one of the most exciting bands in the underground scene's new wave.

They've done so not only through a devastatingly heavy and dextrous hardcore sound, but also razor-sharp lyricism at the hands of frontwoman Connie Sgarbossa. The satirical, tongue-in-cheek and highly political writing of the band's early material earned them the genre tag sasscore, but Sgarbossa bares her soul more explicitly than ever on SeeYouSpaceCowboy's new album, THE CORRELATION BETWEEN ENTRANCE AND EXIT WOUNDS.

Due out Sept. 27, 2019, the record is the band's first collection of brand-new music for Pure Noise Records and comes on the heels of the 2019 compilation album Songs For The Firing Squad.

From its first notes, The Correlation Between Entrance And Exit Wounds is an album that thrives on conflict. It's there in the music itself: the one- and two-minute bursts of blistering hardcore like "Prolonging The Inevitable Forever" and first single "Armed With Their Teeth," which are expertly butted up against cinematic, instrumental pieces to create a truly captivating musical push and pull. These more measured moments not only provide listeners a well-earned respite from the album's punishing pace, but they showcase the mindset of a band unafraid to take left turns in their music.

"Art made by queer individuals has always had boundaries of what you can and can't do," says guitarist Jesse Price. "We always wanted to push past that and not live in any specific world. We didn't want to hide behind cryptic, artsy writing anymore. This record is unapologetically direct."

Dissent permeates every word of Sgarbossa's lyrics. While her work in the past tended to focus more externally – channeling white-hot rage into middle-fingered political salvos – the darkness coloring Sgarbossa's life around the making of the album, including suicide, mental illness and addiction, helped her refocus her voice and begin looking more inward for inspiration. (That's not to say the band's political writing isn't still raising hell. It's impossible to be sentient in 2019 America and not witness the evil unfolding before our eyes, and tracks like "Armed With Their Teeth" are still laced with the kind of toxic-tongued lyricism of the band's past to tackle issues like oppression and mistreatment of minority populations.)

But because of its ambition, The Correlation Between Entrance And Exit Wounds is ultimately the most honest, introspective SeeYouSpaceCowboy music yet: a heartbreaking look at coping with tragedy, as well as the resolve and strength needed to push past sorrow. It gives SeeYouSpaceCowboy an added layer of humanity in an otherwise outwardly hostile genre and marks immense leaps in both musical and personal growth.

"I don't want to be pigeonholed as just another trans woman singing political punk songs," Sgarbossa says defiantly. "A lot of these songs were written from an emotional standpoint and really helped me throw my identity out the window. I hold my values true, but my identity doesn't define who I am. I wanted to show I'm more than that."
Crow Killer
In the late 90's and early 00's the spirit of hardcore was embodied by the themes of sincerity, compassion, activism, awareness, and soul searching. The message of the music was just as important to those creating the music as it was to those listening…oftentimes more so. As time went on, there was a shift away from this way of thinking. Enter Crow Killer from Salt Lake City. While they may be a new entity, Crow Killer serves as conduit for its tenured members with a sound and ideology dating back years. Becoming An Object of Fear serves as an outlet for dealing with the highs and lows that the world has to offer and how to cope with not only these events, but also the feelings that are associated.

Becoming An Object of Fear presents five compositions of stomping metal-tinged hardcore alongside exposed, heartrending lyrics. These songs see Crow Killer matching buzzsaw riffs provided by guitarists Tyler Rhodes and Josh Nemcek with a thundering rhythm section of Elliot McDaniel (bass) and Michael Collins (drums) that recall Obituary at their heaviest. Carefully juxtaposed between the pummeling breakdowns are slow-churning builds and intermittent intervals of calm. Vocalist Blake Foard delivers forth a message of enduring life and all that it throws at you:

"I feel nothing but depression and anxiety / Will these feelings ever go away? / Life wasn't meant to be this way / I'm stuck in this dark hole / Scratching and clawing to get out."

Foard shifts between a Arkangel-esque screams, the heavy bellowing of Martyr AD, and spoken-word moments that recall the best of mid-90's and early 00's metallic hardcore (think New Age Records and Indecision Records catalogs). Everything fuses perfectly on Becoming An Object of Fear, with Crow Killer sounding as though they've just escaped from a time capsule buried two decades prior.