Born Ruffians
with Shondi III Live Performance
Dec, 11 @
9:00 pm
( Doors:

9:00 pm

)
Majestic Theatre
All Ages
Tickets Starting at $15
Online Event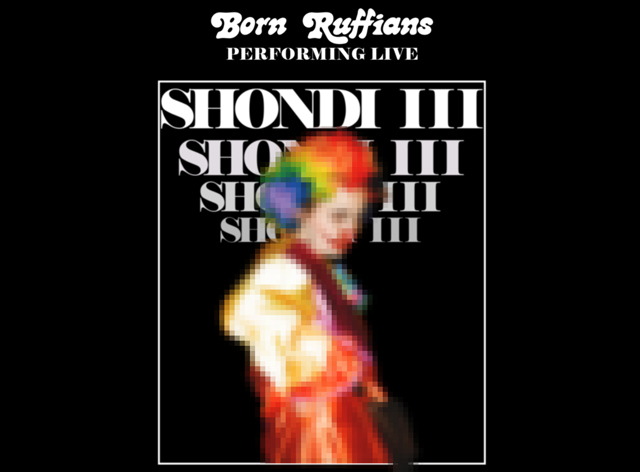 Additional Info
Born Ruffians perform live at the 3rd installment of their Shondi Festoon series.
What is Shondi Festoon? Well OBVIOUSLY it is everybody's favourite and very real and not made up winter holiday, inclusive to anyone and everyone who believes. It's a way to bring people together to celebrate a non-denominational occasion where you still get to participate in traditions that don't make sense. But you still have to be good year round or else the Shondi Clown will come for a visit! Happy Shondi! 🤡🌸💐
Artists
Born Ruffians
Born Ruffians are an indie pop/rock band hailing from the small town of Midland, Ontario. The band formed in 2004 under the name Mornington Drive. The band started making music together in high school (excluding Lloyd, who joined during the release of 2010's Say It), where Mitch and Luke, who are cousins, met Steve Hamelin. They cite bands ranging from The Strokes to Caribou as their influences, and have a ranging sound.

Born Ruffians released their first album under their current name in 2006. The self-titled EP was followed by the 2008 release of "Red, Yellow & Blue". Their sophomore album was critically well received, earning an Independent Music Awards nomination for Pop/Rock Album of the year. In 2010, Born Ruffians released their second full-length album, "Say It".

Shondi III Live Performance