OSEES
with
Dec, 19 @
8:00 pm
( Doors:

8:00 pm

)
Majestic Theatre
All Ages
Tickets start at $3.98
Online Event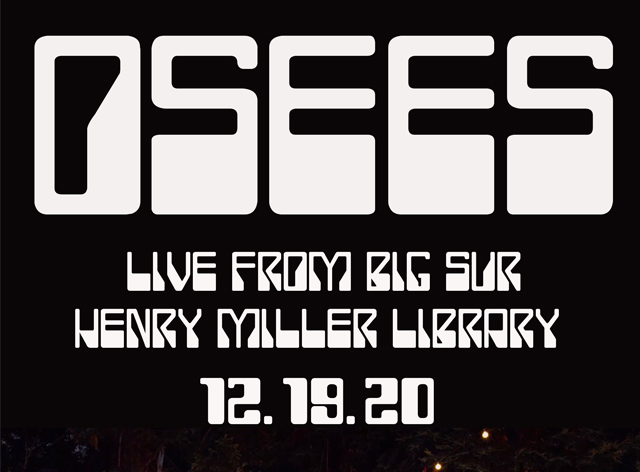 Additional Info
Premieres Saturday, Dec 19th
Presented by Panache & (((folkYEAH!)))
"Happy Holidays folks!
What a fucking year.
If you are alive, congratulations.
You are a hero for that alone.
If you are hopeful, then good on ya.
Without hope we have nothing.
So, without boring you to death (cuz you've made it this far) here is the new Osees stream.
We've dipped deep into the dark waters of our song-sack of holding and found several more never-before-performed-live tunes & paired them up with some oldies we've knocked the dust off of as well as some fan favorites and general surprises to make the merry very. That's right, we've been paying attention. Recorded from dusk till dawn 2 at the gorgeous Henry Miller Library in Big Sur. Same killer crew, similar killer vibes. An enchanting pre-holiday evening to tell you that we miss and love you. Play it loud and have one on us. And keep your chin up for goodness sake." -JPD
Directed by: Brian Lee Hughes
Cinematography: Brandon Kelly
Live Sound: Enrique Tena Padilla
Mixed by: Enrique Tena Padilla & JPD
First Camera: Brandon Kelly
Second Camera: Brian Echon
Edited by: Brandon Kelly
Credits: JPD
Premieres at 5pm PT/ 8pm ET on Dec 19th!
In addition to tickets to the streaming show, you can grab a download of the session, + limited edition full color, hand screened posters, designed and signed by John Dwyer, and t-shirts with art by Joe Roberts, available exclusively as part of the stream. You can also grab a package that includes all that + a copy of the band's new album, Panther Rotate signed by John Dwyer!
BROUGHT TO YOU BY PANACHE & (((folkYEAH!)))
Panache & (((folkYEAH!))) have joined forces during this pandemic to bring you the music you love in a crucial time when we all need to stay positive and forge ahead.
Artists
OSEES
Psych-punk psychic warrior, ear worm-farmer, and possessor of many stamped passport pages John Dwyer does not let up. His group Oh Sees (aka Thee Oh Sees, OCS, The Oh Sees, etc) have transmogrified to fit many a moment - from hushed druggy folk to groovy demonic pop chants to science fictional krautrock expanse and beyond - to suit his omnivorous whims. It's common knowledge however, that at their shows, you're there asking for a beating. 20 years going and the shows keep getting more and more intense, as many a soupy swarm can attest. The locked-in Rincon/Quattrone drum cops propel masses of strangers to froth and lean into each other as the insistent and repetitive underpinning tumbles nimbly from Tim Hellman's bass. Meanwhile John ricochets breathy yips and snippets of synth and all manner of guitar heroics around your brain canyons while your reptile instincts yell "move". Brain-stem body rock meets cerebral expanses, and their now du jour prolifically feeds a labyrinthine garden of well-hewn tunes.
Last year's Orc was a muscular and darkly inventive turn for the group, stretching out further into space while simultaneously sharpening their heaviest inclinations to a rusty point. After a re-visitation of the softer side of the genesis of the group with "Memory of a Cut Off Head", all signs point to another banger on the horizon as the group decamps this March back to the dusty pecan farm where Orc was spawned for another go-round.