AEG Presents
The Fixx
with Fastball
Nov, 10 @
7:00 pm
( Doors:

7:00 pm

)
Majestic Theatre
All Ages
$28 Adv./ $35 Day of
All Ages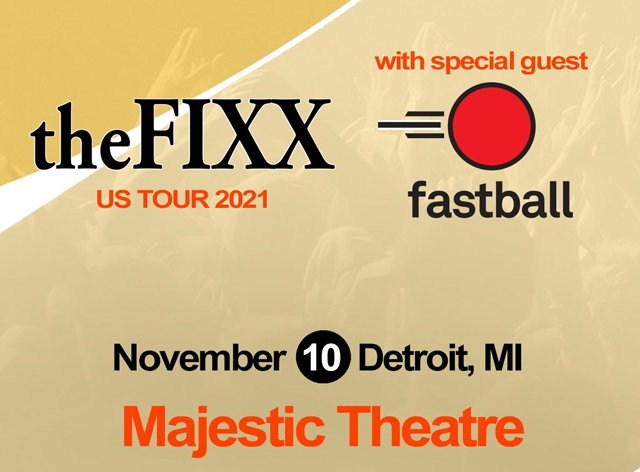 Additional Info
The venue safety protocols required for fans attending events at the Majestic Theatre have changed.

For any event taking place on or after October 1st, you are required to provide proof of full vaccination to enter the venue. Additional information can be found at https://www.aegpresents.com/health-policy/

Update 10/8/21: Due to unforeseen circumstances The English Beat is unable to play the upcoming November 10th show at the Majestic Theatre. FASTBALL will now be joining the bill with The FIXX.

Ticket holders have until 10/18/21 to request a refund. Requests received after 10/18/21 will not qualify for a refund. Please contact boxoffice@majesticdetroit.com with your confirmation number and it will be processed within 30 business days. Refund requests for Garden Bowl box office purchases must be made in person Monday – Friday 11am-6pm.









Artists
The Fixx
The Fixx has been often heralded as one of the most innovative bands to come out of the MTV era. The style and substance of the band has always created a special connection with its audience. The Fixx's themes are often complex, introspective and thought-provoking and it's also been mass appeal with three #1 hits, five in the Top Five, a dozen reaching the Top Ten and millions of albums sold worldwide. Instantly recognizable, The Fixx sound is unmistakably unique and stands out among the thousands of artists filling the airwaves. Songs such as "One Thing Leads To Another", "Red Skies" and "Saved By Zero" remain everyday staples on the playlists of the radio stations that continue to break new acts inspired the era that The Fixx helped to define. It is rare for an audience to experience a band that has continued to thrive for three decades. The Fixx were then, and still are - Cy Curnin on vocals, Rupert Greenall on keyboards, Jamie West-Oram on guitar, Adam Woods on drums, and bassist Dan K. Brown.
Fastball
"It was just circumstance," Tony Scalzo says of the eight-year recording gap that preceded the new Fastball album, Step Into Light. "We've always been active, and we've never really gone a year without doing a bunch of Fastball shows. But things are really picking up now, and things are rolling like crazy."
The 12-song Step Into Light, on the band's own 33 1/3 label, embodies all of the qualities that have endeared Fastball to listeners during the trio's twenty-year-plus career. Such catchy, compelling new tunes as "We're On Our Way," "Behind The Sun," "Best Friend," "Love Comes In Waves" and "I Will Never Let You Down" continue the band's longstanding legacy of infectious songcraft and pointed lyrics, as well as playfully inventive arrangements that lend additional depth and resonance to Scalzo and Miles Zuniga's distinctive songwriting.
"My favorite kind of songs," Zuniga says, "are the ones that have hope in the face of hopelessness. Songs that say 'Life sucks and everything's against me, but I'm gonna smile and survive anyway.' That's the essence of rock 'n' roll music for me, and I think there's a fair amount of that on this album."
Fastball recorded Step Into Light in its hometown of Austin, Texas, with the three bandmates co-producing with longtime friend Chris "Frenchie" Smith (Slayer, Meat Puppets, ...And You Will Know Us by the Trail of Dead) at Smith's studio, The Bubble. The album was mixed by legendary engineer Bob Clearmountain, who also handled mixing duties on two prior Fastball albums.
"We consciously decided to make this record in a short period of time, so we just went in and knocked it out," Zuniga explains. "I really liked working that way, and I think the fact that we recorded it in under two weeks made it a better record. We didn't have the luxury of getting too precious about
things, so we gave ourselves a hard deadline and pretended it was the 1950s—the record light's on, let's do it! It also helped that we've grown a lot as musicians, so we have the ability now to get things right pretty quickly."
"We had a great time making this record," asserts Shuffield. "Working fast was really positive for us, because we had a lot of adrenaline going and there was no wasted time. A lot of the stuff we did was one or two takes of all three of us playing together in the same room. You can't really do that as a new band, but the fact that we've been together so long creates a certain unspoken communication that saves a lot of time."
The resulting album extends and expands Fastball's widely-loved body of work, which encompasses such acclaimed albums as the band's 1996 debut Make Your Mama Proud, their 1998 platinum breakthrough All the Pain Money Can Buy (which spawned the Grammy-nominated Top Five hit "The Way"), 2000's The Harsh Light of Day, 2004's Keep Your Wig On and 2009's Little White Lies.
While it's a natural musical successor to the band's prior work, the self- financed, self-released Step Into Light—the first Fastball album to get a vinyl LP release—also continues Fastball's seamless evolution into a resourceful, self-contained D.I.Y. combo.
"We were one of the last bands who got to go into a big studio with a major-label budget, with runners and assistant engineers and cool rented gear," Scalzo notes. "We were fortunate to have that, because it was a great learning experience and it taught us to be producers. There's a time when you're the big new thing and everyone loves you, and then there's a time when nobody's returning your phone calls. We're lucky that we survived that and came out on the other end, and we're a stronger and better band because of that."
Step Into Light demonstrates that Fastball's collective creative rapport, forged over two decades of writing, recording and touring, remains as potent as ever. "There's nothing more satisfying than being in a room with those guys and making it sound like a Fastball song," Shuffield says. "That chemistry has always been there, from the very first time we played together. Our history, and the musical journey that we've been on together—all that stuff comes out when we play together."
"The three of us all have our own individual preferences and baggage and whatnot, but there's a certain sound that comes out when the three of us play together that we can't get anywhere else," Zuniga adds. "We never have to worry about it, it's just always there, and it's been there from the beginning."
"We never really blew it," Scalzo says. "We've had plenty of chances to embarrass ourselves and do some of the stupid things that bands do, but I don't think we ever have. Considering how long we've been together, that's a real achievement."
Another continuing thread in Fastball's musical life is the band's loyal fan base, which has continued to support the band through thick and thin.
"I'm continually amazed," Shuffield says, "that we'll play