AEG Presents
Starset
with All Good Things, The Word Alive
Dec, 17 @
7:00 pm
( Doors:

7:00 pm

)
Majestic Theatre
All Ages
$25 Adv./ $30 Day of
All Ages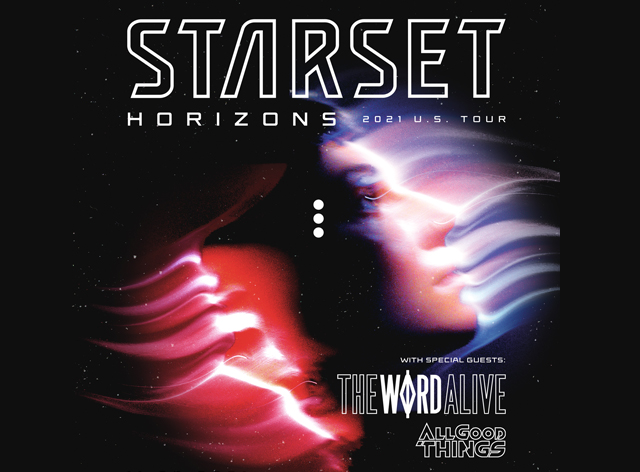 Additional Info
All attendees will be required to show proof of a negative COVID-19 test within 72 hours of the event OR proof of full COVID-19 vaccination for entry. Negative tests must be lab-administered; at-home tests are not accepted. Full vaccination means 14 days or more have passed since the attendee has received a single-dose vaccine or the second dose in a two-dose series. Acceptable vaccination documentation may be a physical copy of a COVID-19 Vaccination Record Card, a digital copy of such card or such other proof as is permitted locally.

Artists
Starset
Visionary media collective STARSET have carved out a unique path as part cinematic rock band, part conceptual storytellers, weaving an intricate narrative through multimedia and redefining the concept of a truly immersive entertainment experience. Led by enigmatic frontman and PhD candidate Dustin Bates, the band have made it their mission to take fans on a journey through music, video, AR-integrated performances, a Marvel graphic novel and online experiences, blurring the lines of science, fact, and fiction. The band's third album DIVISIONS provides the soundtrack to the next chapter of their overarching narrative - one of a dystopian future world divided by the technology that has taken over in a war for human consciousness - those obeying and implementing it, and those fighting against it. Clues have been left behind by The Starset Society through a series of transmissions of what will occur in the future. These have been seeded throughout the campaign for fans to find and for them to become part of the story itself in a search for knowledge and to reveal new music.
All Good Things
If All Good Things was not a band, it would be necessary to invent them — and in fact, that's just what happened.
"We didn't plan on being a band of any sort," says singer, Dan Murphy. "Our music was just written for licensing in the hopes that it would get on some cool placements, in games or whatever, film and TV. I mean, it was probably a couple of years before any of us ever looked on YouTube, and we realized there were millions of plays on the songs."
"But we weren't going to do anything until basically we got a ton of messages from all these people saying, 'When's the new music coming out? Who are you? Where are you from?'"
That sound — a massive, bombastic sensory assault of anthemic heavy rock, flavored with unforgettable melodies and high-tech sonics — was then sculpted and focused on Machines, their first album as "a real band", yielding the hit song "For The Glory," which recently crossed 25 million streams on Spotify alone and more than 100 million on all platforms combined.
That give-and-take relationship with the fans is just as apparent on the forthcoming release, Hooper says is "really full of ideas from fans." The 13-song album is loosely tied together around a theme of surviving the apocalypse, a concept born out of the many games and films that All Good Things have placed their music in, but which resonates with young people in the real world in an even more powerful way during the recent strange times we have been living in
The Word Alive
Ever since their formation in mid-2008 The Word Alive have set themselves apart with their unmatched live show, devotion to their fans as well as their musicianship and thought provoking lyrics.
Fast forward 1 EP and 4 full-length albums later (Deceiver, Life Cycles, REAL. and Dark Matter) the band have toured the world, and played over 1,000 shows to date with many on the horizon. Mainstays and songwriters Telle Smith, Zack Hansen and Tony Pizzuti have pushed their genre to the limits and back. Over the years their development and transition from a notable metalcore act to and undefined hard rock act hasn't gone unnoticed.
2016 was a year that saw the band break through the radio airwaves for thefirst time in their career and with a balance between atmospheric and experimentally driven instrumentals as well as a wide dynamic range of vocals have pushed this band to the next level.
2017 has been an exceptionally busy year for the band, who has never let member changes slow them down. With a new album completed and ready to be on repeat, it's time to hop on the bandwagon before it's too late. This band will own 2018 and beyond.