Paxahau + Magic Stick
Green Velvet
with Stacey Pullen
Aug, 20 @
9:00 pm
( Doors:

9:00 pm

)
Magic Stick
Ages 18 and Up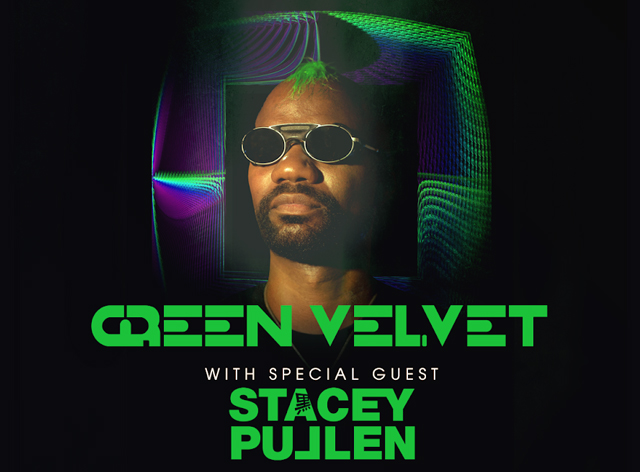 Additional Info
Magic Stick Presale:
Thu. 7/15 10am - 10pm
Public On sale:
Fri. 7/16 @ 10am
For Bottle Service and VIP Booth Reservations please contact
vip@majesticdetroit.com
Artists
Green Velvet
Green Velvet (aka Cajmere) studied chemical engineering at the University of Illinois, where he exposed himself to the energetic culture and lifestyle of house. In 1991, midway though graduate school, Cajmere returned to Chicago to pursue his dream of producing house music. In 1992, after surviving on cheese sandwiches and maximizing credit limits, Cajmere finally made an imprint on the dance community with his infectious experiment, "Coffee Pot" (It's Time for the Percolator) – Clubhouse Records. Then he moved on to more complex musical and lyrical arrangements with songs like Lidell Townsell's "Get With U" (Mercury Records). The Cajmere and Dajae collaboration resulted in a #2 Billboard Dance Chart and International dance hit - "Brighter Days". It was at this point that Cajmere decided to start Cajual Records. Having his own label gave Cajmere the autonomy to attain his goal of developing a sound that was representative of Chicago - thus, putting Chicago back on the map. In 1993 Cajmere created Relief Records. The label became an outlet for he and other producers' more track-oriented work. (Green Velvet) The Relief label also gave birth to the experimental and eccentric, afro wig-wearing entity we know as Green Velvet - a Cajmere alter ego. Green Velvet produced the first release on the Relief label, "Preacher Man." He followed up the debut release with "Flash" and "The Stalker", both of which brought about unexpected praise and worldwide recognition. In 1997, Green Velvet's attempt to combine 80s electronic funk with Chicago's cult of a perfect track led to his creation, "Answering Machine" - with the more humorous but rather contagious hook - "I don't need this shit!" For 1999 Green Velvet has crafted "Constant Chaos", an electronic trip over a lyrical landscape or as Green Velvet muses in a recent Muzik interview, "I guess it's sorta like folk music for the rave scene."
Stacey Pullen
Stacey Pullen is the Kosmik Messenger. An innovator from the Second Wave of Detroit techno, he grew up under the mentorship of Detroit's legendary three: Derrick May, Juan Atkins and Kevin Saunderson. Still continuing to produce his characteristic atmosphere laden electronic sound, Stacey Pullen compounds his reputation as a producer with that of being one of the world's most in demand DJs, playing weekly across the globe year in, year out. With a font of passion for music and performance that never dries up, Stacey Pullen still plays every gig from the heart seeking to surprise and engage, to provide an unforgettable experience, to offer up his unique catalogue without predictability - defying expectation. Above all, from his earliest attempts to the current day Stacey Pullen has stayed true to his one goal: to become and to always be an Innovator.