AEG Presents
Yngwie Malmsteen
with John 5
Dec, 1 @
7:00 pm
( Doors:

7:00 pm

)
Majestic Theatre
All Ages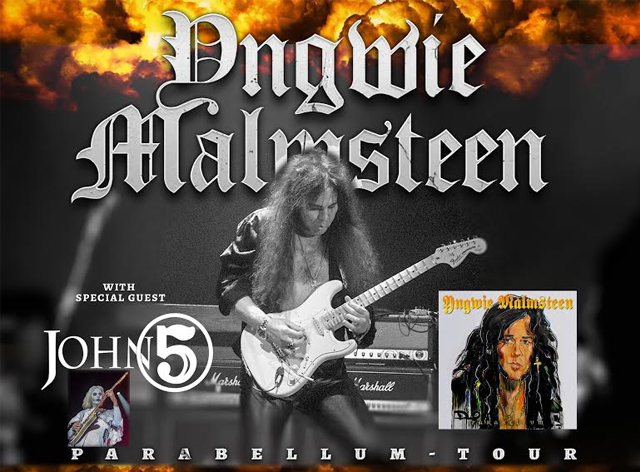 Additional Info
The venue safety protocols required for fans attending events at the Majestic Theatre have changed.

For any event taking place on or after October 1st, you are required to provide proof of full vaccination to enter the venue. Additional information can be found at https://www.aegpresents.com/health-policy/

Artists
Yngwie Malmsteen
Yngwie Johann Malmsteen is a world-renowned guitarist from Stockholm, Sweden. As a young boy, Yngwie originally had no interest in music, but that all changed on September 18th, 1970 when he saw a TV special on the late Jimi Hendrix. Seven-year-old Yngwie watched in awe as Hendrix blasted the audience with torrents of feedback and sacrificed his guitar in flames. The day Jimi Hendrix died, the guitar-playing Yngwie was born.
Yngwie Malmsteen's career has spanned over 40 years with over twenty albums to his name. Drawing influence from classical composers such as Bach, Paganini, and Vivaldi, Yngwie is responsible for birthing the neo-classical genre to the world of rock.
John 5
For almost 30 years, John 5 has been one of the most in-demand guitar players on the planet. As well as a guitarist for hire, 5 has shared the stage as axe-man for Rob Zombie, Marilyn Manson and Rob Halford. He has also worked with an impressive array of names, from all walks of music, including KD Lang, Rod Stewart, Dave Lee Roth, Alice Cooper, Tina Guo and Steven Adler.
To call John 5 a shredder does not do him justice. There's little he can't put his hand to.
John 5 was born John William Lowery, on July 31st 1970, in Gross Pointe Michigan. His love of guitar began at age seven, when he began watching the Hee Haw series with his father. "I watched the guitar playing and knew that was what I wanted to do. My friends wanted to be astronauts and such but all I wanted to do was play and play and play". Other notable influences included KISS and Jimi Hendrix.