AEG Presents
The Devil Wears Prada
with Stray From the Path, Dying Wish
Aug, 5 @
6:30 pm
( Doors:

6:30 pm

)
Majestic Theatre
All Ages
$22 Adv./ $25 Day of
All Ages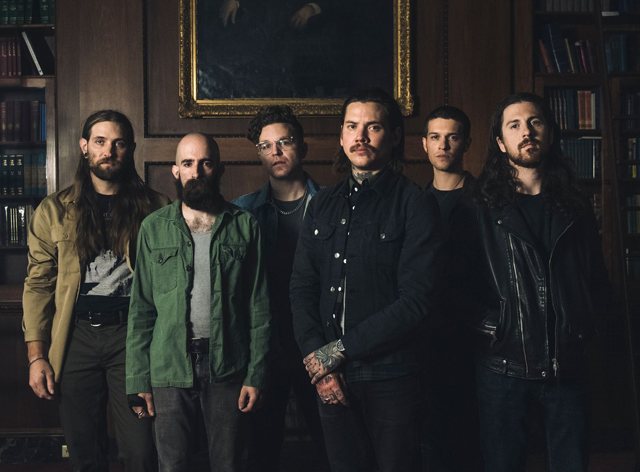 Additional Info
Spotify Presale I:
Tue. May 10 @ 10am - Thu. May 12 @ 10pm
Spotify Presale II:
Wed. May 11 @ 10am - Thu. May 12 @ 10pm
Majestic Presale:
Thu. May 12 @ 10am - 10pm
Public On sale:
Fri. May 13 @ 10am
###
All attendees agree to follow venue policies (including health and safety policies) and posted instructions while at the venue. According to the CDC, older adults and people of all ages with serious underlying medical conditions may be at higher risk of death or severe illness from COVID-19. All attendees should evaluate their risk in determining whether to attend the event. By entering the venue, attendees voluntarily assume all risks related to exposure to COVID-19 and confirm that they will adhere to local quarantine mandates and the CDC quarantine requirements, available
here
.
https://www.majesticdetroit.com/theatre-health-policy
Artists
The Devil Wears Prada
The Devil Wears Prada rely on contrast as they nimbly balance metallic turbulence, hardcore spirit, provocatively eloquentlyricism, and melodic exorcism. In between these opposing extremes, the band—Mike Hranica[vocals], Jeremy DePoyster [guitar, vocals], Kyle Sipress [guitar], Jonathan Gering [keys, synths, programming, production], Giuseppe Capolupo [drums], and Mason Nagy [bass]—have fashioned an ever-evolving signature style buttressed by layers of sonic hues.They've harbored this space since forming in 2005. Speaking to the band's growing influence, fans voted 2009's With Roots Above and Branches Belowone of the "5 Greatest Metalcore Albums" in a Revolver poll as the outlet christened it "a true metalcore landmark."The group have notched six consecutive Top 5 debuts on the BillboardTop Hard Rock Albums Chart, including Dead Throne[2011], 8:18[2013], SpaceEP [2015], Transit Blues[2016], The Act[2019], and ZII EP [2021]. The latter served as a sequel to one of their most beloved projects 2010'sZombie EP. Upon arrival, mxdwn applauded ZIIas "phenomenal,"and Metal Injectionwent as far as to claim, "This mini-concept has outlived the zombie revival."In the wake of the EP, the group exceeded a-quarter-of-a-billion cumulative streams and views.Now, The Devil Wears Prada's signaturedynamic divergence defines the group's eighth full-length offering, Color Decay
Stray From the Path
Life often resembles a game of chess. Players outside of our control make moves that affect our everyday existence. However, recognition remains the first step to revolution. Once you know the game, you can make a difference in the outcome. On their sixthfull-length, Only Death Is Real [Sumerian Records], STRAY FROM THE PATH survey the playing field and provide a book of bloody battle notes etched in hardcore energy, metal fire, and hip-hop poetry. The Long Island, NY quartet—Thomas Williams [guitar, vocals], Andrew "Drew York" Dijorio [vocals], Anthony "Dragon Neck" Altamura [bass, vocals], and Craig Reynolds [drums]—outline that fight on the record's very cover art…
"The king equals the elite, the queen equals the government, the bishop equals the church, the knight equals the military, the rook equals the police, and the pawn equals the people," explains Thomas. "This was the first time the vision and the theme of the album came before the music. We had the artwork first. We wrote this during a pretty dark and reflective time in our lives. In an age where government has failed, they made us feel as small and as insignificant as ever. In this game, all of the attention is turned onto the people: white versus black, Democrat versus Republican, gay versus straight, or Trump versus no Trump. They know the fight is within the community. There can be no fight against the establishment."
Nevertheless, STRAY FROM THE PATH continue a 16-year tradition of speaking out. This tradition has transformed the group into genre luminaries. Most recently, Rock Sound placed Subliminal Criminals at #17 on its coveted "Top 50 Releases of 2015" list, while its single "First World Problem Child" [feat. Sam Carter] racked up 721K Spotify streams and counting. In support of the record, they hit nearly every corner of the globe with the likes of Architects, The Amity Affliction, Beartooth, Stick To Your Guns, and more in addition to Warped Tour.
In 2017, the boys hit the studio for their fourth straight collaboration with producer Will Putney [The Acacia Strain, Body Count] and first with vocal producer Jesse Barnett. Recording with Craig behind the kit for the first time, they ignited a fresh spark.
"Since Craig joined, the vibe of our band has been electric," Thomas continues. "Everyone has a brand new fire in them to push us to places we've never been. He's added a chemistry on and off-stage that has changed us for the better, and we're writing our best material to date because of it. Then, there's Will. He's basically a member at this point. He's our tie breaker. He understands us better than anyone. Also, Jesse brought in something we haven't had yet on a STRAY FROM THE PATH album.
"They introduced the record with the first single "Goodnight Alt-Right". A full-blown aural assault, it goes straight for the jugular, confronting and courting controversy head-on.
"When Richard Spencer, a white supremacist, was punched on-camera a few months back, it was great to see that he and his hatred were not being tolerated," he explains. "We were shocked to see that people were actually defending him though. They said he should have freedom of speech. They're not wrong. People should be able to exercise free speech. Sometimes, the things you say come with consequences. There is enough hate, misery,and division in this country that we don't need a televised white supremacist saying, 'This country belongs to white people.' Bottom line: if you preach hate, expect hate."
Elsewhere on the record, Keith Buckley of Every Time I Die and The Damned Things brings pure rock fury to the rousing and rambunctious "Strange Fiction," and the "insane voice" of Knocked Loose's Bryan Garris adds another dimension and dynamic to "All Day & Night." In a rare cameo appearance, hip-hop luminary Vinnie Paz of Jedi Mind Tricks spits raw truth on "The House Always Wins" between a chaotic, combustible, and catchy hardcore onslaught.
"Vinnie might be the craziest feature we've ever had," Thomas explains. "Jedi Mind Tricks, and Vinnie specifically, is one of the most politicallyaware and ferocious acts of our generation. I know he doesn't collaborate much, so to have him do an entire verse was an incredible honor."
Ultimately, only death is real comes at the right time.
"This is the world we live in," Thomas leaves off. "It madea heavier and darker version of STRAY FROM THE PATH, and death is the only thing that's certain."
Dying Wish
Continuing with the sound carved out by Metalcore pioneers Killswitch Engage, Hatebreed and Bleeding Through comes Dying Wish, an aggressive outfit hailing from Portland, Oregon. Formed in 2018 the quintet led by vocalist Emma Boster has made massive waves in a short time, most recently releasing a well received split EP with Canadian band Serration. The release was followed with a stretch of high profile shows and tours that saw the band share the stage with Terror, Comeback Kid, Integrity, Jesus Piece and Knocked Loose who also has Emma guest on their new album "A Different Shade Of Blue". Currently working on their debut, the creative process hasn't slowed down their breakneck work ethic and the next year will see the band hitting the road both stateside and internationally. The anticipation is overwhelming for what the group will do next, don't be surprised to see Dying Wish getting bigger looks into 2020.