AEG Presents
The Charlatans
with RIDE
Feb, 5 @
6:00 pm
( Doors:

6:00 pm

)
Majestic Theatre
All Ages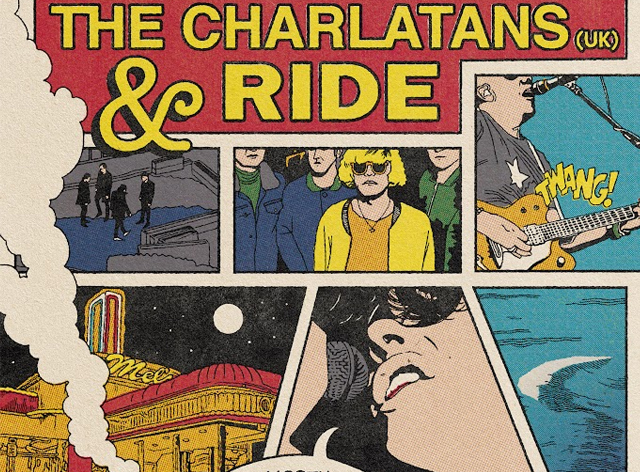 Additional Info
The Charlatans UK & RIDE VIP PASS
- One (1) GA ticket to the show
- One (1) Signed commemorative poster from both bands
- One (1) Exclusive Tote Bag only available w/ VIP purchase
- Early Entry to the venue ('Skip the Line' 30 minutes prior to listed door time)
- Early access to the merchandise table
- Limited availability
Artists
The Charlatans
The Charlatans have reached a higher state of grace. Twenty-seven years since they first bagged a Number One album with 'Some Friendly', they're still achieving fresh career highs, dreaming up new music that redraws their own map, increasingly assured of who they are as a band.
Their trajectory has few parallels in British rock, and it's all set to continue with the release of 'Different Days', their brilliant 13th album, which finds them never more forward-looking, yet equally never more self-defining, or relevant. As Tim Burgess pointedly sings on one anthemically optimistic track called 'There Will Be Chances', "I laughed when I thought about the past, a place I love, but I can't go back – the present's where it's at".
Just listening to 'Different Days' makes you feel like a positive force has entered your life – and this, in a year when, as the title implies, the political outlook has shifted dramatically, bringing unforeseen prejudice, anxiety and division across the world. Explains Tim, "To us, the album represents an upbeat view of a world that might well be falling apart, in a time where you have to work out who your friends are, and gather them around you."
The Charlatans' own ever-spiralling success has itself been a triumph over adversity. After losing not one but two members (to a car crash, and a brain tumour) in their rollercoaster history, this most resilient outfit have somehow soldiered onto greater heights – a people's band, whose embattled mortal passage through life also mirrors our own.
RIDE
One of the leading lights of the early 90's shoegaze scene, Ride reformed in 2014, releasing their first album in over 20 years in 2017. 'Weather Diaries' was produced by Erol Alkan and greeted by a raft of critical and commercial acclaim, reaching number 11 in the UK album charts. It also saw Ride reunited with Wichita Recordings' Dick Green and Mark Bowen, who worked with the band during their early years on Creation Records. The follow-up, 'This Is Not A Safe Place,' came together in a matter of weeks at the end of 2018 and start of 2019, the sound of a band embracing their new found creativity and rejuvenated dynamic. As well as working with Erol Alkan for a second time on production, their sixth record also saw Ride reunite with sound engineer Alan Moulder, who is on mixing duties for this fourth Ride record, following 'Weather Diaries,' 'Going Blank Again' and their 1990 seminal debut album 'Nowhere' (an album whose artwork is wonderfully echoed on the cover of 'This Is Not A Safe Place'). 'This Is Not A Safe Place' charted at UK #7 on release in August 2019, the band's highest chart position in 25 years.

Ride are currently working on new material, as well as touring 'Nowhere' for its 30th anniversary throughout 2022. The band's classic Creation Records albums 'Nowhere,' 'Going Blank Again' and '4 EPs,' the first collection of Ride's early EPs on one record, will be reissued on vinyl, cd and digital 4th November by Wichita Recordings.

Ride are Andy Bell, Mark Gardener, Laurence Colbert, and Steve Queralt.