Black Iris & Magic Stick Present
Fishbone
with J. Navarro & The Traitors
Aug, 23 @
7:00 pm
( Doors:

7:00 pm

)
Magic Stick
All Ages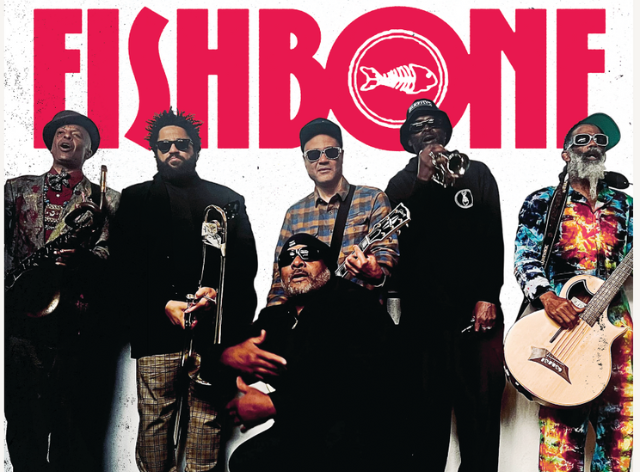 Artists
Fishbone
Celebrating 25 groundbreaking years, FISHBONE has been trailblazing their way through the history of American Ska, Funk, Punk, Rock Fusion and (so-called) Black Rock since starting their professional career in Los Angeles' burgeoning, Alternative Rock music scene of the mid-1980s. Their sound has often been imitated, but never duplicated. They have toured worldwide with such bands as the Beastie Boys, Red Hot Chili Peppers, The Roots, Les Claypool/Primus, Fela Kuti, George Clinton, The Dead Kennedys and many more. Angelo Moore's ability to combine thought-provoking, humorous social commentary with FISHBONE's frenzied, up-tempo music and frantic, euphorically entertaining stage show has cultivated their undisputed reputation as one of the best live acts in music history.
Now in their 25th year of composing, creating, recording, releasing and performing original music together, mass critical appeal appears to be returning to the band, fueled by their critically acclaimed full-length feature documentary; Everyday Sunshine: The Story of Fishbone. Narrated by Laurence Fishburne, the film earned LA Weekly's Critic's Choice Award at the Los Angeles Film Fest in 2010, has been called "effortlessly Entertaining" (Variety), "Brilliant and Groundbreaking" (Pop Matters), and hailed as "more than a documentary about rock 'n' roll. It's a documentary about the American spirit and one that shows the life of one of its most influential creative forces." (Encore Magazine)

The documentary features celebrity testimonials from an A-list cast of rock icons such as Flea (Red Hot Chili Peppers), who calls the band "an important musical institution" and "the band that gave us the inspiration to be a band" by Gwen Stefani (No Doubt). The film also includes similar admiration from the likes of Perry Farrell (Jane's Addition), Jerry Cantrell (Alice In Chains) Rob Trujillo (Metallica), Questlove (The Roots), Chuck D (Public Enemy), Tim Robbins (Grammy Winning Actor) and many more. The film not only highlights the bands substantial legacy in contemporary music of all forms, but also the struggles, adversity, and inner turmoil that has surrounded the bands career. Everyday Sunshine: The Story of Fishbone has already premiered in over 60+ theaters across the country, and many of the dates have sold out. The documentary aired on Public Television's AfroPop Series as well as Encore early 2012. The DVD is currently available for purchase nationwide at all major retailers, and on NetFlix.
To date, FISHBONE still continues to tour all over the world, turning heads at some of the most noteworthy festivals around the globe such as Ottawa Blues Fest (2012), Montreal Jazz Festival (2012), DeLuna Fest in Pensacola, FL (2012), Bumbershoot in Seattle, WA (2012), Riot Fest in Chicago, IL (2012), Voodoo Festival in New Orleans, LA (2011), Fuji Rock Festival in Tokyo, Japan (2010), Wakarusa in Ozark, AK (2010), Sunset Junction in Los Angeles, CA (2010) and more. This year, the band had the opportunity to perform on Jimmy Kimmel Live! and Angelo Moore sat in with The
Roots on Late Night with Jimmy Fallon. They also performed three outstanding shows with Primus, and have been featured in a variety of national press this year including New York Times, Wall Street Journal, Los Angeles Times, MTV Hive, Spin Magazine, E! Entertainment, Rotten Tomatoes and more.
Last year, FISHBONE completed a national U.S. tour with Slightly Stoopid and Dumpstaphunk; a sold-out SXSW showcase with Wu-Tang Clan and Mobb Deep; an Australian tour featuring performances with Trombone Shorty and George Clinton, highlighted by a performance at Byron Bay Blues Festival.
The band also toured all over Europe this year and Japan last year, and is currently on tour in support of their highly anticipated new EP Crazy Glue (DC-Jam Records) released October 11, 2011. Crazy Glue is currently available online everywhere and select retail stores nationwide.
The current member line up includes original members Angelo Moore aka Dr. Madd Vibe (vocals/sax/theramin), Norwood Fisher (bass/vocals), Dirty Walt (trumpet, vocals), as well as Rocky George (guitar), Dre Gipson (keyboards/vocals), John Steward (drums), and Jay Armant (trombone, vocals).
J. Navarro & The Traitors