ICON Presents
Kat Timpf
with
Oct, 8 @
6:00 pm
( Doors:

6:00 pm

)
Majestic Theatre
All Ages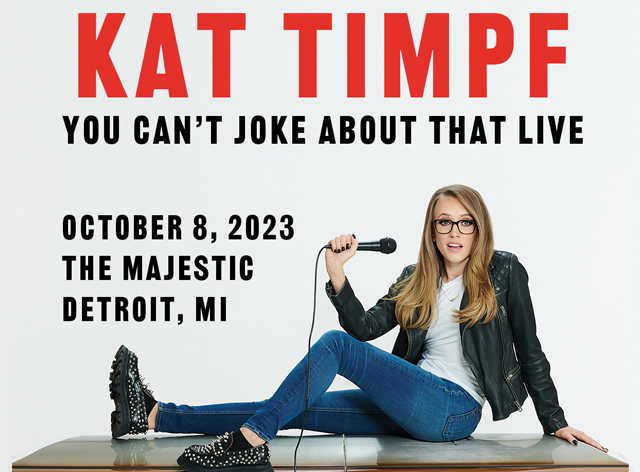 Additional Info
Kat Timpf LIVE "You Can't Joke About That" is a hilarious 90-minute show that takes a deep dive into every aspect of her best-selling book. From her worse-than-humble beginnings starting out as an adult, to crazy exes, deaths, and the infamous "Chapter 5", Kat takes the audience on a hysterical step-by-step ride on her path to the present-and why comedy through the dark times is what helped her survive. With the charm, wit, and ridiculous commentary we've all come to love, Katis guaranteed to have you laughing, thinking, and leaving with a deeper sense of community than ever before.
Artists
Kat Timpf
Kat Timpf is a writer, comedian, and libertarian commentator. She's currently the co-host of Gu=eld! on Fox News weeknights at 11pm and a Fox News contributor. She is also a prolific writer, and was a columnist for NaFonal Review for nearly six years. She's also worked at Campus Reform, The Washington Times, Barstool Sports, Total Traffic Network, and Boston Market, and was a stand-up comedian for long enough for this to be her third Fme quiOng.

Kat stands out in a sea of pundits because of her libertarian perspecFve and use of comedy and saFre to get her no-nonsense points across. While she is steadfast in her strong libertarian beliefs, Kat is a firm believer in the power of conversaFons to bridge gaps, poliFcal or otherwise. Kat loves connecFng with people across the country and around the world and talking about the things that are on everyone's minds, but no one's lips. And she is sure to do so with a great deal of respect and humor.

Kat explores these topics and more in her new book You Can't Joke About That, available everywhere on April 18th. She lives in New York City with her husband Cam, their dog Carl, and her cat Cheens.