AEG Presents
DJ Shadow
with
Feb, 1 @
7:00 pm
( Doors:

7:00 pm

)
Majestic Theatre
All Ages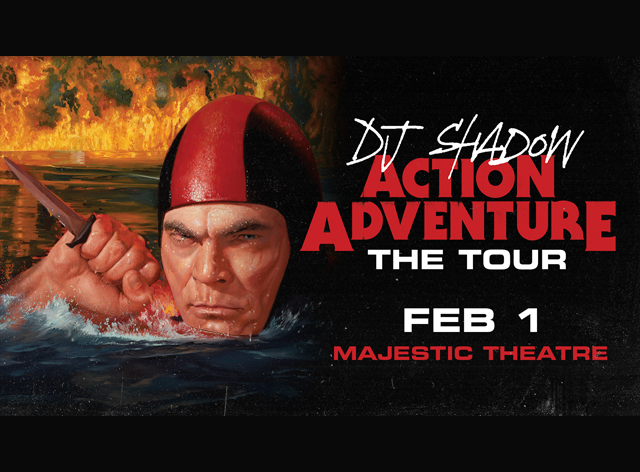 Additional Info
Artist Presale: Thu. 11/2 @ 10am - 10pm
Majestic Presale: Thu. 11/2 @ 10am - 10pm
Public On sale: Fri. 11/3 @ 10am
The Crane Mezzanine
• Exclusive views of the Majestic stage
• Private Lounge style seating
• Early venue access before doors
• Private Restroom
• Private Bar
• Complimentary Coat Check
• Includes a GA ticket
Artists
DJ Shadow
For over 30 years, Josh Davis has expressed his passion, taste, and values through the music he creates as DJ Shadow. The name alone evokes a high watermark for instrumental hip-hop and composition. From his first masterpiece Endtroducing…, to the genre-hopping UNKLE release Psyence Fiction, to the otherworldly elegance of The Private Press and its iconic single "Six Days," to his underrated Bay Area celebration The Outsider, his work in the '90s and first decade of the 2000s is as essential as it is hard-to-pin-down. In the 2010s, Shadow released the sprawling The Less You Know, the Better, with its muscular forays into rock music, and closed the decade with The Mountain Will Fall and Our Pathetic Age, both very ambitious, risk-taking albums that boasted some of his best rap collaborations by working with Run the Jewels, Nas, and De La Soul, among others. If there's a single red thread across this career, it's his restless ear, always searching to rescue some forgotten gem from the dustbin of music history or a fresh blast of sound from the cutting edge.


It's a practice Shadow learned as a young boy, enamored with collecting comic books, baseball cards, 12-inch records, and precious songs captured to cassette from the radio airwaves late at night in northern California. With great seriousness and love, he will describe the second-hand transistor AM radio on which he first heard Grandmaster Flash and the Furious Five's "The Message," when he was 10 years old. Or his mind-expanding encounter with Public Enemy's "Rebel Without a Pause" and that single's howling saxophone blast. At the heart of DJ Shadow's musical project is deep listening. "I'm always trying to please or impress the most advanced listener," he says. The type of aficionado who will respect the layers upon layers of synth that went into making a sound that can't be readily identified but will make you want to share the track with a friend and say, "This part right here."


The first sampled words heard on DJ Shadow's forthcoming album Action Adventure, his seventh solo LP, are "all my records and tapes." In fact, they are some of the only words heard on what is almost an entirely instrumental release; they're a kind of thesis statement for an album that has its roots in the drifting, destabilizing days of the COVID lockdown. Action Adventure is an inward-looking project, made by Shadow alone without any collaborators. Action Adventure tells the listener: "This is about my relationship to music. My life as a collector
and curator. All my records and tapes, and no one else's." The result is the most exciting DJ Shadow LP in years.


In March 2020, Shadow narrowly escaped from the European tour for his double-disc release Our Pathetic Age, landing back home in the Bay Area as the world shuttered. He watched his two teenage daughters endure homeschooling and tried to process his own emotions about the tour cut short; an album he was proud of that didn't get to have its moment in public. "It was a very intense time," he recalls. For over a year, he couldn't imagine making any new music, or even listening to any contemporary music. "It was as if the music coming out was somehow tainted by the craziness we were living through, the chaos and upheaval. I needed to temporarily wallow in a bit of nostalgia, and not necessarily songs I knew"—but music from a time period that felt less fraught.


Around this same time, in 2021, a friend directed Shadow to an eBay auction of about 200 tapes that were recorded off the radio from a mix station that serviced the Baltimore-D.C. area in the '80s. During that time, he taped Bay Area radio mixes and was able to get his hands on New York mixes as well, but these mixes felt entirely unique in their blend of dance music, R&B, and early hip-hop. They had a youthful, "we know no limits" quality that invigorated Shadow at a time when he desperately needed it.


Shadow began work on Action Adventure on January 1, 2022, and the early tracks pushed him further into his compositional bag. "I didn't want to write music that was formatted for vocalists. I wanted to write music that flexed different energies," he says. Though he isn't classically trained, he asked himself questions like "which chord progression would be most natural here, and which would be least predictable?" and worked according to the inner logic that felt right to him. His rule for the record was simple: no compromises. "I'm entering my fourth decade doing this—what do I want to represent? I know that I don't want to only make beats for some potential vocalist that I've never met, and who may not share my vision. I want this record to stand or fall on my own credentials."


"Ozone Scraper" kicks off the album without preamble, just big, propulsive drums. It has the feeling of transportation, of jet engines lifting the passenger somewhere impossible. One of his favorites on Action Adventure, "Ozone Scraper" is an invitation to strap in and also sets the
table for the kind of deep listening Shadow loves. The advanced listeners will marvel at the kind of "special effects," as Shadow puts it, that went into creating the elusive synth noises. Like a child marveling at a summer blockbuster, you wonder:
How did he do this?
"You Played Me" is a miracle that happened by pure chance. Inspired by the eBay tapes, Shadow created a beat that had the crackling percussion and burbling synths of classic '80s R&B, like a lost René and Angela hit. "I loaded up the instrumental and looped it on my computer to play forever," he explains. Then he started auditioning records in his collection that he hadn't processed yet—an experiment to find the vocal in the haystack. "I dropped the needle on an acapella of a really obscure R&B 12-inch from around '84, '85 and I thought, 'That actually works.'" Still, he wasn't entirely sure, and he sent the song to his label as a reference for a potential collaboration… whoever it was needed to have this sound, Shadow told them. After a few weeks, though, he realized he already had what he needed—the acapella was correct. "It's an example of one of my favorite aspects of the music I make, which is just 100% serendipity," he says. "There are a thousand records sitting next to me that aren't going to work; the right record got put on at the right moment to change the course of my album. It's one of my favorite songs I've ever made."
The album has a cinematic quality, especially in its sequencing. The last quarter, from "Fleeting Youth" through "Reflecting Pool" and "Forever Changed," is as cathartic as a well-told story, and ends on a triumphant note, with "She's Evolving." The oldest recording on
Action Adventure
, it's another happy accident that nearly didn't make the album. Initially Shadow doubted including a song from the cursed early days of lockdown and planned to end the album with a much sadder track. But it didn't sit right and he kept returning to "She's Evolving"—until it stuck.
The title
Action Adventure
evokes the halcyon days of video store browsing, and it's fitting that he provides a crowd pleasing ending. Of course, this is still a DJ Shadow album, so don't mistake that for anything corny. This is a record of mature sparseness, a revitalizing and focused release that suggests a refined late period from a grandmaster of our time. "Rightly or wrongly, I'm not thinking about anybody's musical wants or desires but my own," he says.