AEG Presents
Failure
with Swervedriver
Apr, 3 @
7:00 pm
( Doors:

7:00 pm

)
Majestic Theatre
All Ages
$29.50 /$35 Day of
All Ages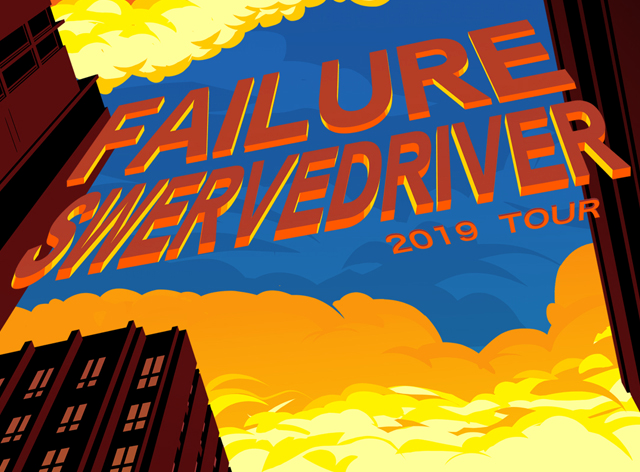 Artists
Failure
Unbound to any generation, scene or movement, Failure build upon an enduring catalog of inventive, inimitable and intriguing albums, as relevant today as they will be tomorrow.

Since forming in 1990, the influential Los Angeles trio – Ken Andrews [vocals, guitar, bass, programming], Greg Edwards [vocals, guitar, bass, keys] and Kellii Scott [drums, percussion] – have inhabited a universe of their own, orbited by seminal albums such as Comfort [1992], Magnified [1994] and Fantastic Planet [1996]. The latter received a rare 5-out-of-5 rating from Alternative Press as the group earned the public adoration of everyone from regular tour mates and friends Tool to Depeche Mode who openly praised the band for their cover of "Enjoy The Silence". Following a 17-year hiatus, 2015's The Heart Is A Monster re-established the band as a sought-after headliner in addition to attracting the praise of Rolling Stone, Pitchfork and Entertainment Weekly, to name a few. 2018 saw Failure continue forging ahead, releasing their fifth full-length album: In The Future Your Body Will Be The Furthest Thing From Your Mind.

"When you're playing our songs back-to-back from record to record, I feel like the lines really blur," explains Ken. "To me, it shows the real sound of Failure was never the era we were in – whether it was the nineties or now. The real sound of Failure is the combination of people. We have a lot more experience today. My career started when Failure signed to Slash Records in 1990, and I haven't had any other job but making music since then. We've all kept going as musicians. As a result, we have a wider breadth of things we can do and are capable of. We're willing to leverage everything."

"Basically, we still like to give ourselves chills," adds Greg. "I think we've managed to retain an innocence and openness when the three of us are working. We're not cynical. We don't rely on formulas, and we're just as excited as always when something cool comes back through the speakers. That moment is always like being a kid again."

In keeping with this spirit, the latest body of work represents a significant first for the three-piece. For the first time, they released music in "quadrants" as four EPs throughout 2018, namely In The Future, Your Body Will Be, The Furthest Thing and From Your Mind. The final piece would be consumed within days of its completion.

"The unexpected thing about releasing the record in quadrants and writing as we went was that it actually inspired me to be more cohesive lyrically," Greg admits. "In the beginning of the process, I mentioned a theme of spiritual decapitation through technology without giving too much thought to remaining faithful to it. I found by the time the final four songs were written and complete, the downtime between writing and recording had allowed me to really flesh out this initial controlling idea from a number of perspectives."

After writing and recording both Fantastic Planet and The Heart Is A Monster in a rented space as a three-piece, they also adopted an approach similar to that of their second record, Magnified, bringing in drums last. "The working process for this record," Greg elaborates, "actually shares the most in common with Magnified, where Ken and I spent concentrated periods writing and completing songs from scratch. The difference is that for Magnified we were only recording demos during the writing phase, whereas now our workflow allows the demo stage to seamlessly incorporate into the final mix, which is ideal because we retain all the spontaneity of the basic tracks that were laid down as the songs were being written."

Ken and Greg wrote and recorded everything in Ken's studio just outside of Pasadena, while Kellii performed drums as an overdub in a large "live room" in Los Angeles.

"There were a few reasons for the EP idea," Ken explains. "It was more doable in terms of a pragmatic schedule and an emotional commitment. It also allowed us to get material out a full year before the
whole album was done and remind everyone, '
We're
still alive
.' Plus, we'd never done this before, so why not try it? Also, it was gratifying to feel an instant reaction. I feel like I needed that. Not to mention, I think
Fantastic Planet
sat on a shelf for almost two years before it came out, so it was good not to wait for once," he laughs.
Sonically,
In The Future Your Body Will Be The Furthest Thing From Your Mind
sees Failure evolve. Opener "Dark Speed" unfolds as a static mood piece, restraining itself from ever climaxing into the explosive choruses and thick guitars the band is known for. Rather, it pulls the hanging thread of a larger tapestry loose. On the other spectrum, "Solar Eyes" gallops forward on a punked-out bass line without ever changing chords for two minutes. Disparate syncopation between drums and bass drive "Distorted Fields." Meanwhile, "What Makes It Easy" and "Another Post Human Dream" highlight Ken's ethereal delivery over Greg's lilting acoustic guitars. The moody "Heavy and Blind" amplifies the group's penchant for dynamics. At just shy of seven minutes, album closer "The Pineal Electorate" doubles as "a sister song to
The Heart Is A
Monster's
'Mulholland Dr.'," culminating in a final movement that is both utterly hopeless and strangely uplifting.
"To me, the record is a little more personal in terms of talking about relationships and what they mean," Ken confesses. "We pulled from direct experience more than we have in the past. It wasn't quite so intellectual. We're also never going to let you know exactly what's going on. It'll always be opaque. Disconnection seems to be one of the themes we still gravitate towards though, even going back to
Fantastic Planet
. On this record, emotional disconnection is discussed and dealt with. You lose connection within your sphere of friends and acquaintances because of technology. Since social media isn't getting any smaller, that was our headspace. We're navigating this personally and as fathers."
Greg elaborates, "On one level, the album deals with the breakdown of relationships and the cruel, clear view you sometimes get of another person once the dust has settled. Baked into that is the fact that each individual suffers a dislocation from themselves as they have to rationalize or come to terms with how they let someone get so close without seeing them clearly. On a more macro level, the songs deal with our relationship to technology and how we let it invade our space, almost like another person, and how it basically kidnaps our best intentions and turns us into shells of our former selves. At the same time, it creates the illusion that all this 'screen time' and frantic searching is somehow vital and necessary. It really sort of mirrors the obsessive cycle of drug addiction, but rather than affecting individuals, it's infecting a whole planet all at once."
Failure also continued a tradition dating back to
Fantastic Planet,
by often separating songs with a
"Segue."
In The Future Your Body Will Be The Furthest Thing From Your Mind
picks up the numbering instituted on
Fantastic Planet
and continued on
The Heart Is A Monster
. "The numbers were necessary, so we knew which one we were playing if we wanted to do them live," smiles Ken.
Steeped in the band's own unique and evolving tradition,
In The Future Your Body Will Be The Furthest
Thing From Your Mind
signals another natural leap for Failure. As with all of their music, it will continue to ring out for a long time to come.
"When you listen to us, I'd like for you to be intrigued," Ken leaves off. "To really appreciate what we're doing, I feel like you have to listen to it a few times. You have to really dig in and stay a while to get the reward."
Swervedriver
Adam Franklin (guitar, vocals)
Jimmy Hartridge (guitar)
Mikey Jones (drums)
Mick Quinn (bass)
"Space travel rock'n'roll" – that's how the band initially self-identified their sound. This was back in the 1990s, before the aspirational dreams of the computer age collided with reality. Across the four-album arc of their first era – Raise (1991); Mezcal Head (1993); Ejector Seat Reservation (1995); 99th Dream (1997) – Swervedriver made music that was all about the journey: songs called For Seeking Heat, Planes Over The Skyline, Juggernaut Rides, 93 Million Miles From The Sun And Counting. Swervedriver simulated the thrill of propulsion, the euphoric arrival, the anticipation of going back again (or not)… of moving on.
And move on they did. During 10 years in absentia, the band's legend grew. Sages spoke mistily of these four desert rock horsemen of the apocalypse who came from Oxford and were shunned as exiles in their own land. In 2005, a two-disc anthology was compiled with the band's involvement, and foretold a resurrection. Sure enough, the trip resumed in 2008, with Swervedriver encountering the acclaim they ought to have enjoyed a decade earlier. A fifth album, I Wasn't Born To Lose You, emerged in 2015, a mere 17 years after its predecessor, and trumpeted some eternal Swervedriver virtues: the intricate, fissile guitar patterns of Adam Franklin and Jimmy Hartridge, baked hard then dispatched in giant monolithic waves by a tactile rhythm section including drummer Mikey Jones. As the opening song Autodidact had it: "Holy fuel forever spilled".
So much for the resurrection, now for the reckoning. The new Swervedriver album is titled Future Ruins, a two-word précis of its dread thrills. It opens with Mary Winter, a song narrated by a recognisable Swervedriver archetype: a traveler, hurtling away from this world. "Planet Earth long gone/And my feet won't touch the ground." But where is the traveler headed? And why? The second song, The Lonely Crowd Fades In The Air, offers some possible answers: "We've stumbled into the end of days/Where the future comes home to cry…"
"There's a lot of foreboding with regard to the future on this album," agrees Adam Franklin. "Space is in there a lot too. In the first song, the character is a spaceman who's trying to remember what life is really like. Also, it could be about somewhere in the world where winter isn't like the winter here. A sunny place, but its December or January and you're trying to remember winter. Something's going on."
That something began in October 2017, with a two-week stint of tracking at MAKE Records Studio in Los Angeles. Having made I Wasn't Born To Lose You hard on the heels of an Australian tour, the band decided to repeat the process and bottle the momentum of a just-completed US tour performing both Raise and Mezcal Head in their entirety. "That's a good way to record," says Adam, "because you've literally just seen the whites of the audience's eyes and you're thinking, 'If that audience from last night were here now…' You can't get too mellow. We came home with 30 different songs."
Stoking the creative energies was engineer TJ Doherty. A Grammy winner for his work on Wilco's A Ghost Is Born, his diverse credit list also includes Lou Reed and Steely Dan, Stephen Malkmus and Joanna Newsom, Sonic Youth and Selfish Cunt. But the band knew him in a previous life, from their first decade of existence. "He was a fan," says Adam. "We first met because he was down the front at all the gigs in New York and New Jersey a long lost time ago. He ended up going to engineering school and worked on all these cool records."
The final 10 tracks were then mixed in spring 2018, as the band toured Europe – again, infusing the recordings with road-slick fumes. Future Ruins exhibits Swervedriver's fabled widescreen escapism, but with a tension that echoes a sleeve image of Coney Island in skeletal monochrome, like a post mortem photograph of a failed utopia. The title song offers a grim assessment of humanity's current condition: "We are ruled by fools/These are future ruins/That the king is insane/Is now old news."
"That was an early lyric, I sang that one in LA, one of about three or four that I sang there," notes Adam. "It just came out. A rage at the state of the world."
There's more where that came from. Drone Lover, a song that predates the last album, is a comment on the depersonalised nature of 21st century techno-warfare. For all its melody's humming mood elevation, The Lonely Crowd Fades In The Air feels like an elegy, with one crushing couplet after another: "Choose your colours wisely/Because things ain't the same as in days gone by." That song's title – "it has a resonance that fits with these times," says Adam – evokes the alienation wrought by the mass embrace of so-called 'social' media; a perspective on our contemporary malaise that's also echoed in Everybody's Going Somewhere And No-One's Going Anywhere, a spoken word dreamscape.
"Everybody's got the same amount of time on the planet," explains Adam. "There might be a couple in Italy, 90 years old, they've been married for 70, they've never left the country, and they might possibly have had a better life than the person running around who gets a heart attack at 40 after earning 2 million dollars."
The trip ends with Radio-Silent's ghostly seven-minute afterburn, its lyric comprising just 26 words: "We're all so alone/And we all have to live as one/And we all must exist as one/And we all must resist as one." The track ends with police sirens and an electronic snap. "It's loud, but it's impotent rage," says Adam. "Everything is completely fucked up. There's no coming back from that one."
So the journey's over, and yet Swervedriver ride on. Just as there was never any thought of I Wasn't Born To Lose You being a last hurrah for old time's sake, Future Ruins presents a band moving with real time/real life vitality. It showcases new tricks and classic hallmarks: pop songs which don't have choruses, like Mary Winter; odd arrangements and weird contrasts, like Spiked Flower's rock'n'roll grind breaking out to acknowledge English landscape painter John Constable; and a lyric that references Echo & The Bunnymen. See if you can spot that one…
So space travel rock'n'roll: it still applies.
"Sometimes I think we're deceptively complicated, which is better than being the other way around!" Adam laughs. "I love being back in this band. We're playing places that we've either not played in a long time, or new places like Singapore, where there were 20 year old kids there and they're singing the words to the *new songs… We don't want to be the band that just plays the old albums. We're glad to have a whole bunch of new songs. We're on it again."
Written by Keith Cameron, October 2018