AEG Presents
Andy Black
with The Faim, Kulick
May, 11 @
6:30 pm
( Doors:

6:30 pm

)
Majestic Theatre
All Ages
$23.50 Adv./ $28.50 Day of
All Ages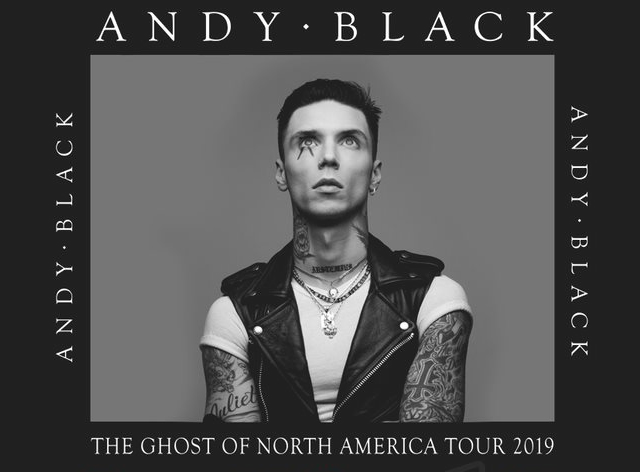 Additional Info
Every pair of tickets for this show includes a CD copy of Andy Black's forthcoming album. You will receive an email with more details about this offer approximately 7 days after your purchase. Please direct questions about your download to help@MusicBundles.com.
Artists
Andy Black

Andy Black, the solo project from Black Veil Brides vocalist Andy Biersack, followed a natural progression in Biersack's musical trajectory. From the metalcore birth of BVB through their evolution into a glam metal outfit, Andy Black's pop-leaning rock was the next step in Biersack's sound. Born Andrew Dennis Biersack in Cincinnati, Ohio, he grew up singing and playing piano, attending Cincinnati's School for Creative and Performing Arts, where he focused on drama and vocals. At 18, he moved to Los Angeles to pursue music. Black Veil Brides released their debut album, We Stitch These Wounds, in 2010. Their fourth album arrived in 2014, the same year Biersack began working on Andy Black. For the new project, Biersack drew more upon the anthemic sounds of early U2 and Bruce Springsteen rather than his other major influences Mötley Crüe, Kiss, and Poison. In early 2016, debut single "We Don't Have to Dance" was released, featuring cleaner vocals and incorporating a Killers-esque synth melody. His second single, "Stay Alive," featured Matt Skiba (Alkaline Trio, blink-182). The Shadow Side was produced by John Feldmann (Panic! At the Disco, the Used, Good Charlotte) and included guest spots from emo/pop-punk friends Ashton Irwin (5 Seconds of Summer), Joel Madden (Good Charlotte), Rian Dawson (All Time Low), Gerard Way (My Chemical Romance), and Patrick Stump (Fall Out Boy). Combining the muscle of arena rock with a pop-punk spirit, Andy Black provided a new outlet for Biersack's many influences.
The Faim
You may not know The Faim just yet. You may not know they've just signed a global deal with BMG Music. You may not know that pioneering L.A producer John Feldmann (Blink 182, The Used, All Time Low) freaked out when he heard their demos and personally invited them to L.A to record their debut album. But that's all about to change in 2018.

So how is it, that a band with no official release, from Perth, Australia (the most isolated major city in the world) with only a handful of live shows under their belt, signed a global recording contract with BMG Music and gets to tour the world? Let's go back to the beginning…

Friends Josh Raven (Lead Vocals), Michael Bono (Lead Guitar/ Bass/ Vocals), Stephen Beerkens (Bass/Keyboard) and Sean Tighe (Drums and Percussion) grew up together in their hometown of Perth and bonded over a shared passion for music. In 2014, while all members were still in high school, the group began writing songs and playing shows and The Faim was born. Some cracking demos were produced and with the world of online music – you never know who could be listening. Incredibly, the band's music found its way to renowned rock producer John Feldmann. In 2017 Feldmann invited the band to L.A to record a song. That session turned into more songs and now a debut album is in the works. Admiring their passion and work...
Kulick
As a kid growing up in middle-of-nowhere Pennsylvania, Jacob Kulick tore all the shelves out of his closet and turned the tiny space into his own private music studio. Starting at age 12, he began writing and recording songs as a way to cope with his anxiety and the loneliness of being an outcast. "Middle school was a tough time—I went through a lot of bullying, like a lot of people do when they're different in a small town," says the 26-year-old singer/songwriter, who now goes solely by his surname. "I started making music because I felt like I had to get something out of me, although at the time I wasn't even completely sure what that was."

On "Ghost"—his powerfully anthemic debut single for RCA/Gold'n Retriever Records— Kulick sustains the raw-nerve vulnerability he first channeled into those eight-track recordings. And despite its more elaborate production—a sophisticated yet explosive arrangement of trap beats and intricate guitar lines—"Ghost" unfolds with the intimate vocals and soul-baring lyrics Kulick has long brought to his music.

"The song 'Ghost' came from thinking about how to deal with the fact that you're going to die someday," Kulick explains. "The way I deal with it is through making music that will live on past my expiration date, and the message of the song is for other people to go out and find something that makes their life worth living too."

In all of his songs, Kulick shows his rare ability to turn everyday pain into music that's undeniably life-affirming. Revealing his refined alt-rock sensibilities, each track also spotlights the sharp songcraft and tight musicality he's carefully honed since first learning to play drums and guitar back in the town of Tamaqua. Along with recording in his closet and eventually self-producing a full-length album, he co-founded a long-running band called Story of Another in high school, and later studied audio engineering at the Art Institute of Philadelphia.

Soon after scoring a job at CBS Radio in New York City, Kulick crossed paths with a fellow musician who had a connection at RCA Records. Once he'd landed an introductory meeting with the label, Kulick devoted the next two years to building up his solo material and collaborating with other writers. Around that time, he also married his
high school sweetheart, who supported the couple by working in a local prison—a period that had some particularly trying moments. "At one point it was winter and we couldn't turn on the heat; we had to wrap up in blankets and try to stay warm," Kulick recalls. "I remember thinking, 'This is all going to pay off someday,' but right then she was just pulling my weight because she believed in me." His instincts proved correct when, in summer 2017, those two years of intense creativity led to Kulick signing a deal with RCA/Gold'n Retriever Records.
Now based in Milford (a borough in Pike County, Pennsylvania), Kulick has found a certain solace in staying close to home, both geographically and in the emotional essence of his songwriting. "Every single time I write, it's that same feeling from when I first started out with music—it's still my way of dealing with all this stuff going on in my head," he says. "I hope that people listen to these songs and reflect on their own lives, and figure out what's most meaningful to them. And I hope it helps them understand that everybody has down times and sad times—and that's okay too. No one should ever feel like they have to suppress whatever it is that they're going through."