AEG Presents
Citizen
with Knuckle Puck, Hunny, Oso Oso
Jun, 15 @
6:00 pm
( Doors:

6:00 pm

)
Majestic Theatre
All Ages
$23 Adv./ $27 Day of
All Ages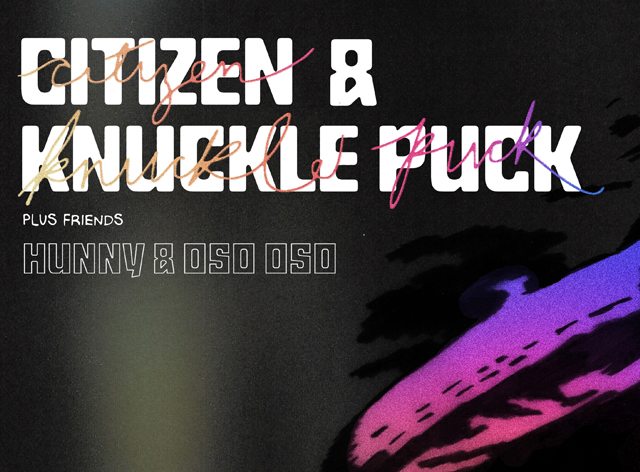 Additional Info
Presale: Thursday, February 21 @ 10am – 10pm
Public On Sale: Friday, February 22 @ 10am
Artists
Citizen
Michigan's Citizen and Virginia Beach's Turnover each follow up acclaimed debut EPs by contributing two new songs apiece to this impressive split 7". Both bands' first recordings for Run For Cover, this split marks growth and maturity for each band as they transition from up-and-coming locals to established national artists. Citizen opens the split with two crunchy post-hardcore emo songs. The band effortlessly blurs lines from crashing Foo Fighters-esque drums and and loud guitars to quiet, emotive twinkling breaks akin to peers Basement and Title Fight but with their own midwestern personality. Turnover opens up side B with rumbling, jumpy toms and a sad, shimmering guitar line before soaring vocals dart in, tugging at the heartstrings and begging for a singalong. Relatable lyrics coupled with infectious vocal melodies make Turnover one of the catchiest bands making punk music. This split comes out one month before these two bands embark on a 7-week national tour, driving home what is sure to be a can't miss summer release.
Knuckle Puck
In early 2017, Knuckle Puck entered the studio to record the follow-up to Copacetic—their 2015 breakthrough that debuted in the Top 10 of five different Billboard charts, earned a nomination for Album of the Year at the 2016 Alternative Press Music Awards and launched them from the Chicago suburbs to a place among the most beloved acts of the modern pop-punk genre.

But midway through the process, the band (vocalist Joe Taylor, guitarists Nick Casasanto and Kevin Maida, bassist Ryan Rumchaks and drummer John Siorek) realized they were on the wrong path. They weren't only making the wrong album for Knuckle Puck—they were making the wrong album for themselves. They knew they had no choice but to start from scratch.

"Having such a struggle and being so disconnected in the recording process felt wrong," Casasanto explains. "It felt so wrong, and we were all afraid to talk about it. There was some denial when we realized what was unfolding."

Discouraged but undefeated, the band changed producers, eventually landing back with Copacetic producer Seth Henderson, and began rebuilding the songs they'd written from the ground up. Knuckle Puck's first attempt would have produced a fine album, but their second created the right one.

The result is Shapeshifter, due October 13 on Rise Records. Despite its title, the album isn't a reinvention for the band; rather, it's the sound of Knuckle Puck taking their best qualities and honing them to make them even sharper. The songwriting became tighter and more deliberate, the lyrics more introspective and urgent—without losing an ounce of the sweat-soaked authenticity and passion that made Copacetic so captivating. Above all, it's an album that proves the band are unflinchingly unwilling to compromise when it comes to their art. That's a sentiment reinforced throughout Shapeshifter's main lyrical theme—the importance of identity—which was only magnified during their first studio session.

"When you reach early adulthood and start to see your life take shape, it's also important to shape your identity and break yourself free from anything that might be holding you down," Casasanto says. "That was a glaring parallel between what was going on with the record and what we were writing about at the time. Although it was tumultuous, I truly think we wouldn't have written the same record without going through what we did."

Throughout their struggle, Knuckle Puck grew stronger and more confident in themselves, something the band ultimately want listeners to take from Shapeshifter.

"I hope the album instills a little bit of hope in people," Casasanto says. "You look at politics and how fast the world is now, everything the internet is bringing to the world. It's difficult to form an identity when there's so much in your face. I hope people realize they should consume the things that really speak to them. Through that, I feel like it's the most satisfying way to be who you want to be
Hunny
Alt-indie rock band HUNNY has signed to Epitaph and have released a new EP Windows II available today. Windows II is the follow up to the band's 2017 EP release Windows I.
"We're super stoked to finally release this music we've been sitting on for a bit and even more stoked for who were releasing it with. I have dreamt of being on Epitaph since the first band I started back in the eighth grade. Please enjoy the second installment of our windows series. Be good to each other and play loud."
HUNNY is a band from Newbury Park, CA who first made a name for themselves in early 2015 after releasing their debut single "Cry for Me". Tastemakers and fans alike found the Southern California group to be a perfect mix of post-punk tinged pop and their childhood influences like Prince and The Cure. The result is a sound that feels uniquely them. With a few more years and more material under their belt, HUNNY has gained across the globe by touring with the likes of The Neighbourhood, The Frights, Bad Suns, Beach Slang, and more. This is just the start of a long and promising career for HUNNY.
HUNNY is front man Jason Yarger, guitarist Jake Goldstein, bassist/keyboardist Kevin Grimmett, and drummer Joey Anderson.
Oso Oso
Oso Oso is a sentimental alternative rock band whose sound forces a collision between pop and punk. They channel the best of early 2000's indie and late 90's punk with a more grounded pop twist. 2017's "The Yunahon Mixtape" was written and recorded almost entirely by lead vocalist and songwriter Jade Dimitri with help from his longtime friend and current drummer Aaron Wims. This unified vision is clear throughout the record's open-ended but purposeful 3rd person narrative.