AEG Presents
CHON
with DOMi & JD Beck
Jun, 27 @
8:00 pm
( Doors:

8:00 pm

)
Majestic Theatre
All Ages
$20 Adv./ $25 Day of
All Ages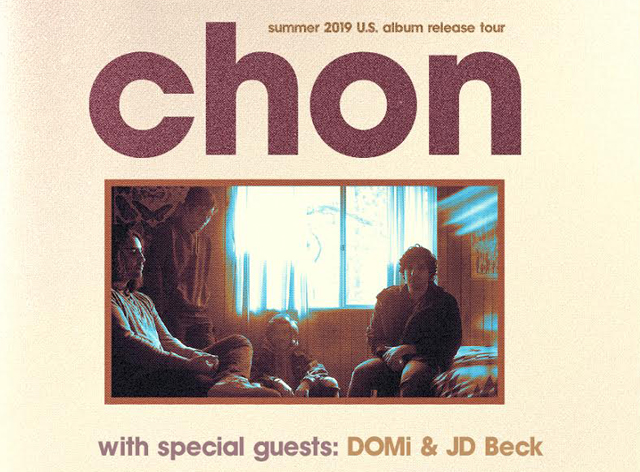 Artists
CHON
On their self-titled third album, CHON find themselves at the confluence of a great push and pull.

Since forming in 2008 in San Diego, the trio — guitarists Mario Camarena and
Erick Hansel and drummer Nathan Camarena — have become one of the most buzzed-about acts in the new era of progressive rock, on the back of more than 40 million Spotify streams and tours with the likes of Coheed and Cambria, Animals As Leaders and Circa Survive.

Their debut full-length, 2015's Grow, established their mathy, forward-thinking take on the genre, while 2017's Homey furthered that sound while incorporating brand-new influences like effect-pedal-heavy elements of electronic music and trip-hop and debuted at No. 66 on the Billboard 200. Now, with CHON, set for release on June XX through Sumerian Records, the trio once again have kicked down their musical guardrails — but in a way that balances their more eccentric impulses with a steadying dose of clarity and restraint.

"We really wanted to make songs with more simplistic structures, but also the craziest parts we've ever had musically," Mario Camarena explains. "I think our music is already so weird that when the structure is also crazy, it can be hard to follow. I really wanted this album to appeal to people who maybe don't listen to this style of music."

It's true that CHON streamlines some of the band's grandiose, free-flowing musicality in favor of more traditional sonic structures. But, most importantly, simplifying their sound doesn't mean resorting to being boring. If anything, CHON is brimming with some of the most forward-thinking, intricate musings the band have ever attempted, from the deep progressive propulsion of first single "Peace" to "Spike," which spins the band's youthful tech and metal influences together into a flashy riff-athon.

All at once, CHON respects the trio's current listeners while inviting a broader swath of new ones in — the rare progressive rock album adroit enough to straddle that line. For the band, it will be especially rewarding to bring this new musical mindset to crowds at festivals like Coachella, Shaky Knees and Electric Forest. There will be, of course, CHON diehards in the audience, but large-scale settings like these offer the band the opportunity to cultivate an even wider fanbase around their captivating sound.

Of course, they're coming prepared: While writing and recording the self-produced album in San Diego, the band put a lot of thought into calibrating their new music to fit the expansive crowds they knew they'd soon be playing in front of. The result is a collection of songs that plays just as well to the front row as the very last.

"We knew we were going to play these songs at big festivals, and it was in the back of our minds," Mario says, pointing to the tribal-inspired rhythms on "Gift." "We were just thinking of Electric Forest when we wrote that song: It's kind of psychedelic and hippy. It's going to be really fun to see how big crowds react to these songs."
DOMi & JD Beck
DOMi & JD Beck are a duo collaboration between keyboardist Domitlle Degalle and drummer James Dennis Beck. Their sound of up-tempo future-sonic jazz meets with hip-hop breakbeats, luscious synth harms, and absolute virtuosity. The duo have become one of the internet's viral addictions, attracting interest from Thundercat, Will.i.am to Skrillex.

The duo first met at NAMM through their collaborator Sput" a.k.a. Robert Searight II of Snarky Puppy. JD Beck is a 16 year old drummer and producer from Dallas who began his drum career at age 8; and started producing aged 12. A side-man to Jon Bap and Anna Wise, JD also performs with Mono Neon. He is sponsored by Vic Firth.

DOMi is the youngest woman to the world's top keyboard innovators she is sponsored by Yamaha Synth Artist and Spectrasonics. A piano graduate of National Conservatory of Paris (CNSM), Domi continues her studies in Boston at Berklee College of Music under a full Presidential Scholarship and has performed alongside Robert Glasper, Mac Miller, Thundercat, Louis Cole, Jason Palmer, MonoNeon, Ghost-Note, Justin Brown, Mike Mitchell, Mark Guiliana, to Anomalie.

Celebrated as one of the most exciting young force to the future-sonic-jazz movement, DOMi & JD Beck can be caught live with headline dates internationally and are soon to release their first debut album this 2019.