AEG Presents
Municipal Waste
with Napalm Death, Sick of It All, Take Offense
Oct, 16 @
6:00 pm
( Doors:

6:00 pm

)
Majestic Theatre
All Ages
$25 Adv./ $28 Day of
All Ages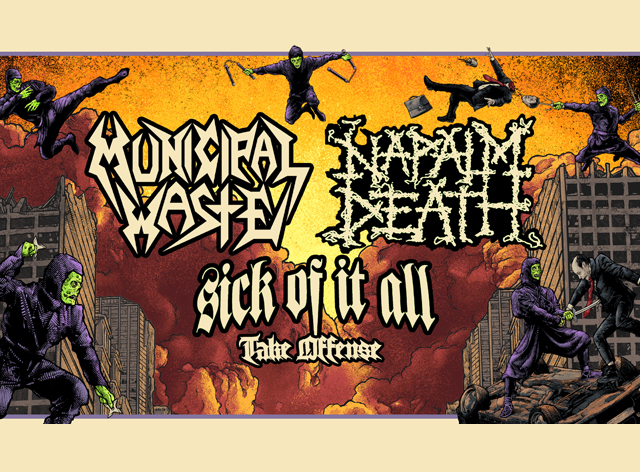 Artists
Municipal Waste
So what happens when a band's riotous reputation
catches up with them? Precautionary measures are taken and they - of course - get banished, only this time, it's into space! When the greedy ship captain hordes the food rations, the crew kicks into survival mode, commit mutiny, and devour their captain skewing the story into a horrific yet fantastic cannibalistic voyage into space that cult movies are made of.

The Fatal Feast, the fifth studio album by Richmond, Virginia's speed metal punks MUNICIPAL WASTE, not only ponders the type of moral dilemma faced in the title track but also tackles earthly issues that consistently plague humanity ("Covered In Sick/The Barfer," "Repossession," "Standards And Practices," "12 Step Program," "Crushing Chest Wound"). These 37 minutes of new music consolidate the best of everything the band's got to offer: their utmost respect for headbang-inducing riffs, their trademarked aggression, their tongue-in-cheek sense of humor, and their talent for extracting meaning out of the absurd.

Rising from the squalor of a cursed punk house for their live debut at a New Year's Eve keg party welcoming in 2001, founding members Ryan Waste and Tony Foresta quickly embraced a DYI ethic to spread the word about their band and graduated to booking shows out-of-state and even in Mexico. After a self-titled EP and the Waste 'Em All debut album in 2003, bassist Phil "LandPhil" Hall and former Melt Banana drummer Dave Witte were ushered into the fold. This line-up went on to record three full-length albums for Earache Records (2005's Hazardous Mutation, 2007's The Art Of Partying, and 2009's Massive Aggressive), earning such accolades throughout their career as "MUNICIPAL WASTE do it so well that any track could squeeze comfortably between D.R.I. and Gang Green on a mix tape" from Spin Magazine, "No band sound more authentic," from Alternative Press, "A gold standard" from Decibel magazine, and "Undeniably the best at what they do," from Outburn magazine. Visually, the band also delivered, as evidenced by the success of the devil-may-care and often outrageous attitude of their videos which have all become fan-chanted anthems at their live shows. The fact is, no one could argue against MUNICIPAL WASTE's reputation as the ultimate feel-good party band.

Dedicated to keeping the spirit of the 1980's cross-over scene alive, it was with their uncontrollable mirth and succinct songs that lead MUNICIPAL WASTE to reap the rewards of their hard work. By the time they signed with new label Nuclear Blast in 2011, they had proven themselves as die-hard road warriors who could tour & perform with bands outside their genre such as Suicidal Tendencies, The Casualties, 7 Seconds, Circle Jerks, Sick Of It All, GWAR, Lamb Of God, Children Of Bodom, and At The Gates and win over their crowds. Here they are 11 years later and their rabid fan base – which includes fans of metal, punk, and hardcore - continues to expand.

With artwork by Justin Osbourn of Slasher Design, 2012's The Fatal Feast is the first MUNICIPAL WASTE album to feature contributions from invited guests. Steve Moore of Zombi penned the intro to the title track and the spacey "Waste In Space," John Connelly of Nuclear Assault's vocals grace the album's title track, and former singer Tim Barry of Richmond punk legends Avail jumps in on "Standards And Practices."

Aptly hailed as "an interstellar thrashterpiece" by Decibel magazine, MUNICIPAL WASTE's The Fatal Feast debuted at #3 on the Billboard Heatseekers chart. Not bad for a band from Virginia, eh? Space may be a noiseless vacuum for amateurs who don't travel with their own P.A. system, but seasoned veterans of extreme situations MUNICIPAL WASTE always know better than to leave home without it!
Sick of It All
After debuting on Century Media Records in 2006 with the critically acclaimed 'Death To Tyrants' album and celebrating their 20th anniversary in the same year, SICK OF IT ALL certainly deserve being labelled a "living legend", and still prove that classic New York hardcore is alive and kicking! With a career spanning 20 years and hundreds of thousands of albums sold worldwide, the band's highly anticipated new album 'Based On A True Story' will add an exhilarating new chapter to the SICK OF IT ALL legend. Doubtlessly the band's hardest hitting effort to date, 'Based On A True Story' easily meets the high quality of its predecessor and offers tons of soon-to-be-classic hardcore hymns like 'Dominated', 'Long As She's Standing', 'The Divide' and 'Lowest Common Denominator. It features the most catchy and powerful material the band has ever written. It's astonishing to see the band still boiling with rage at a world gone wrong and successfully transforming this natural and honest aggressiveness into hardcore hits. Two decades of experience as skilful songwriters, endless touring, plus an undying hardcore spirit make SICK OF IT ALL anno 2010 sound stronger and more determined than ever. 'Based On A True Story' is undeniable proof that the quartet is simply unstoppable and unrivalled within the hardcore scene in terms of quality and sheer impact. Formed during 1986 in Queens, the band released their first self-titled EP on Revelation Records and began to accumulate a strong local following by playing famous clubs like CBGBs ('A Month Of Sundays' actually pays tribute to these glorious days at this legendary venue). Soon after, the band released their first full-length record 'Blood Sweat And No Tears' on In-Effect Records. Often revolving around politics, social injustices and life on the streets of New York, the band wore their heart on their sleeve and made no apologies, often including threads of positivity. When their second album 'Just Look Around' was released in 1992, it was a benchmark for the band and the New York hardcore scene, and kicked off their globe-trotting expansion with tours in Europe, South America and Japan. They released their breakthrough album 'Scratch The Surface' in 1994 on Atlantic, followed by the seminal album 'Built To Last' in 1997. After releasing three albums on Fat Wreck Chords, as well as a live album and a collection of rarities, the band took on the challenge to push themselves further. 'Death To Tyrants' was the band's first cooperation with Century Media and was mixed by renowned metal producer Tue Madsen (The Haunted, Heaven Shall Burn, Dark Tranquillity,) adding a refreshingly heavy edge to the band's trademark NYHC sound. 'Death To Tyrants' was extremely well received by media and fans alike and followed up with three years of relentless touring. The new album was also recorded with Tue Madsen, this time at Starstruck Studios in Copenhagen in Copenhagen, Denmark, resulting in a massive metallic heaviness which increases the punch and drive of the new opus. Craig Ahead (bass) comments: "The end result of our three and a half weeks in the studio is something that we are all very proud of. An album that is pure SICK OF IT ALL and will stand up against any of our previous work and I believe raises the bar to a new standard. I hope you enjoy our offerings. We look forward to its release so we can again stomp the world. See you on tour!" To walk the talk, the band plays a European tour with Dropkick Murphys in January/February 2010, followed by a UK run with AFI in April. More festival shows and touring activities are in the works. 'Based On A True Story' is another sonic statement that SICK OF IT ALL are an institution of hardcore. Their longevity and conviction has kept the band's reputation untarnished and legendary. As Metal Hammer (UK) puts it: "SICK OF IT ALL – despite their ever-increasing age and fierce competition – are still the finest spokesmen for hardcore's social conscience and values", and this new release will allow them to maintain this leading position for many years to come!