Revolver + Black Iris + Magic Stick Present:
Stick To Your Guns
with Counterparts, Terror, Sanction, Year of the Knife
Jul, 26 @
6:00 pm
( Doors:

6:00 pm

)
Magic Stick
All Ages
$18 Adv./ $20 Day of
All Ages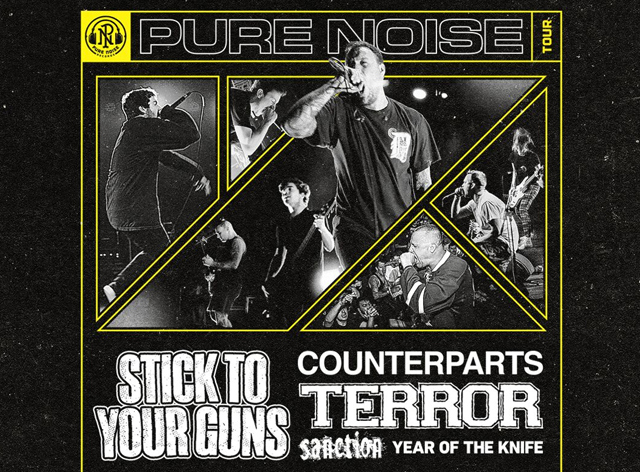 Artists
Stick To Your Guns
Since emerging in 2003, Southern California's Stick To Your Guns—Jesse Barnett [vocals], Andrew Rose [bass], George Schmitz [drums], Chris Rawson [guitar], and Josh James [guitar]—have merged socially conscious and outspoken lyricism with hardcore energy and hammering metallic force. They took a bold step in a new direction on their sixth full-length album, True View [Pure Noise Records] by expanding their grasp of melody, amplifying the haunting clean vocals, and incorporating actual phone conversations to thread together a narrative of self-realization.

It was only a matter of time before they got this personal. Through countless shows and a steady stream of music, the band attracted a devout fan base. Among many accolades, Diamond would bow at #1 on Billboard's Heatseekers Chart in 2012 as 2015's Disobedient went Top 100 on the Billboard Top 200 and clinched #2 on the Hard Rock Albums Chart. Most recently, the 2016 EP, Better Ash Than Dust, repeated the #2 debut on the Hard Rock Albums Chart and earned acclaim from Alternative Press, Revolver Magazine, New Noise Magazine, and more as the single "Universal Language" ignited over 1.5 million Spotify streams. Moreover, 2017 saw Stick To Your Guns make history, becoming "the first American hardcore band to play East Africa" in Nairobi, Kenya.

Along the way, Stick To Your Guns toured across the globe with everyone from Every Time I Die and The Amity Affliction to BlessTheFall and Being As An Ocean in addition to multiple stints on the Vans Warped Tour. True View will once again bring them around the world in 2017.





Terror
LA based powerhouse Terror have always been a name synonymous with hardcore. From their inception in 2002, the band have displayed a level of steadfast dedication unlike any other in the scene. Now with six studio albums, a series of live albums, splits, compilations and EP's under their belts, the scene veterans are gearing up to release their latest full length 'Total Retaliation'. The new album which is penned for a September 28th release date features Fit For An Autopsy's Will Putney (Thy Art Is Murder, Body Count, Knocked Loose) in the producers chair and is the band's first new material since last years 'The Walls Will Fall' EP. Clocking in at just under 30 minutes, 'Total Retaliation' is a succinct yet intense message of resistance within a world that can inspire little else. It's a helping hand for the disillusioned and a firm middle finger to the authorities that are tearing apart society as we know it. As the band's seventh full length studio album it serves as yet another example of why Terror have not only endured but remained at the top of their game for over 15 years.

Year of the Knife
YEAR OF THE KNIFE –BIOYear of the Knife is a metallic hardcore band from Delaware, USA that formed in 2015. Known for their relentlessly heavy riffs and cutting lyrics inspired by everything from straight edge to police brutality, the five-piece have kept themselves busy with tours across the US and Europe throughout 2018 and 2019. The band signed to Pure Noise Records in early 2019, and re-released their first two EPs as well as a new single together on a full length titled Ultimate Aggression.