AEG Presents
Crumb
with Divino Niño, Shormey
Nov, 5 @
7:00 pm
( Doors:

7:00 pm

)
Majestic Theatre
All Ages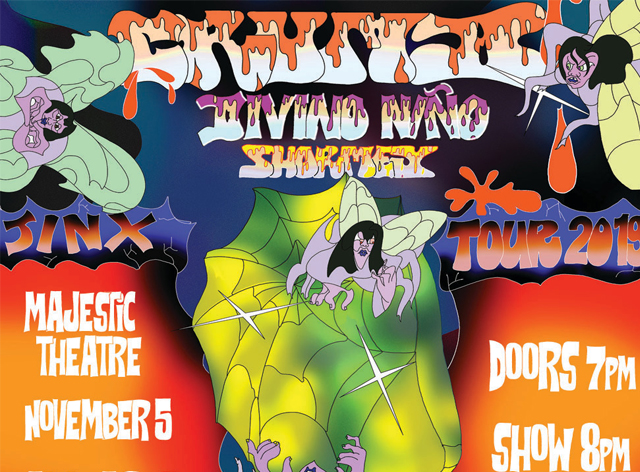 Additional Info
Crumb has partnered with PLUS1 so that $1 from each ticket sold will go to Partners In Health and their work saving lives, revitalizing communities, and transforming global health, and to the Florence Project and their work providing direct legal and social services for detained adults and children under threat of deportation. www.pih.org www.firrp.org
Artists
Crumb
Crumb is the collaboration of Brooklyn-based musicians Lila Ramani (guitar, vocals), Brian Aronow (synth, keys, sax), Jesse Brotter (bass), and Jonathan Gilad (drums). The friends came together in 2016 with the goal of developing and recording a collection of songs Ramani had written in high school and college, the work ultimately resulting in the band's first two EPs, 2016's "Crumb" and 2017's "Locket." Encouraged by the warm reception online and at shows, the band evolved into a full time touring and recording project.
In June 2019, Crumb will release Jinx, their first full-length album and best distillation to date of their singular blend of psych-rock and jazz. On Jinx, Ramani continues to helm the songwriting, with Aronow, Brotter, and Gilad each bringing distinctive ideas to match her ethereal, intimate vocals and luminous guitar lines. Informed by two years of nearly non-stop touring, the songs sweep and swell to capture the beguiling live spirit of Crumb shows, while taking listeners one step further down the band's dizzying, hypnotic path.
Divino Niño
Divino Niño's new album Foam feels like catching up with a lifelong friend. There's undeniable songwriting chemistry between guitarist Camilo Medina and bassist Javier Forero, who met as kids in Bogotá, Colombia and years later reconnected by sheer happenstance after their families had both moved to Miami. Now Chicagoans, their rhythmic, soulful—and at times bilingual—Latinx punk songs are a reflection of their continent-spanning bond and proof that Divino Niño couldn't have formed without unlikely but happy coincidences.

This shows on the entirely inviting, syrupy, and sexy Foam. The quartet's Latin American roots seep in throughout the LP's silky psychedelic flourishes but especially on single "Maria," which is sung entirely in Spanish. Inspired in equal parts by Argentine punk and the narratives of Mexican telenovelas, the personality-filled track is one of the most memorable on the record. Though it's the first song Medina has ever written that wasn't somewhat autobiographical, it's delivered with enough emotion to feel real. Medina sums up the band's ethos: "We are very driven by feeling: something that's cozy, at home, and a little sentimental."
Shormey
Shormey is the recording project of Virginia native Shormey Adumuah.

She frequently draws inspiration from the sonic influences of 70's disco, soul, and psychedelic music. It's all exemplified in The Boogie Tape Vol. 1, Shormey's first cassette project released via Citrus City Records coming out May 10, 2019.

Staying true to the relaxed and carefree vibes of the tape, Shormey recorded the entire project within the confines of her bedroom. This tape is a testament to her desire to create music that doesn't put any pressure on the listener to feel any one particular feeling, but to just enjoy it as an upbeat experience.