Magic Stick + Further Frequencies Present
Zebbler Encanti Experience
with BogTroTTeR, Dancemyth, Dreezstring
Jul, 27 @
9:30 pm
( Doors:

9:30 pm

)
Magic Stick
Ages 18 and Up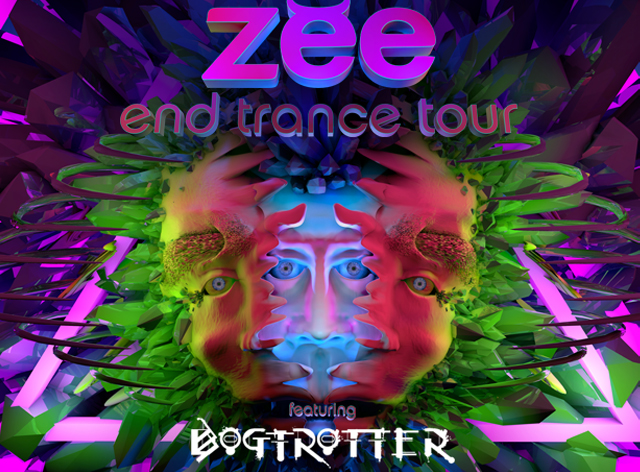 Additional Info
On The Alley Deck:
Labden | Mixedmind | Introspace | Alex.Hunter
For Bottle Service and VIP Booth Reservations please contact
Nick@majesticdetroit.com
Artists
Zebbler Encanti Experience
Zebbler Encanti Experience (aka "ZEE") is an audio/visual collaboration between video artist Zebbler and electronic music producer Encanti, based out of Boston, USA and Valencia, Spain. The Experience is an immersive performance of mapped visuals on three custom winged projection screens, synchronized with heavy peak-hour psychedelic bass music, resulting in the creation of a fantasy world for audiences to lose themselves in.
ZEE have seen a considerable amount of road time in the last few years, serving as integral members of multiple tour teams. The architect behind the projection mapped projects for Shpongle and EOTO, and assisting with Infected Mushroom's stage construction, Zebbler has toured the United States nonstop producing visual shows and performing as a VJ at hundreds of high profile events. In addition to ZEE performing as direct touring support for EOTO in venues throughout the country, and performing in Shpongle Live band during their first few shows in the United States, Encanti has carved out some time to teach electronic music production to graduate students in Valencia, Spain wing of Berklee College of Music.
BogTroTTeR
The Minneapolis native BogTroTTeR has set roots in Denver and has been melting crowds throughout United States, Australia, and Canada since 2009. Through complex percussions and growling rhythms, BogTroTTeR's diverse collage of original compositions challenges the scope of modern day psychedelic bass music. His sound pushes the limits through his own unique mixture of glitch-hop, breakbeats, and psy-bass with a dark, swampy twist. Murky bass lines and terrestrial synthesizers are just a few things contributing to the lustrous sound field amalgamated by BogTroTTeR.

He has quickly become a favorite at festivals such as Infrasound, Lucidity and last years' Tipper and Friends' Full Moon Gathering; inspiring a myriad of listeners to tread deep into his sound field, united by lustrous melodies.

BogTroTTeR has six releases creating complex terrestrial soundscapes on legendary Shanti Planti, Merkaba, and Addictech Records.
Dancemyth
Raised in Warren, Michigan, Dancemyth brings a versatile and genre-bending performance to the stage. His productions blend together all of the influences derived from his roots; from funky jazz trombone to heavy metal guitar riffs, Dancemyth always strives to play a very diverse set. From uptempo to downtempo, his sets can either deliver high energy, or keep it nice and chill with your head noddin'. Hibernating in the studio has brought great things; from a release on ThazDope records, to features on multiple other compilations. Keep on the lookout for the 22 year old musician around a city near you, and please remember: When the going gets heavy, never be afraid to open up a mosh pit.
Dreezstring
Beat oriented electronic music. No certain genre to specify this music, but a guarantee to make ones head bob. A background in percussion/drums. 808forlyfe