AEG Presents
GWAR
with Sacred Reich, Toxic Holocaust, Against the Grain
Sep, 18 @
7:00 pm
( Doors:

7:00 pm

)
Majestic Theatre
All Ages
$20 Adv./ $25 Day of
All Ages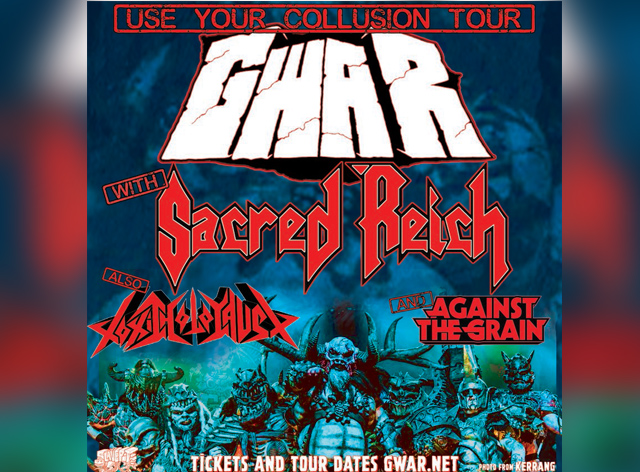 Artists
GWAR
GWAR:
The Beserker Blóthar: Lead Howler
Beefcake the Mighty: Bass Guitar, Vocals
Pustulus Maximus: Lead Guitar, Vocals
BälSäc the Jaws 'o Death: Rhythm Guitar, Vocals JiZMak da Gusha: Drums
Bonesnapper: Bodyguard, Crappy Vocals
Sawborg Destructo: Annoying Nemesis, Annoying Vocals

The Blood of Gods Mythos:
The story of GWAR is carved across the history of this barren and hopeless planet, but GWAR themselves are not of this world... their story begins in the deepest reaches of outer space. Long ago, the beings who would become the rock band GWAR were part of an elite fighting force, the Scumdogs of the Universe. For eons, they served as thralls to a supreme being known only as the Master. But one by one, each future member of the band earned a glaring reputation for being an intergalactic fuck-up. And so, they were banished, sent away on a fool's errand to conquer an insignificant shitball floating in a dark corner of the universe; the planet Earth. Once here, GWAR shaped the face of the globe, destroying and rebuilding the natural world, and giving rise to all of human history. Aliens to some, gods and demons to others, our erstwhile Scumdogs fucked apes to create the human race, and this fateful unplanned pregnancy would prove to be truly disastrous!


Sacred Reich
Twenty-three years after dropping their last full-length, ​Sacred Reich are returning in force with the towering ​Awakening​, effortlessly demonstrating that they remain a formidable force in metal. Showcasing everything a fan would expect and hope for from the Phoenix, Arizona crew, it is a timeless collection comprised of blistering thrash, crushing grooves, killer solos and socially conscious lyrics that demonstrate a true understanding of everything that matters most in the world today. ​"Going into it, we had a loose idea as far as knowing that we wanted some fast, heavy songs to honor the old school fans that have supported us and gotten us to this point," states vocalist/bassist Phil Rind. ​"We wanted everything to happen naturally. We didn't want to force anything and we are super stoked with every song. It is easily the best thing we have ever done."

Formed in 1985, ​Sacred Reich were an integral part of the 80s and 90s thrash movement, dropping four albums before splitting in 2000. They would go on to reform in 2006 but strictly as a live act, dropping the ​Live At Wacken ​DVD in 2012, but it was only in 2018 that they started to work on new material. ​"Over the last year, we wrote and demoed the songs for the new record. Our drummer Dave (McClain, ex-​Machine Head​) was still on tour with his old band so our buddy Tim Radziwill played drums on the demos along with his son, Joey, and they recorded it all at their studio. We wouldn't be here today without their help, they helped get down the basic framework of the songs. They rule, and the whole process of recording was so positive, cool and fun." ​Being very much aware of how their approach to the record affected the outcome definitely played into the finished product. ​"Leading up to it, we talked about the fact that you can't separate the process from the result. Everything you do, how you do it, your attitude while you do it, all comes out in the end. So we tried to do things the right way - and by the right way, I mean, being open to what came."

The return of Dave McClain, who manned the drum throne from 1991 to 1997, and the addition of Joey Radziwill playing guitar, alongside original guitarist Wiley Arnett, are integral facets of the record. ​"Dave is such a killer drummer and person. He works every day to become a better drummer, and I mean ​every day​.His work ethic is inspiring. As much as he has accomplished, he is still open to what comes. Being in the studio with him was amazing, watching him try different things and being brave and creative on the spot was incredible to watch. He has brought so much happiness and positivity to ​Sacred Reich​." The 22-year-old six-stringer Radziwill demonstrates a skill and maturity far beyond his years, having played drums in a band and completed three US tours in the back of a van prior to hooking up with ​Sacred Reich​,so is far from "new" to this world. "From being a drummer, his timing is impeccable. He brings a higher level of musicianship and tightness to our band, and he brings a freshness to us. He gives us an opportunity for us to see things from a different perspective, and all of us were blown away by what he can do with a guitar and how effortlessly he does it. His right hand is a buzzsaw. You show him something once and that's it. He came into the studio, which can be very intimidating, and just breezed through it like a 25-year pro."

Always having been drawn to album titles that work on multiple levels, ​Awakening is no different, referring to not only the band recording again for the first time in more than two decades, but also the lyrical themes on the record. ​"It encapsulates what I feel is the most important thing we all can do: we can all do a better job of simply paying attention." Lyrically, though there is a lot of aggression scattered across the tracks, there is also a great deal of positivity and hope, most notably in "Manifest Reality" and "Revolution", the latter referencing the importance of maintaining a positive mental attitude, not giving up and plainly stating "it's time for revolution". Given the current state of the world, Rind believes staying positive is more important than ever. "​There is a lot
of fear, anger and division going around. At the same time, there are plenty of beautiful, incredible things happening right in front of us, day after day. So if we choose to be optimistic, focus on positive things and understand that it's all temporary, good and bad anyway, we can enjoy our lives and be more kind and loving to each other. 'Manifest Reality' says, 'Be the change you want to see'. I really can't say anymore than that." ​
With "Something To Believe" the record ends on a particularly uplifting high, both in terms of mood and richness of melody.
"It was never intended to
be the closing track, but it is wonderful that it worked out that way. The fact that I can sing 'Love's the only way to live our life each day' in the last verse is a perfect encapsulation of what the record is about."
To track the album, the band headed into Platinum Underground in Mesa, AZ, and employed producer Arthur Rizk (​
Power Trip, Cavalera Conspiracy
​) and engineer John Aquilino, Rind insisting both played integral roles in shaping the sound of ​
Awakening
​
.It was a particularly special time for the front-man and Arnett, being in the studio together for the first time after such an extended absence. "​
The first day we tracked almost felt like a dream. We would just look at each
other and smile and say, 'We're doing this!'. 23 years is a long time, but it felt right and natural. Wiley is such an immense talent. He has a very unique sound and feel. He has great hands and vibrato, and his leads are so tasty and such an integral part of our sound. We are lucky to have him, and I love him."
The sessions that followed were a genuine pleasure for all concerned, everything flowing out of the players. ​
"I really hit my stride recording the vocals when I just relaxed and let it
happen. In the beginning, I was pushing and trying too hard. When I finally understood all I had to do was sing the songs, it happened quite naturally. John and Arthur, who make records all day, every day, commented throughout the process how great and unique the whole thing was. Regardless of what happens with the record, the experience of making it was enough to satisfy us. Obviously we hope people like it, but even if it tanked, it could not change the way we feel about it. We know what we did."
Toxic Holocaust
Toxic Holocaust are a punk-inflected death metal band from Portland, OR, associated with Relapse Records. Influenced by hardcore punk and proto-death metal bands of the 1980s such as Discharge, Hellhammer, Bathory, Venom, and Possessed, Joel Grind founded Toxic Holocaust in 1999. He originally wrote and recorded all of the band's music himself, and after a couple demo releases (Radiation Sickness, 1999; Critical Mass, 2002), he made his official full-length album debut as Toxic Holocaust with Evil Never Dies (2003). Two years later, after some touring with a hired backing band, Grind released the second Toxic Holocaust album, Hell on Earth (2005), which once again he wrote and recorded by himself. The album notably features cover art by Ed Repka, known for having created iconic covers for classic metal albums by Megadeth, Death, and others. Extensive touring followed, along with a recording contract with America's premier death metal label, Relapse Records. In addition to releasing the third Toxic Holocaust album, An Overdose of Death... (2008), Relapse reissued Evil Never Dies and Hell on Earth. ~ Jason Birchmeier, Rovi
Against the Grain
ATG ( Against the Grain) is a 4 Speed rock band out The Motor City..
After just starting in 2009 they have spread their brand of intense rock and roll across the US with many tours, and show no sign of slowing down.
Self titled Album released 2011.
"Motor City Speed Rock" drops May 4th,2012.
Members -
Chris Nowak - Bass/ Lead Vox
Rob Nowak - Drums, Back ups
Nick Bellomo - Lead guitar, back ups
Bryan Griffin - Guitar, back ups
Kyle Davis - Guitar, vox, touring
They have shared the stage with such national acts as:
The Meatmen (month long direct support on a tour),DRI, The Angry Samoans Zeke, Guttermouth,Jugheads Revenge,Agent Orange, Star Fucking Hipsters, D.O.A., The Flatliners, Hit and Run,Murphys Law, Hellmouth,Black Fag, Dear Landlord, Downtown Brown,The Suicide Machines,Holley 750, The Koffin kats, Common Enemy, Riverboat Gamblers, Shotbaker and many more.