Good Show & Magic Stick Present:
The Menzingers
with Tigers Jaw, Culture Abuse
Oct, 27 @
7:00 pm
( Doors:

7:00 pm

)
Magic Stick
All Ages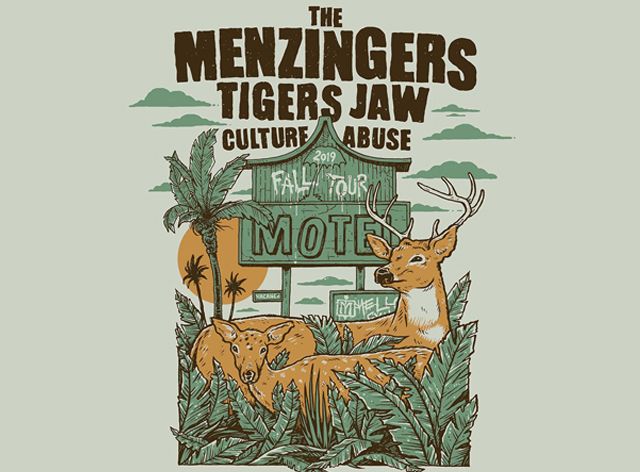 Artists
The Menzingers
The Menzingers formed as teenagers in their hometown of Scranton in 2006, then later relocated to Philadelphia. The band made their Epitaph debut with 2012's On The Impossible Past, which was voted Album of the Year by Absolute Punk and Punk News. Released in 2014, Rented World was praised as "packed with clever songwriting" by The New York Times and "a colossal fist-pumper" by Stereogum.
Tigers Jaw
A real cool band.
Tigers Jaw was formed in 2005 by Ben Walsh and Adam McIlwee. Characterized by unconventionally catchy songs, weaving harmonies, and timelessly relatable lyricism, the band has been organically increasing its fanbase over a decade-plus of touring and releasing music. Walsh & McIlwee recorded Belongs To The Dead in 2006 using a cassette deck and cheap microphones in McIlwee's garage, drawing heavy influence from The Microphones. Around this time, the duo was also self-recording I'm On Your Side, the "lost tigers jaw lp" which contained early versions of Tigers Jaw songs. Soon after, Tigers Jaw linked up with Run For Cover Records to re-release the Self-Titled album (originally released on CD by Scranton's Prison Jazz Records), as well as Two Worlds(2010), Charmer(2014), and other EPs. Following a lineup change in 2013, Tigers Jaw began touring full-time. Walsh and longtime member Brianna Collins took some time off in 2016 to write songs for a new album. spin was released in 2017 on producer Will Yip's Black Cement Records. Tigers Jaw's first major label release was praised by critics and cemented the band as a songwriting force, satiating longtime fans and gripping new listeners. Aptly described as the middle ground between Fleetwood Mac and Saves the Day, Tigers Jaw have managed to progress and evolve while preserving the spirit of their modest origins in the scrappy DIY Scranton punk scene.
Tigers Jaw Forever.


Culture Abuse
"I was just waiting 'til I could get out and play music for the rest of the world," says David Kelling, songwriter and frontman of Culture Abuse. Bay Dream, Epitaph's first full-length release for the band, offers up ten impeccably-crafted songs full of personal and universal lessons. And the best advice is simple and practical. "Be kind to the bugs, be conscious of others, be careful with drugs, be kind to yourself even though it gets hard," Kelling sings out clearly over searing, rhythmic guitars provided by John Jr and new addition Nick Bruder on "Bee Kind to the Bugs." Together with Shane Plitt on bass and drummer Ross Travers the band provides the same strong rock foundations and memorable, critical lyrics as their debut, Peach, but Bay Dream travels exciting new territory for the five-piece. New territory makes sense, as Kelling has relocated to Los Angeles from San Francisco, and the songs read like open letters to both the cities and the people in them. "I grew up in a super small town called Murphys, California… Once I graduated high school I left. At first I set out for San Francisco, then as everything keeps moving it's brought me down to LA. So for now I feel like I can't go back home until I feel fulfilled with chasing this dream."

So there's no wonder physical and emotional movement play off of each other effortlessly throughout Bay Dream. The title and opening track deals exactly with the guilt of moving away from friends and family to follow a dream. "Dip" is about struggling to keep those loved ones relevant: "Time keeps dragging like a big slug, I get squished like a big bug, trying hard not to lose control, tell me what you wanna say, tell me cuz I wanna know, tell me cuz I gotta go." The deceptively simple words reveal a happier albeit wiser side of Kelling's songwriting. "I wrote songs in my head until I got a guitar. Just going after the sound that I think each song needs individually, so the sound is in constant change," Kelling explains. He cites listening to everything from Billy Boyo, to Paul Simon, to Sly and the Family Stone during the making of the record. Despite the variety of influences there is still plenty of cohesion throughout the songs, thanks in part to Grammy-winning engineer and producer Carlos de la Garza, whose past experience working with artists like Ziggy Marley, Jimmy Eat World, M83, and Paramore was a glove-like fit for the breadth and nuance of Bay Dream.

Despite the more upbeat sound and outlook, there is no escaping the uglier side of life. Everywhere lurk threats, obligations, limitations, and the will to fight through them. "Rats in the Walls" is full of the anxious excitement that only the love/hate relationship that is city-life in America could inspire. Lyrics like, "But the bugs in your bed, the rats in the walls, and the bill collecting phone-calls, make it harder and harder, and the rent's going up… Don't waste your time" are more about the beautiful fleeting nature of life than any specific apartment. Where Peach dealt with being in the middle of painful times, Bay Dream is about getting through them to find the sweet times are even sweeter. "I miss the way the air smells, I miss seeing the Bay Bridge across the water, the feeling that there is still more out there," David says of his old city. "It's a battle because that's where my family is, and as time goes on everyone's getting older and I don't know how much time I have left with them. But I still have work to do out here in the world." Each song is proof that work is paying off.

It's tempting to see Bay Dream, due out June 15th, as a concept album. "Bluebird on My Shoulder" is the perfect ending song that brings everything into perspective like a drive down the California coastline, and the dub influence is just right. Kelling remarks, "I've written songs like this always. Just finally working up the guts to show other people." If Bay Dream is any milestone of where the band is going, there are clearly more good things up the road.



Recorded with Scott Goodrich at Nu-Tone Studios, "Peach" is an eclectic album that represents a band finding their sound, and that sound is anything they want it to be. The album sees the band lean full tilt into the Nuggets-inspired garage punk only hinted at on their more hostile early work, throwing keyboards and even the occasional string arrangement on top of their distorted attack. The result creates a barrage of outsider earworms that might be hard to label, but aren't hard to sing along to instantly. This refreshingly try-anything approach to songwriting makes for an unpredictable listen that is somehow simultaneously cohesive, a testament to Culture Abuse's ability to wrestle disparate styles into something all their own.

Culture Abuse don't care what kind of band you think they are, and after listening to "Peach," you'll be too busy singing along to care either.