I'm Ok: A Tribute to Daniel Johnston
with Matt Milia, Stef Chura, Libby Decamp, Craig Brown, Anna Burch, Marlon Morton (Remnose), Greater Alexander, Jesse Shepherd-Bates (Handgrenades)
Nov, 15 @
7:00 pm
( Doors:

7:00 pm

)
Magic Stick
All Ages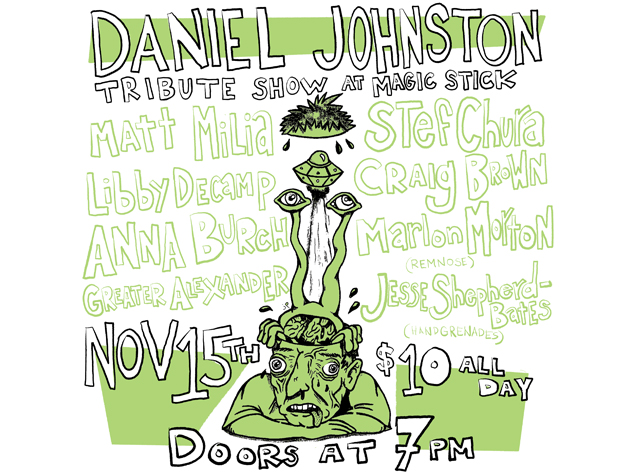 Additional Info
A portion of the proceeds from this show will benefit Daniel Johnston's Hi How Are You Project, inspiring new conversations around mental health issues by funding and creating thoughtful media content, projects and events. https://www.hihowareyou.org/projects
Artists
I'm Ok: A Tribute to Daniel Johnston
Matt Milia
Matthew Milia is a critically acclaimed songwriter, best known as the lead singer and guitarist for Frontier Ruckus. He is also a poet and visual artist. With Frontier Ruckus, Milia has tirelessly toured the United States and Europe since 2008—garnering a devoted cult following and performing at major music festivals such as Bonnaroo, Lollapalooza, and End of the Road in the United Kingdom. Known for his thematic obsession on memory, domestic minutiae, suburban redundancy, and the fragility of family dynamics, Milia has written over 100 songs constructing an intricate personal mythology based in his lifelong home of Detroit, Michigan.
Stef Chura
A couple of years on from the release of Messes, Stef is still based in Detroit, that most singular city which has seen it all, from the no-mans-land of its initial collapse through to the resurgent place it is now. Stef found inspiration from the people she surrounded with herself with. "I'm usually dealing with the context of what I can't say or haven't said," Stef says. "A kind of spiritual bondage that I would say most people, probably a lot of female bodied ones, put themselves through."
Libby Decamp
Libby DeCamp makes dusty folk and American Roots-inspired music with a lyrical edge and a classic three-piece energy, delivered with a haunting vocal closeness that reaches listeners of all kinds. Sweetly soulful "Broken Folk."
Craig Brown
Detroit's most beloved bartender, cook, and ping pong champion has gone solo. Well, solo in the sense that he's put a firecracker musical act together and called it The Craig Brown Band. The debut full-length album, "The Lucky Ones Forget," was recorded "almost live!" by Warren Defever (His Name Is Alive) and is now available on Third Man Records. It's a long-player filled with songs about heartbreak, drinking, and vans—built upon the work of those daring punks who embraced country music (Replacements, Meat Puppets, Tom Petty, et al.). And it was one of 2017's must-hear records.
Anna Burch
Growing up in Michigan, Burch's fixation with music transitioned from a childhood of Disney and Carole King sing-alongs to more typically angsty teenage years spent covering Bright Eyes and Fiona Apple at open mic nights. By 18 she was deep into the lifestyle of the touring musician, juggling all the regular trials and changes of young life while on a schedule that would have her gone for months on end.
Marlon Morton (Remnose)
Four want-to-be Yoopers making up-north music from underneath the bridge. Think rowboats, think Lake Superior, think something.
Greater Alexander
The path to achieving a dream can be a long, arduous journey.
On it, you see remnants of those that have traveled before you.
You see lost hope and altered courses.

Indie­folk artist, Greater Alexander, has seen all of that and more.

He steadily walks that long road with a smile and a big heart.
Love is his fuel and spreading it is his goal.
Jesse Shepherd-Bates (Handgrenades)
Jesse Shepherd-Bates is the vocalist, guitarist, bassist, and percussionist of the band "Handgrenades".

Handgrenades epitomize a never-ending and invigorating state of musical evolution. Not content to rest on their laurels or remain complacent in a sound that serves them well, the Detroit quartet constantly pushes their aesthetic. Credit this to three of the four members being songwriters, challenging one another in the creative process.​