AEG Presents
The Driver Era
with The Wrecks
Nov, 19 @
7:00 pm
( Doors:

7:00 pm

)
Majestic Theatre
All Ages
$22 Adv./ $25 Day of
All Ages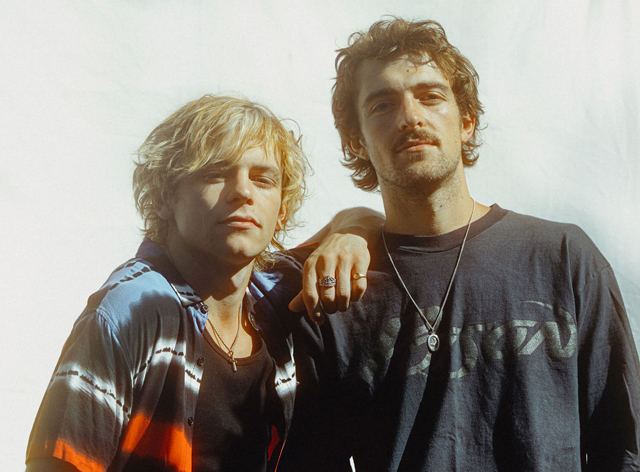 Additional Info
Rescheduled from April 24th 2020 >> February 17th 2021 >> November 19th 2021

*All Tickets Honored*

Ticket holders have until February 21st 2021 to request a refund for this show. Requests received after that date, along with tickets purchased after the rescheduled date was announced will not be eligible for a refund. Visit majesticdetroit.com/rescheduled for instructions on submitting your request. If you purchased tickets at the Garden Bowl box office, you will have 30 days from the date that the state of Michigan deems it safe for bowling alleys to reopen with indoor bar and food service to request your refund. Box office refund requests must be made in person Monday-Friday only.

Each The Driver Era Meet & Greet Package Includes:
· 1 Event Ticket
· Meet & Greet and Photo Opp with The Driver Era
· 1 Exclusive The Driver Era Merch Item
· 1 Commemorative Laminate
· Venue First Entry (Where Applicable)

Artists
The Driver Era
Like the band name, the music of The Driver Era captures a certain classic feeling while looking toward tomorrow. With the two brothers, Ross and Rocky Lynch, writing, performing, and producing all of the tracks, their stylistically unpredictable music also conjures up every romantic association with heading out on the open road: limitless possibility, the thrill of escape, a refusal to stay in one place for any real length of time.

With massive hooks and immaculate production, songs like "Feel You Now" and "Low" show the tight musicianship that Ross and Rocky have honed over the years in their longtime band R5-a five-piece whose self-produced 2017 EP New Addictions was praised as "full of sharply constructed pop confections" by Rolling Stone. It was during that band's recent worldwide tour, the two began dreaming up a new project that would allow them to explore their more experimental tendencies.

"We had a bunch of songs we'd been gathering for a while," says Rocky. Although they avoided restricting their vision to any specific sound or style, the duo did set some firm intentions for the new band: to create music without self-imposed limitations, and to always push for sonic innovation.

In between polishing off the new songs-and hitting the road for their first tour as The Driver Era, Ross is a critically acclaimed actor (he recently drew raves for his title role in the serial-killer biopic My Friend Dahmer and currently stars in Netflix's The Chilling Adventures of Sabrina). And when they're not actively creating, the two are often out riding around, listening back to mixes and working out song ideas, constantly expanding what's possible in The Driver Era.

"A while ago I was reading a book that talked about how if you and a person are able to connect deeply enough, you almost form a third consciousness," says Ross. "I think Rocky and I have that on some level. I don't think either of us has felt so creatively charged up in a long time, and it's just a really cool feeling. The whole thing's opened up our minds in this amazing way. "The band released their debut album X in June of this year, and just put out two new tracks, "A Kiss" and "Forever Always".



The Wrecks
Los Angeles-based indie rock band The Wrecks root from Thousand Oaks, CA. The group consists of Nick Anderson (vocals/guitar), Nick Schmidt (lead guitar), Westen Weiss (guitar), Aaron Kelley (bass), and Billy Nally (drums). Heavily influenced by groups such as The Pixies, The Strokes, Weezer, and Vampire Weekend, this 5-piece isn't afraid to blend undeniably catchy choruses, with self-deprecative, honest lyrics and vocals that pull you right to the center of each song.

The band actually recorded their debut EP on a whim, alongside friend and engineer Andrew D'Angelo, when they were surprised with the news that a friend had been granted access to a studio for just a few days. With a total budget of $0, and only a week as a band under their belts, the group set out to record the best songs that they could in 3 days. After working ridiculous hours through the night, and to the next day whenever they could get in the studio, the 3 days were over and the EP was cut. Little did the band know, they were not even allowed to be in the studio that week. So through feelings of guilt and worry, they cleaned every bit of information of theirs from the studio computer, every crumb of Dominoes from the studio couch, and they were off with their entire EP on an hard drive in a backpack.

The homemade "We Are The Wrecks" EP was self-released in March 2016. After hundreds of spins on Sirius XM's Alt Nation, and features on some of Spotify's biggest rock playlists, the band signed to Another Century/Sony Music in December of 2016. Their debut single Favorite Liar broke the Top 40 on alternative radio, has over 6 million plays on Spotify, and spent almost a dozen weeks in the top 10 of Alt Nation's Alt-18 Countdown. After signing their record deal, The Wrecks sought out to record a new EP in Los Angeles. 3 weeks into recording, and after blowing almost the entire budget, the band decided the music was going in the wrong direction and threw the EP away. "I just felt that we had strayed too far from the core of the band's sound," says frontman Nick Anderson. "It sounded like we were trying really hard to get on the radio or something, and I feel like that rarely gets you on the radio anyway." So after getting their label and management on board, The Wrecks decided to move into Anderson's grandmother's house in his small hometown (Wellsville, NY) to work on the new record in a barn studio that their friend Patrick Barry owns. Co-produced again by Nick Anderson and Andrew D'Angelo, The Wrecks say their new upcoming EP "comes from a genuine place, and is something we're all truly proud of."