AEG Presents
Manic Focus
with Daily Bread, Shooka, SADRN
Feb, 29 @
7:00 pm
( Doors:

7:00 pm

)
Majestic Theatre
Ages 16 and Up
$18 Early Bird / $20 GA
16+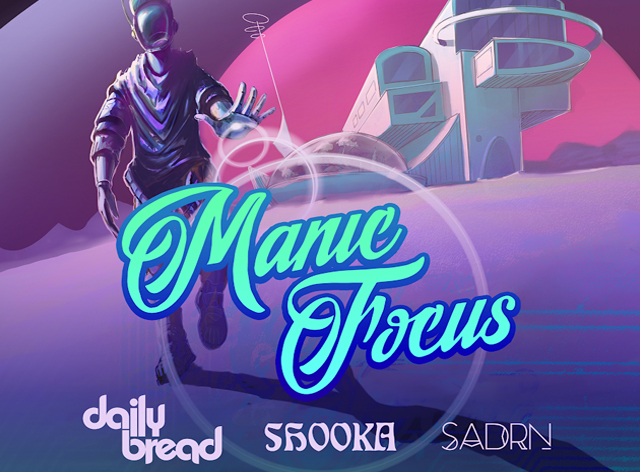 Artists
Manic Focus
Manic Focus is the electronic music project of John "JmaC" McCarten, a Denver-based producer with roots in funk, soul, and new-era hip-hop. A multi-dimensional artist with a rowdy style that spans multiple genres, Manic Focus transcends sound waves by fusing soulful blues with heavy-hitting bass, creating a resonating tone that's entirely his own.
Originally hailing from the Twin Cities, McCarten grew up with classical piano lessons from an early age, developing a trained musical ear and laying the groundwork for his future in beat production. In his teen years, McCarten developed a deep appreciation for hip-hop music, citing musical influences such as Atmosphere, Brother Ali and MF Doom. In high school, McCarten would spend day and night in the basement of his family home teaching himself Ableton software, relentlessly trying to replicate the hip-hop rhythms he grew up on by making beats for his friends for fun. It was around this time that McCarten realized his music had a profound impact on those around him, and the self-taught producer began making his own music full-time.
Over the last 6 years, McCarten has released six full-length albums, each one a new evolution in sound and approach. The producer continues to push himself to new musical limits by incorporating original, sample-free recordings, which is especially apparent in the material from his latest album Lost in a Digital World, released in September of 2019. Lost in a Digital World further cemented McCarten in the upper echelon of producers and paints an aural illustration of his creative process and experimentation with different genres. The album draws elements from the realms of house, dubstep, trap, hip-hop, electronic, downtempo and beyond, and is perhaps his most cohesive body of work to date.
His fifth studio album Minds Rising was released in April of 2017 and debuted at #7 on the iTunes electronic music chart, featuring appearances from cutting-edge hip-hop artists, vocalists, producers and musicians across the country. Collaborators included Jennifer Hartswick of Trey Anastasio Band, Adam Deitch of Lettuce/Break Science, Russ Liquid, ProbCause, and Late Night Radio, among others. McCarten has also completed a slew of official remixes for notable artists such as Louis the Child, Zed's Dead, Pretty Lights, GRiZ, The Floozies, Umphrey's McGee, PLS&TY, Lettuce, and Minnesota.
On the road, JmaC has been steadily building his live performance to include additional musicians and elements of production. Jacob Barinholtz is now a mainstay on the drums, and other musical co-conspirators join the two on select dates around the country. He's also been known to incorporate surprise guests such as Big Gigantic's Dominic Lalli, GRiZ, The Floozies' Matt Hill, and Russ Liquid, to name a few. Occasionally, fans are treated to the rare live fusion of Break Science and Manic Focus, taking the stage as Manic Science.
Recent live highlights include performances at Lollapalooza, High Sierra Music Festival, Camp Bisco, and Summer Camp Music Festival in 2019. Previous performances of note include Electric Forest, Suwannee Hulaween, Bassnectar's NYE360, The Gorge Amphitheater in WA and Red Rocks Amphitheater in CO supporting Pretty Lights.
Daily Bread
Rhett Whatley, aka Daily Bread, started producing beats from his bedroom in 2014 armed with an MPC, a massive record collection, and a background in jazz guitar. His beat head sensibilities found him crafting unique electro-soul and hip hop tracks that needed to be heard.
After releasing a few tracks online, the project was quickly noticed by the Philos crew, and he soon joined the ranks of several like-minded artists. Inspired by their collaborations, Rhett began work in earnest on his double LP masterwork "On the Daily" and found himself sharing the stage with his influences like Pretty Lights, GriZ, and The Floozies.
Releasing "On the Daily" on Philos in February 2017, Rhett took the Daily Bread project to the Rocky Mountains and spent half the year in Denver soaking up all the electro-soul hub had to offer. Now back in ATL and fresh off the 1 million Spotify plays milestone of his last release "Moreland Ave Blues", Rhett is using his freshly honed skills to further the Daily Bread sound and bring his unique vision to ears across the globe.