Pokey LaFarge
with Esther Rose
Oct, 7 @
7:00 pm
( Doors:

7:00 pm

)
Magic Stick
All Ages
$20 Adv./ $25 Day of
All Ages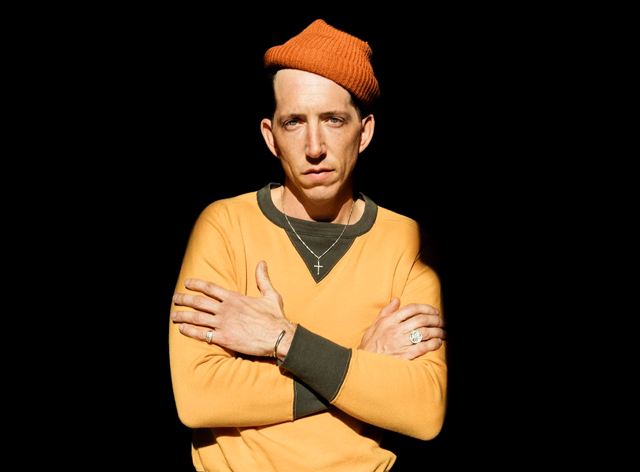 Artists
Pokey LaFarge
Pokey LaFarge was ready to move forward.

In March 2020, the veteran singer-songwriter packed up and left his Los Angeles abode behind, putting his belongings in storage in anticipation of spending extensive time on the road in support of his then-forthcoming album, Rock Bottom Rhapsody. He couldn't wait to head down to Austin a few weeks later to showcase those songs and launch the album with his band at South-by-Southwest. Then the pandemic hit and all of LaFarge's well-laid plans went into thin air.

Stuck in East Austin with nowhere to go, LaFarge did what he does best: he got to work. Throughout his career, nine albums to date including a stint on Jack White's Third Man Records, the singer-songwriter has never been one to look back in anger or disappointment. LaFarge used the sudden change in plans to his advantage, having perhaps his greatest period of personal growth in the midst of this crippling pandemic.

It came as no surprise that the songs instantly started to flow out of him. LaFarge is an artist who refuses to rest on his laurels and compromise. He's always motivated and ready to create — and when he's at peace in isolation like he was here, the results can be magical. Looking in, inspired by the deep soul not just from these shores, but from distant geographical places like Africa or South America, LaFarge set out to create a body of work that paired emotional lyrics with a killer groove and grabby melodies.

Written by LaFarge and co-produced with Chris Seefried, the album is one of LaFarge's strongest and most mature lyrical efforts to date. The album's title, In the Blossom of Their Shade, is taken from a lyric in the stunning, yet dusty "Mi Ideal." That song sonically draws influences from the Southwest, South America and Caribbean. The distant warmth of the music, especially rhythmically, adeptly coincides with the longing that's expressed in the lyrics.

Unlike its melancholy predecessor, In the Blossom of Their Shade showcases the positivity of coming out of the darkness and into the light. The record was nearly titled Siesta Love since it captures the thematic notion of being the perfect summer afternoon soundtrack...the type of music you want to listen to while having a cocktail with your significant other. It makes sense musically as well — LaFarge intentionally crafted songs
that created space and have melodies that can glide throughout a composition that's a far cry from the swing and blues-infused songs of his earlier work.
LaFarge's rigorous work ethic powered him through this potentially challenging creative period. As days became a couple months, songs blossomed from embryonic ideas into full-formed ones and he was ready to move on, which typified his mindset as a working artist.
After he left Austin, he headed up north to Chicago for two-and-a-half months to record
In the Blossom of Their Shade
. At home in the city two hours north of where he grew up and became a die-hard Chicago Cubs fan, LaFarge rigorously and meticulously recorded the songs (half of which he wrote with his best friend Nick Africano over FaceTime) in the Windy City.
Thematically, LaFarge, in a way only he can, tackles a wide gamut of emotions. On "Rotterdam," it's easy to hear how the dreamy song encapsulates a notion of a Shangri-La even in the most unusual of places.
Look no further than album closer, the twangy "Goodnight, Goodbye (Hope Not Forever)." The song neatly ties the past year along with a universal longing that brighter days are on the horizon, even if it doesn't seem so right now.
Pokey LaFarge never wanted to be an artist that had one gigantic record and was then lost to the annals of history. As for now? He's back to where the whole odyssey began over a year ago: Los Angeles. Even with
In The Blossom of Their Shade
on the horizon, LaFarge hasn't put down his pen. You can't keep a great songwriter idle.
Esther Rose
Esther Rose was in perpetual motion when she wrote How Many Times. In the span of two years, she moved three times, navigated the end of a relationship, and began touring more than ever. The New Orleans-based singer-songwriter used that momentum while she penned her third studio album. That's why, as the album title's nod to the cyclical nature of life implies, there's a rush that accompanies How Many Times as if you're experiencing an awakening, too.
"That's how I untangle what's on my mind, by going off for a walk into wild places. That's what makes this album a country album," says Rose. "It's not really just about feeling better, it's about feeling it, whatever it is."
If Rose used time to frame the stories on her 2019 sophomore album You Made It This Far, then she's swapped that clock for a heart monitor on How Many Times. While some may look outward and lament over hard times and bad luck, Rose turns inward. Instead of blaming an ex for failing to juggle her reactions on "My Bad Mood," she examines her own blind spots where she hopes to improve as a partner. When her car's engine blew up during an impulsive "pitstop" in Nashville, she wrote "Good Time" not to rue misfortune, but to toast her own recklessness. After losing her nerve and fleeing a New Year's Eve date by bicycle half an hour before midnight, she immediately penned "Are You Out There," confronting her fear of letting go and moving on.
"I don't grapple with fate," says Rose. "I accept my bad luck and my good luck equally."
With the integrity of Dean Johnson, Faustina Masigat, and Kiki Cavazos serving as primary influences, Rose expands her alt-country sound into a blossoming world of folk pop, rustic americana, and tender harmonies. "They're the holy trinity of songwriter magic," she says, "and when I listen to them I feel like I can explore my own heartache." Creative touches add detail throughout the album. She uses a 1962 Gibson ES-120T, her first semi-hollow body electric guitar, to play unplugged for a distinct tone. On "Mountaintop," she includes a blustery voice memo recorded at the summit of Mount Philo, an homage to the field recording in a Bright Eyes song she holds dear.
From "Coyote Creek" to "Without You," Rose's compelling voice is ferried masterfully by the musicians that join her: Matt Bell on lap steel, Max Bien-Kahn on electric guitar, Dan Cutler on upright bass, Cameron Snyder on drums, and Lyle Werner on fiddle. A collection of complete takes recorded live to tape with rich instrumentation, soul-tugging hooks, and resonating vocal melodies, How Many Times carries you into the room in which it was made. There to help realize this was co-producer Ross Farbe of synthpop band Video Age, who Rose also credits for bringing a stereo pop glow to these new songs.
The album opens with Rose reflecting on the mundane as she drifts around her house in How Many Times. She wrote it in a night of intentional sobriety, choosing to address directly emotions she had been avoiding until then, a theme that's apparent throughout the record. "'How Many Times' shows that 'face it' moment: opening the fridge, staring down the bottles, opening a laptop, just bouncing around the house before you finally make room to face the pain and be with it," she says. "I remember walking trancelike to my writing table thinking, No numbing tonight. I'm going to sit here and look at it."
From opening for Nick Lowe on tour to being asked to sing on Jack White's new album, Rose's journey through the past few years has been one of saying yes to new opportunities, all while nurturing and playing in bands in the New Orleans country music scene. The arrival of How Many Times is evidence of the sweeping growth Rose has undergone, both personally and artistically. Her trials of moving through and reflecting on both adversity and beauty are present across the record, and her voice delivers with graceful dexterity an honest and open window into her heart. That's the thing: Rose isn't looking to throw a pity party or drag you down beside her on How Many Times. She's turning towards her troubles and facing them head-on, ready to feel whatever's necessary in order to keep growing upwards and outwards.