Flamingosis
with Blockhead, Ehiorobo
Oct, 13 @
7:00 pm
( Doors:

7:00 pm

)
Magic Stick
All Ages
$20 adv. / $25 day of
All Ages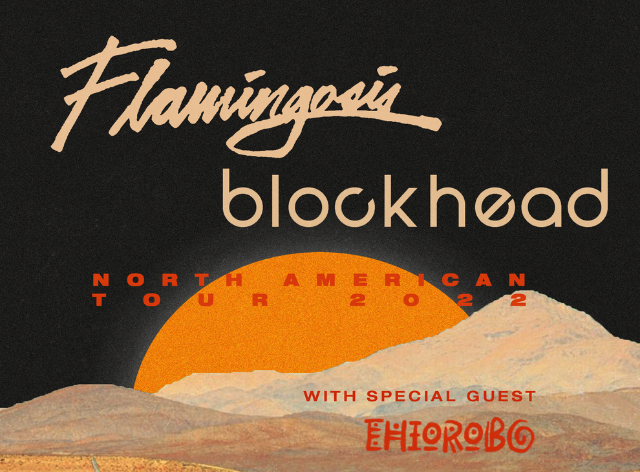 Artists
Flamingosis
From behind the grooves, light peeks out. Flamingosis splices together old school soul, wild funk, and D.I.Y. electronic with a radiant message meant for any moment. After generating 100 million streams, attracting 100K cumulative social media followers, and receiving acclaim from Pitchfork, MTV, ThisSongIsSick, and many more, the New Jersey-raised and Brooklyn-based artist and producer embeds an important affirmation within the framework of his first full-length album in four years, Daymaker.
"It's a continuation of what I've been doing with my music for a while," he explains. "I try to make each album uplifting. If you're not feeling the best in the moment, the goal is to get you to a better place. Like a light at the end of the tunnel, the album reminds you things are going to be alright no matter how hard they seem. Hopefully, it puts you into an elevated state of mind."
Born Aaron Velasquez, he identified this state of mind as a kid combing through mom and dad's extensive record collection. He listened to everything from Earth, Wind & Fire, Bell Biv DeVoe, Joni Mitchell, and MC Hammer to N*SYNC and Britney Spears. His father moonlighted as a wedding and party DJ. However, pops spent most of his time playing professional frisbee alongside his brother.
Flamingosis watched in awe as dad pulled off the move that inspired his moniker.
"It's a reverse spinning catch on one leg," he describes. "When you complete the catch, you're on one leg like a flamingo. The 'osis' stands for the fact you catch it in reverse. What my dad and uncle did was amazing. The name honors them in a way. They were in their prime in the late seventies and early eighties. Most of the music I sample is from the same era of their biggest frisbee accomplishments. It goes hand-in-hand."
During Sophomore year of high school, he began messing around with loops on GarageBand before graduating to Ableton in college. He scoured the internet for samples and dug in the crates to electronically create a funkified futurist translation of soul picked and pitched to perfection. Since 2012, he carved out a niche of his own in addition to collaborating in the studio and on stage with Big Gigantic, GRiZ, Madeon, Tokimonsta, and Matoma, among others. Not to mention, he graced the bills of festivals such as Austin City Limits, Electric Forest, Okeechobee, Holy Ship!, and Voodoo Music + Arts, to name a few. Critical acclaim followed with Pitchfork describing "Believe In Me" as "a new summer anthem." Regarding 2016's Bright Moments, MTV wrote, "The producer's new album weaves smooth 1970s and 1980s samples into perfect grooves."
In 2019, he began to widen the sonic palette. For the first time, he hit the studio with collaborators to architect what would become Daymaker. He worked closely with an all-star cast of musicians, including keyboardist Borahm Lee [Pretty Lights], Jeff Franca [Thievery Corporation], Hunter Roberts, hip-hop funk duo Recess, Mike Tallman [Euforquestra], and more. Eddie Roberts [The New Mastersounds] served as studio engineer at Color Red Studios alongside Tallman, while Loren Dorland led the charge at Mighty Fine Studios.
"It's the first time I've made original compositions in a studio session with musicians," he elaborates. "I was initially scared, but so much great material came out of the sessions. We weren't just passing files back and forth online. It was hands-on. You never know if it's a full band or an electronic hip-hop beat. It was so cool to make music in a new way."
Speaking of new, he progresses once more on the lead single "Wild Summer." He incorporates a sample of Brazilian phenomenon Tim Maia into a laid-back groove punctuated by a charge of island percussion, sun-soaked horns, and a lyrical guitar solo.
"When I listen to it, I'm in a tropical paradise," he says. "It's really got a summer feeling and vibe. I wanted to make you feel like you were kicking back in the sun."
Showing off his chemistry with Lee, spacey synths flutter across the iridescent instrumental intro "First Light." It conceptually threads the album together as "the sound of the sun coming up in the beginning of the morning." Representing a powerful midpoint, "Breakdown" integrates live guitar, bass, and drums flipped like a sample by Flamingosis to mark "an intense climax."
He threaded the album together by incorporating interview clips with his dad and uncle from their frisbee heyday. One such conversation with his father kicks off the title track "Daymaker." The energy floats through a flute passage, orchestral brass, and a vintage beat.
"You're going through the whole day within one track," he adds. "It's a roller coaster."
"Cosmic Feeling" closes out the trip. Based around a sample of a vocal by Night Flight, it marks a "special moment" upheld by yet another intergalactic groove.
In the end, Flamingosis might just make your day a little brighter.
"I literally want to make your day when you listen to the album," he leaves off. "I'm giving you bits and pieces of where I came from and all of the influences that have inspired me throughout my whole life. It pays homage to my dad, my uncle, and all the music I loved as a kid. I took a risk and tried something different. I can't wait for everyone to hear it."
Blockhead
Blockhead grew up in downtown New York City. The son of an artist, early on he found his passion was for music. A fan of a whole range of sounds, especially hip-hop, Blockhead steadily built a tremendous collection of tapes and later CDs from innumerable artists. After a brief stint as a rapper, he realized his calling was behind the boards and not on the mic, and from there he began to produce beats. Since making that decision, he's been one of the busiest producers out there, producing 9 tracks on Aesop Rock's critically acclaimed album Labor Days, and the majority of the tracks on his followup albums Dayllight EP, Fast Cars, Danger, Fire and Knives, and None Shall Pass. Blockhead has also been working with other indie giants such as SLuG of Atmosphere, Murs, Mike Ladd and Sa Smash. He also found time to complete a break beat album entitled Blockhead's Broke Beats, with 10 hard hitting instrumental tracks, which was released on Mush Records, the US home of cLOUDDEAD. Showing his artistic variety from only art-rap, Blockhead produced 2 tracks on the newly crowned Skribble Jam Battle Champ, maclethal's full-length album. He does comedy too. He is a member of the Party Fun Action Committee whose hip-hop/comedy debut album was recently released on the legendary Def Jux.~last.fm
Ehiorobo
Ehiorobo's chameleonic, expansive sound traverses the space between experimental R&B, rap, and noise punk. Equal parts soulful, poignant and zany, his output is as multifaceted as his unique personality and upbringing. Though often mistaken for a 'futuristic producer moniker', Ehiorobo is short for Ehiorobo Igiehon, a name that reflects his Nigerian heritage. Growing up in New Jersey, he remembers being an exceptionally quiet kid and embarrassed of how dissimilar he was compared to the concept of the black male that was often touted and celebrated in popular media. Making a conscious choice to embrace his eccentricities, Ehiorobo immersed himself in the world of video games and internet culture, making a sizable impact in a short amount of time, collaborating with artists such as Flamingosis, omniboi and Moon Bounce and releasing an intimate collection of songs on his debut LP, Limeade. Ehiorobo's unconventional art and effervescent spirit is indicative of his desire to leap outside of any comfort zones and continue moving forward. After a year that has taken its toll, Ehiorobo is making his triumphant return with three new standalone singles, and an ambitious full-length project on the horizon. With the intent to "make others feel at home within themselves", Ehiorobo's new material emanates a vital source of energy, solace and adventure that serves as a reminder to us all — we can be more than one thing at once.