AEG Presents
Unknown Mortal Orchestra
with Seafoam Walls
Apr, 10 @
7:00 pm
( Doors:

7:00 pm

)
Majestic Theatre
All Ages
$29.50 Adv./ $35 Day of
All Ages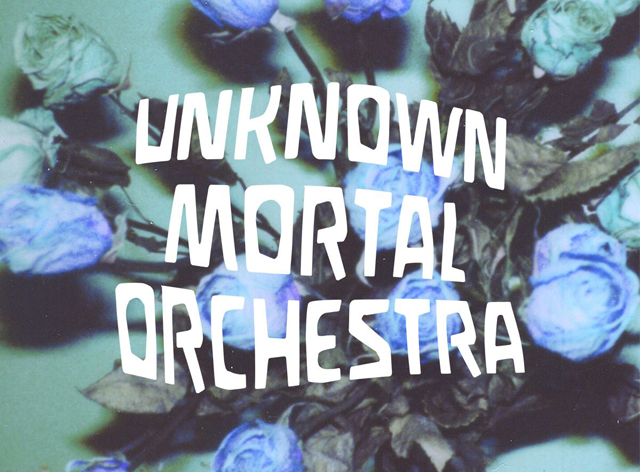 Additional Info
Artists
Unknown Mortal Orchestra
Emerging from rampant hedonism and desperate isolation is 'II', the new album from Unknown Mortal Orchestra. Behind the cartoonish colour of this collection of soulful, mind-addled psychedelia, lurks the fact that its author, Ruban Nielson, came close to never making it at all. "There were times when I felt that if I continued as I was that I would die, or some other bad thing would happen," he admits, referring to the months following the release of Unknown Mortal Orchestra's eponymous, self-recorded debut in June 2011, and a punishing, debauched touring schedule that would have a lasting affect on the 32-year-old multi-instrumentalist and songwriter.
Released after he swapped New Zealand for Portland and isolated himself from friends and family, Nielson's first album as Unknown Mortal Orchestra fused Barrett and Hendrix to RZA and The Beatles. Coming midway through a journey that took him from cryptic, anonymous bedroom project borne of disillusionment and private amusement, to leader of a hard-touring, hard-living band; it marked his return to music after the messy break-up of Flying Nun punks The Mint Chicks, the band he started at home with brother Kody 10 years earlier. Now, building on the break-beat, junk-shop charm Nielson soon came to be renowned for, 'II' signals the solidification of Unknown Mortal Orchestra's position as an infinitely intriguing, brave psychedelic band; unafraid to dig deeper and hit harder than the rest to lock into their intoxicating, opiate groove and bring rock'n'roll's exaggerated myths to life. Time on the road may have eaten away at Nielson both physically and mentally, but, ultimately, it conceived an album that builds thrillingly on the jagged melodies, choppy percussion and meandering guitars on his debut. 'II' was recorded nocturnally (Nielson played everything but some of the drums himself) in the converted basement of his family home in Milwaukee, Oregon – an upgrade on the yurt where he and his wife and young children first lived after moving to America. Focus, inspiration and dedication streamlined his vibrant imagination during the sessions and extra time spent on the songs (compared with his previous one-night-one-song approach) gives the instruments space to flick between woozy stumble and nimble canter, highlighting the emotional turmoil that led to the revelatory bleakness of the lyrics.
"The album has a really specific mood," he says. "It captures the way I was thinking when I was on tour and is surrealist and impressionistic. You try to fill the gap left by not having family and friends around, and you end up getting into trouble. The emotions I was trying to get into it were about relationships and drug taking." Racked with paranoia and loneliness exacerbated by recreational chemicals, Nielson was exposed to an entirely new set of influences. "With the first record I didn't have all these things to deal with, but this time I was running into a lot of situations…we were already a drug band but we were out of control, playing every day and not looking after ourselves. It's hard to be away from my wife and children, they're beautiful people, but my life at home is crazy too, I stay up all night. There are different problems, stories and weird impressions of my feelings, but this album is mainly about love affairs and how impossible it is to connect with people sometimes, and losing people."
These conflicting themes are evident immediately; on the album's sleeve is an unnerving image of Janet Farrar, the famous British witch, Wiccan, author and teacher of witchcraft. The chilling refrain of opener 'Into The Sun' sees Nielson deliver the line "Isolation can put a gun in your hand," softly, his words starkly intelligible above a warm, slow-burning melody that quickly brands itself onto your brain. His playful imagery ('I'm so lonely I've gotta eat my popcorn all alone') mirrors the melody, before a solo that borders on psychotropic ends 'II''s introduction.
'Swim And Sleep (Like A Shark)' and 'So Good At Being In Trouble' plumb even murkier depths. Of the latter, Nielson says "It's the best song I've written so far, there's something really truthful about it". Its grainy, lilting, Beatles-recalling simplicity allows delicate guitar and vulnerable, high-pitched vocals to fill a seemingly desolate sketch of Nielson's touring problems with animated, life-affirming colour; especially with the line 'Rolling alone I'm in a strange state of mind, it's a strange old state of mind.' On the swampy haze of 'Swim And Sleep (Like A Shark)' Nielson sings about escaping to an imaginary safe place at the bottom of the ocean, recalling his difficult childhood. But he explains that the apparent finality of the lyrics ('I'd fall to the bottom and I'd hide 'til the end of time) isn't as morbid as it seems. "The song is about wanting to escape, not die. I'm not scared of death because it's a release from the stress and pressures of life. It's like an opiate song, about a state between life and death, so it describes the feeling of being at the bottom of the ocean and feeling really cold, drifting in a safe place, completely separate from being a human. It's a feeling I've had since I was a kid, wanting to find a dark, cold place, crawl into it and just hide for a while until I get my energy back," he explains.
As it unfolds, 'II' does find Nielson reenergized. 'One At A Time' and 'Faded In The Morning' boast dizzying choruses and instrumentals; these crusty hunks could have been excavated from a lost 1960s treasure trove. 'Monki' unravels over seven minutes like the yarn from a stoner's cardigan with an eye-frying pattern. 'Dawn' is a minute of disconcerting noise that stands out between the nooks and crannies of the choruses, guitar solos, groove-heavy bass and drums that were recorded live by newly-recruited drummer Greg Rogove and Kody Nielson in a move away from the electronic percussion employed on album one. 'II' closes with 'Secret Xtians', a tender observational puzzle that fizzes to a satisfied end.
'II' is a precisely assembled insight into a frayed and frazzled period of a fascinating life; journeying from despair to euphoria with stops for highs, hangovers, communication failure, anger and love in between. Unknown Mortal Orchestra was once Ruban Nielson's closeted, home-recorded concern. With an album that uses his singular musical imagination and extraordinary talent to parade his emotions with unyielding honesty, it is now a fully realized, reinvigorated, mature band operating at the peak of its powers. In making 'II' Ruban Nielson has taught himself how to survive as a musician again. He's given away perhaps more than he ever intended; his musical craft and fragile mind are fully exposed. Now you know more about him than ever before. The words Unknown Mortal Orchestra have never carried so much meaning. – Ben Homewood
Seafoam Walls
Founded in 2014 in Miami by singer and guitarist Jayan Bertrand, Seafoam Walls expanded with the addition of bassist Joshua Ewers, multi-instrumentalist Dion Kerr and drummer Josue Vargas. The band's debut album, XVI, got a boost in national attention when Thurston Moore of Sonic Youth released it on his Daydream Library Series label. This attracted the attention of outlets such as Afropunk, Spin and Pitchfork, who were uniform in their admiration. But even with the band's apt and efficient genre-branding, XVI remains otherworldly and addictive — kind of like the city that spawned it.