AEG Presents
Stephen Sanchez
with Lily Meola
Oct, 17 @
7:00 pm
( Doors:

7:00 pm

)
Majestic Theatre
All Ages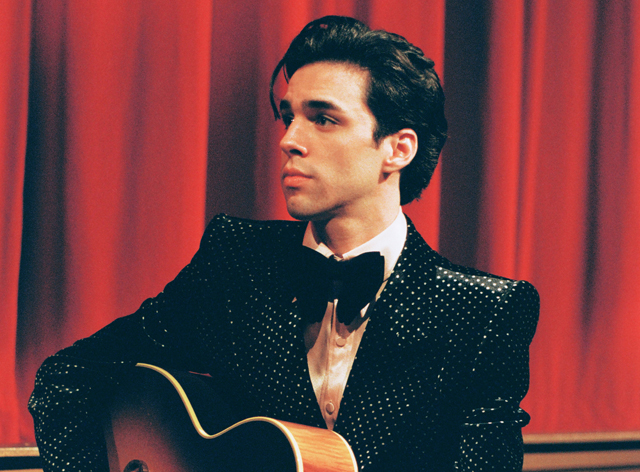 Additional Info
*Please note delivery of all tickets will be delayed until 7 days prior to the show


Artists
Stephen Sanchez
With a dusty baritone as bright as an eternally lit jukebox and tattooed fingers around the fretboard of a rare guitar, Stephen Sanchez tunes into longing and love with the acuity of a tried-and-tested troubadour—yet he's only 19-years-old. Transcending eras, he writes the kind of songs that can play just as well from your parent's vintage record player as they could from the main stages of festivals a la Bonnaroo. If somebody told you he just pulled up from the fifties in a gorgeous Caddy, you'd have a hard time disputing it. A sthe story goes, he initially stirred up early buzz with his very first upload "Lady By The Sea," going viral on social media and establishing rapport with audiences. Not long after, his original breakout "Until I Found You" properly introduced a spirited signature style. Anchored by a dreamy croon and breezy guitar wrapped in silky harmonies, it tallied nearly 640 million global streams between the original, piano version, and duet with gold-certified pop singer and songwriter Em Beihold. Meanwhile, it recently was Certified Gold and cracked the Billboard Hot 100 chart as his monthly listenership on Spotify exploded to the tune of 16 million. He also delivered jaw-dropping renditions of "Until I Found You" on The Late Show with Stephen Colbert and Late Night with Seth Meyers. Finding his way into the hearts of countless fans worldwide, he continues to captivate on his 2022EP, Easy On My Eyes [Mercury Records/Republic Records] and more to come.
Lily Meola
Lily Meola was born and raised on the island of Maui, Hawaii. Her love of music blossomed in the passenger seat of her Mom's car listening to legendary artists like Ella Fitzgerald, Joni Mitchell, and Carole King. Lily began performing around Maui in local bars and cafes at the young age of 11. Mentored by super-producer Bob Rock, Lily toured with the likes of Willie Nelson, and was featured on his album of duets "to all the girls." She learned to write songs with Jackson Browne, and has shared the stage with Steven Tyler, Kris Kristofferson, Sammy Hagar, Alice Cooper and more. Lily spent a large portion of the last year in the studio writing and producing the bluesy, soulful pop songs that make up her most recent EP release, including her global viral single, 'Daydream.'
In August of 2022, Lily Meola released her inspiring single, 'Daydream' premiering the song with an emotional live performance on America's Got Talent capturing the hearts of millions of viewers on the nationally televised show, and earning her a 'golden buzzer' moment that went viral on streaming services and across social media. Lily soon found herself living her daydream performing as direct support on tours for artists like Ray LaMontagne, Goth Babe, and Imagine Dragons, and making her late night debut performing the single on the Stephen Colbert Show. The heartfelt lyrics of Daydream have connected with listeners on a global scale earning a presence on Spotify's Top 50 Viral Charts in over 27 countries. With a growing audience over 1.75M monthly listeners and a social following climbing beyond 450k across platforms, Lily Meola is sprinting into 2023 with new music for her fans.