AEG Presents
Declan McKenna
with Eli Smart
Jul, 26 @
7:00 pm
( Doors:

7:00 pm

)
Majestic Theatre
All Ages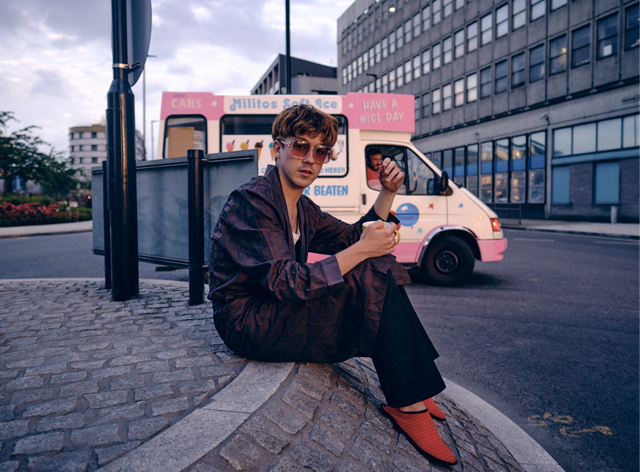 Additional Info
Artist Presale: Tue. March 14 at 10am - Thu. March 16 @ 10pm
Spotify Presale: Wed. March 15 @ 10am - Thu. March 16 @ 10pm
Venue Presale: Thu. March 16 @ 10am - 10pm
Majestic Presale: Thu. March 16 @ 10am - 10pm
Public On sale: Fri. March 17 @ 10am

***

Declan McKenna Early Entry Package
• One general admission ticket or premium reserved seat (where applicable)
• Early venue entry
• Exclusive signed printed photo of Declan McKenna
• Specially designed Declan McKenna tote bag
• Custom Declan McKenna socks
• Commemorative VIP laminate
• Limited availability 

Artists
Declan McKenna
In late 2019, Declan Mckenna headed out to Nashville to record his second album, Zeros, with producer Jay Joyce. By September 2020, he was battling out for a number 1 record with The Rolling Stones. "Nashville is a great place to record because it's filled with a lot of creative people and music heads trying to escape LA." This idea of a refuge is fitting for Declan, who wanted to be away from the pressures of London or the drab consistency of home, allowing for an intimacy and a desire to explore on this super galactic album that can only really be pursued in a place that is unfamiliar. Zeros is playful, wonderfully strange and intensely musical, but there's a dark shadow looming throughout. It's Coors Light and cowboy boots escaping a Silicon Valley dystopia.
Whilst Declan might have lost that particular battle by a whisker to Jagger and his cohorts on the very last day of sales, it showed just how far Declan had come since his arrival as a slight in stature, big ball of fizzing teenage energy only a few years earlier. The boy most likely to had very quickly become the young man to beat.
But for all the chart noise and colourful media presence, it's the music that does the lionshare of the talking. Zeros is a curious, unique and bold record that is teeming with fresh ideas and nods back to eras that have no right to head up the charts in the year 2020. It's a very British trait to focus on age, but it simply has no right to be conceived by a twenty one year-old who was younger still in its writing.
The unshakeable confidence and boldness of Declan's voice and the stories he tells allows these songs to truly land; setting the tone for a world-building album, and this new world builds just as the world we know ends. His expansive, experimental structures and loss of inhibitions builds more than just a world but the entire sky and all the stars within it. These tracks and their characters are in constant conversation, they are subtly self-referencing, mature, complex and at times life-affirming but always unafraid to laugh… and Declan Mckenna is laughing hysterically as he pushes the big red button.
"Unstoppable Gen Z Icon" – The Big Issue
"The wonder boy of British Music" - Attitude
"A brilliant second album from indie's boy wonder" – ★★★★★ DORK
"Spaced-out storytelling from an indie wunderkind…a delight" – ★★★★ Q Magazine
"Star-spangled and confident AF… 'Zeros' is a lot of fun" – ★★★★ DIY Magazine
"McKenna's future looks intriguing…the work of an artist broadening his scope" - ★★★★ The Guardian
"Electric, entertaining and thought-provoking" – ★★★★ NME
"McKenna is to Bowie what Sam Fender is to Bruce Springsteen" – ★★★★ Evening Standard
"Declan is proving a rare talent to watch" – ★★★★ Daily Star
"Zeros is the sound of an artist pushing his creative development, and enjoying himself as he does so. Exciting stuff" – ★★★★The Independent