AEG Presents
Apashe
with Wasiu, YMIR
Nov, 11 @
8:00 pm
( Doors:

8:00 pm

)
Majestic Theatre
Ages 16 and Up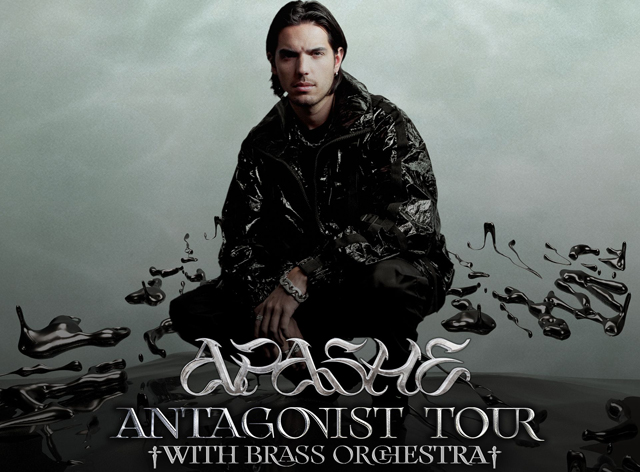 Additional Info
*PLEASE NOTE: Delivery of all tickets will delayed until 7 days prior to the show

Apashe continues to showcase his burgeoning brass ensemble with his brand new live show.After debuting at Osheaga festival and a sold-out Bataclan in Paris, Apashe is taking the eightpiece ensemble on tour across North America.Apashe's mixture of instrumentation, live sampling and mixing makes for a one-of-a-kind showelevated by grand stage production and a vast collection of mind-blowing visuals. This opulentexperience echoes the majestic records in Apashe's catalog, many of which were created withlive orchestra recordings of original compositions.The Brass Ensemble consists of four trombones, two trumpets and two french horns. Togetherthey bring Apashe's rich productions to life with an organic touch.

Artists
Apashe
Apashe, is a visionary artist known for his genre-bending approach to electronic music. In
addition to his solo work, he also performs with a live Brass Ensemble that incorporates
live instrumentation with electronic music.

Featuring a full brass section including trumpets, trombones, and french horns, as well as
a rhythm section with drums and percussion, Apashe's live Brass Orchestra creates a
unique and immersive experience for the audiences. By blending traditional orchestration
with contemporary electronic elements, the ensemble is able to push the boundaries of
what is possible in usual live performance.

Apashe's live Brass Orchestra has performed at some of the world's biggest stages,
including Osheaga, Bataclan, and Lollapalooza. Their high-energy performances and
stunning visuals have captivated audiences around the globe, earning the ensemble a
reputation for excellence and innovation.

In addition to his work with the live Brass Ensemble, Apashe has released several critically
acclaimed albums and singles, including his album "Renaissance," which featured
collaborations with artists like Tech N9ne, Wasiu and Geoffroy.

With his live Brass Ensemble and his innovative approach to electronic music, Apashe is a
true trailblazer in the world of live performance, and a force to be reckoned with in the
music industry.