AEG Presents
San Holo
with DROELOE, OddKidOut
Oct, 22 @
7:00 pm
( Doors:

7:00 pm

)
Majestic Theatre
All Ages
$29.50/ $35/ $40/VIP
All Ages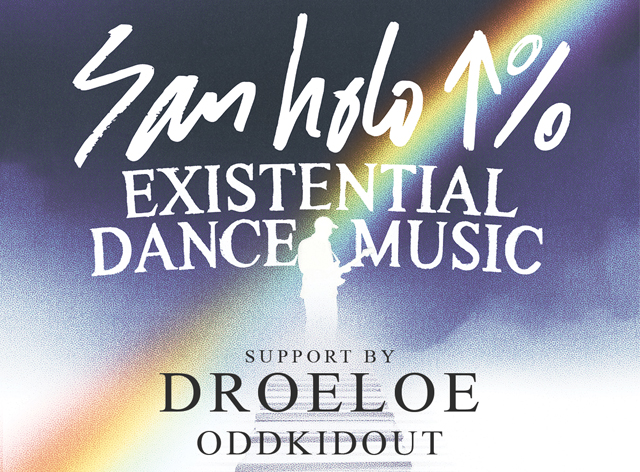 Additional Info
Please Note: Delivery of all tickets will be delayed until 7 days prior to the show
EXISTENTIAL VIP EXPERIENCE
• One general admission ticket with early entry
• Access to an exclusive sound check by San Holo
• Q&A session with San Holo
• Group photo with San Holo
• Download of an exclusive San Holo beat
• One specially designed merchandise item, exclusive to VIPs
• One lyric sheet, signed by San Holo
• One commemorative San Holo VIP laminate
• Early tour merchandise shopping opportunity
• You will receive an email from VIP@OTLPresents.com 1-2 days prior to show with check-in info
* Package details and timing subject to change. All VIP activities occur preshow
ALL THE HIGHS EARLY ENTRY PACKAGE
Package inclusions:
• One general admission ticket with early entry
• One specially designed merchandise item, exclusive to VIPs
• One lyric sheet, signed by San Holo
• One commemorative San Holo VIP laminate
• Early tour merchandise shopping opportunity
• You will receive an email from VIP@OTLPresents.com 1-2 days prior to show with check-in info
* Package details and timing subject to change. All VIP activities occur preshow
The Crane Mezzanine
• Exclusvie views of the Majestic stage
• Private Lounge style seating
• Early venue access before doors
• Private Restroom
• Private Bar
• Complimentary Coat Check
• Includes a GA ticket to the show
• Limited Availability
Artists
San Holo
Born Sander van Dijck, his catalog reads like a diary. Falling in love with punk and alt-rock, he learned to play the guitar and make noise of his own. Coming up as a future bass producer in the Soundcloud era, San's unique style and honest approach to songwriting has earned him a loyal following that supported his independent debut album, cementing the artist as a star in a league all his own, while earning the praise of critics and peers from rock icons like Rivers Cuomo and Tom Morello to producers such as Porter Robinson.
For San Holo, everything is personal. Every note is a story and each lyric a memory, a hyper-real exploration of purpose, emotion and shared experience. The Dutch producer lives in his own space, crafting a world of beauty and sentiment through what he calls 'existential dance music' (EDM).
Whether playing a sold-out show at The Shrine, a massive crowd at Coachella or headlining at Red Rocks Amphitheatre, every San Holo show feels like an intimate experience. His fans are fiercely loyal, singing along to each song, some of them tattoo'd with his lyrics, and many of them decorating their social handles with echoes of his "stay vibrant" philosophy.
In 2022, San Holo teamed up with popular mental health app, Calm, for his
"Stay Vibrant" mix series
. While other artists in the dance music sphere and industry at large may shy away from the rawer aspects of the human experience, San Holo has established himself both as an individual and a brand that encourages listeners to embrace one another's vulnerabilities. "Stay vibrant" is a concept that asks for honesty with oneself and others, to check in with yourself and your friends about how you're really doing in triumphant or trying times.
San Holo's single 'All The Highs' is a testament – simply put – to all of the lows and all of the highs, and remembering the ebbs and flows of the human experience. The song featured on FIFA 2023's official soundtrack and received strong support across digital platforms upon release including Spotify's New Music Friday and #1 on Apple Music's Breaking Dance. The official music video was added to rotation on MTV Live and San dropped a sold out 'All The Highs' NFT on Sound.XYZ. To celebrate the release, San partnered with Brownies & Lemonade for an intimate release party where he performed a DJ set in an elevator.
His latest single 'DON'T LOOK DOWN (feat. Lizzy Land)' was initially started in a session with RL Grime before bringing in singer and songwriter Lizzy Land to add vocals to the track. Of the song, San Holo says,
"DON'T LOOK DOWN is here to remind you that your doubts and negative thoughts are just like clouds passing by. We easily get caught up in the noise of everyday life, myself included."
This is existential dance music!
DROELOE
Life's ebb and flow is something we can all relate to, but it's how we channel and react to it that sets us apart. Producer, composer, and multi-instrumentalist Vincent Rooijers aka DROELOE shares his perspectives through an intricate kaleidoscope woven from the blistering combination of forward-thinking sounds and stunning visual art. It's this stunning blend of introspective reflection meets real life memories and moments where the most interesting stories are created. The story of life with no boundaries between chaos and order. The Unexpected Odyssey.