AEG Presents
MisterWives
with Bishop Briggs
Sep, 20 @
6:30 pm
( Doors:

6:30 pm

)
Majestic Theatre
All Ages
$37.50 - $164.50
All Ages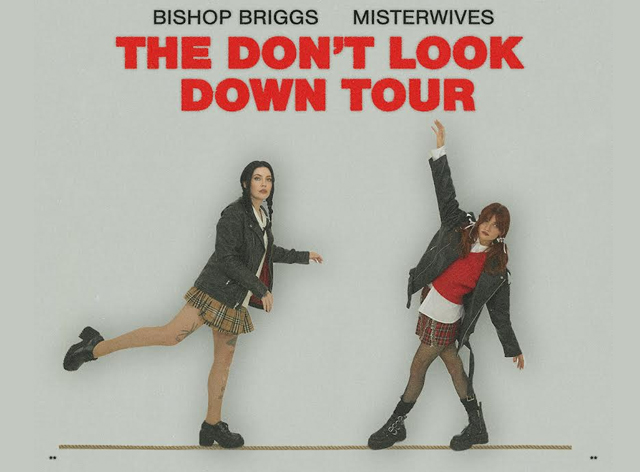 Additional Info
Artist Presales: Wed. May 3 @ 10am
Spotify Presale: Thu. May 4 @ 10am
Majestic Presales: Thu. May 4 @ 10am
Public On sale: Fri. May 5 @ 10am

*Please note: Delivery of all tickets will be delayed until 3 days prior to the show

Bishop Briggs & MisterWives Meet & Greet Experience
• One (1) GA Ticket
• Meet & Greet and Photo with Bishop Briggs
• Meet & Greet and Photo with Misterwives
• Access to Q&A with Bishop Briggs & Mandy Lee from MisterWives
• One (1) Commemorative, Signed Tour Print
• Venue First Entry (Where Applicable)

Bishop Briggs & MisterWives VIP First Entry Package
• One (1) GA Ticket
• One (1) Commemorative Tour Print
• Venue First Entry (Where Applicable)
PLEASE NOTE: THIS VIP PACKAGE DOES NOT INCLUDE A MEET & GREET. THERE IS NO ARTIST INVOLVEMENT WITH THIS PACKAGE

Disclaimer: Please e-mail info@237global.com with any customer service questions. All VIP package elements will be rendered invalid if resold. Name changes will be issued at the sole discretion of 237 Global. VIP instructions will be sent via email no later than three days (3) prior to the event. If you do not receive this email three days (3) prior please email info@237global.com. Your VIP merchandise will either be handed out on-site or shipped - specifics will be emailed no later than 3 days before your event. All VIP package elements and contents are non-transferable; no refunds or exchanges; all sales are final. All VIP items and experiences are subject to change. Please note that the information provided at the time of purchase (e-mail and mailing address) is the same information that will be utilized for shipping and individual contact requirements where applicable. 237 Global, the artist, tour, promoter, ticketing company, venue or any other affiliated parties are not responsible for outdated or inaccurate information provided by the consumer at the time of purchase. If you have any questions regarding your VIP elements, or have not received your VIP information within three days (3) of the event date, please email info@237global.com. Please add info@237global.com to your safe senders list to ensure receipt of all necessary show information.

Artists
MisterWives
Either a sucker punch square in the face or extreme elevation can cause a nosebleed. In essence, this phenomenon occurs at the lowest of low moments and during the highest of high moments. MisterWives examine both ends of this spectrum in their music. The platinum-certified Los Angeles-based quintet—Mandy Lee [vocals], Etienne Bowler [drums, production], Marc Campbell [guitar], Mike Murphy [keyboards], and William Hehir [bass]—absorb life's ups and downs and recalibrate them in the form of snappy alternative rock anthems underlined by unexpectedly hip-shaking rhythms and identifiable tattoo-worthy lyrics.

They meet everyone in the middle of these extremes on their fourth full-length offering, Nosebleeds [Resilient Little Records/Photo Finish Records].

Bishop Briggs
Bishop Briggs is known for emotional and cathartic songs that blur the boundaries between alternative, pop, and electronic. Born in London to Scottish parents, Bishop grew up in Japan and Hong Kong. Days after graduating high school, she moved to Los Angeles where, after years of performing at any venue that would have her, she was discovered in a small hole-in-the-wall by a former-A&R rep and the rest was history.

The music of Bishop Briggs transcends the limitations of singular genres, blending folk, pop and electronic music into a wholly unique sound. Her debut track "Wild Horses" reached #1 on Spotify's US Viral Chart and #2 on Spotify's Global Viral 50 charts, with airplay on Sirius XM's Alt Nation, Zane Lowe's Beats 1 Show and a prized spot in Acura's 2016 TLX and ESPN's NFL Playoffs ads. She followed up with the RIAA-certified platinum single, "River," a searing and cathartic track that captured the attention of tastemakers and gatekeepers and rose to #3 on the Alternative chart with over 680 million global streams while Bishop's videos have 550M overall views on YouTube, where she has 1 million YouTube subscribers as part of her 2.5 million overall digital following. After her critically acclaimed debut album "Church of Scars", she has had multiple sold-out tours and live performance slots opening for Coldplay, Kaleo, alt-J, and Bleachers.