Harm's Way
with Fleshwater, Ingrown, Jivebomb
Oct, 22 @
6:00 pm
( Doors:

6:00 pm

)
Magic Stick
All Ages
$22.50 adv. / $25 day of
All Ages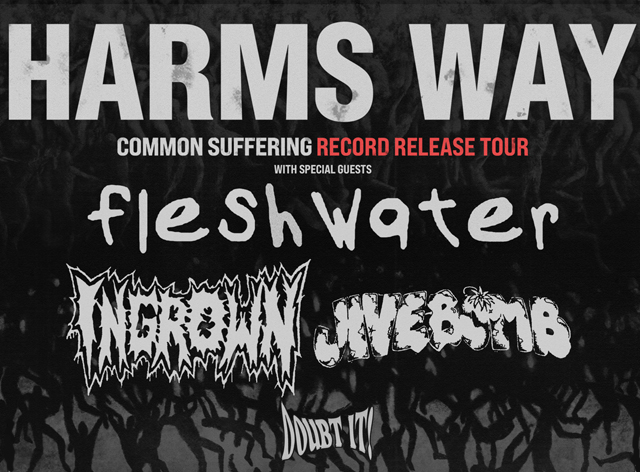 Artists
Harm's Way
Since 2006, Harms Way has evolved from whispered underground favorites to favorite sons with an arsenal of songs that helped shape heavy music's trajectory, creating a roadmap for legions of copycats interested in "reinventing" themselves. But there is only one Harms Way, one that has never stayed complacent and constantly morphed shape– absorbing and reapplying influences in new and creative ways to create some of the most well-executed songs in heavy music. And yet considering the changeling that they and their previous efforts are, Common Suffering is easily the most musically diverse undertaking in their catalog, and their most impressive. To be clear– Common Suffering shifts the paradigm for heavy music and is a modern classic in wait.
While Posthuman mined the unflinching d-beat brutality of Deathreat, blistering thrash, groove and the icy nihilism of industrial bands like Godflesh and Demanufacture-era Fear Factory, the new LP integrates in elements of paranoia-driven ambient ala Lustmord, glacially-paced doom (early Melvins, Khanate) and even Meshuggah-like polyrhythms in it's fully-automatic onslaught. The amalgam of all of these sounds in less capable hands could easily result in a chaotic or disjointed effort, but Harms Way pull it off with style and fury. Common Suffering is nothing less than a fully-armored and mechanized instrument of war ready to detonate listeners with their incredibly memorable riffs, breakdowns, and impeccable songwriting with subtle melody and point/counter-point.
Despite Harms Way's reputation for unrelenting, chest-beating brutality, Common Suffering surprises at several turns with quieter moments of well thought out songwriting that emphasize light and shade. It's their understanding of how to effectively orchestrate these dynamics that makes an already ironclad record feel infinitely more merciless. This is Harms Way at peak maturity– the ambitious sound of a band traversing new ideas and succeeding with their best and most fully-realized effort to date. "We really tried not to settle on parts," recalls guitarist Nick Gauthier. "Sometimes a direction that we could have taken in a song felt too obvious… We would just troubleshoot that until we felt creatively satisfied with the direction we were taking."
The key to the success may be a shift to recording at Studio 4 in Pennsylvania with producer Will Yip (Turnstile, Code Orange). Going into the recording, the goal was to improve some of the bands processes, examine vocal cadences and experiment during proproduction to gain the best idea from each track. The first change dealt with refocusing members on their specific wheelhouses. While vocalist James Pligge had previously assisted with riffs, on this effort his main objective was to ensure the best vocal attack, leaning into Will Yip for advice and letting the remainder of the band take the wheel with their respective parts. The result is each individual pushing to the far reaches and creating material that has previously never been colonized by any band, or hardcore writ large, before. "Prior to this record, I helped write every single riff that we ever wrote, basically," details Pligge on their previous process "But since this new record, Nick and Casey wrote a lot of the riffs and brought them to Chris. After some back and forth, I wrote lyrics to the finished tracks."
The title Common Suffering is a clear nod to the collective experiences of the past three years of chaos, misanthropy, paranoia, disorder, confusion and anxiety, with the band exploring themes ranging from personal struggles with mental health, relationships, political upheaval, corruption, and political power. Pligge, who Decibel called "maybe the best vocalist in hardcore right now," digs deep into these subjects such as the track "Cyanide" which examines the expansion of media outlets, the correlative rise of disinformation, and the pervasive impact it has on people's lives and systems of power. Additional tracks include "Devour" which examines the impact of toxic people in one's life, the highly personal "Hollow Cry," where Pligge explores his own humanity and relationships, and the somewhat improbable "Undertow," which features the haunting vocals or Kristina Esfandiari--AKA King Woman--who adds a whole new dimension to the record and helps exhibit the band's willingness to push into uncharted territory.
As masterful and impressive as the LP is, the precision-guided cluster bombs that make up Common Suffering are just ten more reasons for Harms Way fans to queue up to see one of the best and most vicious live shows on the planet. There, amongst the wide smiles, flailing arms, creepy-crawlies, and bodies pinballing off of the edges of the pit, is where the world will see just how singular and uncommon the new effort is.
Track list:
Silent Wolf

Denial

Hollow Cry

Devour

Undertow

Heaven's Call

Cyanide

Terrorizer

Sadist Guilt

Wanderer
Band members:
James Pligge – lead vocals
Christopher Mills – drums
Nick Gauthier – guitars
Bo Lueders – guitars
Casey Soyk – bass
Discography:
Reality Approaches (2009, Organized Crime)
Isolation (2011, Closed Casket Activities)
Rust (2015, Deathwish)
Posthuman (2018, Metal Blade)
Online:
https://www.metalblade.com/us/artists/harms-way
http://www.facebook.com/harmsxway
http://www.twitter.com/harmsxway