AEG Presents
HEALTH
with Pixel Grip, King Yosef
Mar, 20 @
7:00 pm
( Doors:

7:00 pm

)
Majestic Theatre
All Ages
$25 Adv./ $30 Day of
All Ages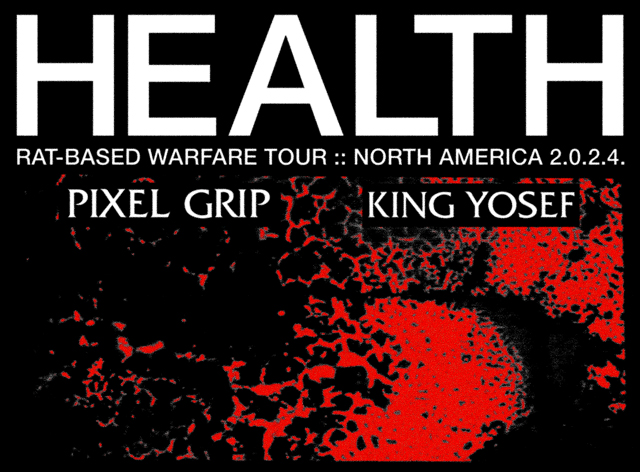 Additional Info
The Crane Mezzanine
• Exclusive views of the Majestic stage
• Private Lounge style seating
• Early venue access before doors
• Private Restroom
• Private Bar
• Complimentary Coat Check
• Limited Availability
Artists
HEALTH
The L.A. industrial-rock band HEALTH's new album RAT WARS is the most violent yet vulnerable LP of their career. It is somehow fitting that such a brutal collection of songs is at the same time their most comprehensive artistic statement.

Meticulously aggressive production detail collides with painfully personal confessions and a strange savage grace is paired with icy gallows humor… surprisingly it's still fun as hell.

RAT WARS joins the lineage of groundbreaking heavy acts like Nine Inch Nails and Ministry, which re-drew the borders between metal, electronic and pop music. It also speaks directly to the band's young, fervent online subculture.

It's The Downward Spiral for people with at least two monitors and a vitamin D deficiency.

Written during the most emotionally trying period of the band's life, the album builds on their chaotic yet re-invigorating pandemic years. In that time, HEALTH cut dozens of tracks with heroes and inheritors like Nine Inch Nails, Lamb of God, 100 Gecs, Poppy, and Pertubator on DISCO4.

RAT WARS captures all the fury and ambition their LP's have until now aspired to. It's their boldest statement on the insanity and the insipidness of contemporary life.

The arena-rock grandeur of "DEMIGODS" segues into the jittery techno of "HATEFUL" (co-written with Spanish EBSM artist Sierra) and the merciless gabber-thrash of "CRACK METAL." "CHILDREN OF SORROW" (with guitar from Lamb of God's Willie Adler) and "SICKO" (which samples Godflesh's "Like Rats") slink with '90s goth menace. "ASHAMED" is corrupted R&B pop, while "DSM-V" is for peak time at the blood rave.

Born in the heady grime of downtown L.A.'s noise scene, singer-guitarist Jake Duzsik, bassist-producer John Famiglietti and drummer BJ Miller set out to be divisive as they sliced bare fragments of songs out of backfiring guitar pedals. But by 2009's GET COLOR, everyone knew this band was something different.

They played major global festivals like Coachella and Primavera Sound, and after a brief detour to score the groundbreaking Rockstar games title Max Payne 3, they returned in 2015 with the long-awaited DEATH MAGIC.

That LP fully harnessed digital production tools, grafted into their shrieking noise and avant-garde soundscapes. The album became an entry point for a new generation of fans, finding an audience as easily in goth clubs as in bedroom production studios.

2019's VOL.4 :: SLAVES OF FEAR won over heavy music fans with its thrash riffs dissolving into ambient melancholy and hip hop beats, while the lockdown era, two-part DISCO4 fully explored collaborative songwriting with peers from across metal, rap, electronic, and indie rock.

This long and willfully unconventional career arc has coalesced in RAT WARS. They are, at last, a band that is comfortable with their own uncomfortableness.

Pixel Grip
Pixel grip is resolute yet variable. The Chicago-based trio takes inspiration from the dimly-lit stages they dominate and the deepest realms of the human experience.
Over the last four years, the band has traversed the depths of the North American underground scene, selling out clubs and winning over fans with their indelible live performances.
The group's sophomore album 'ARENA' was a 10 track exploring avant pop, EBM, and minimal wave [May 21, 2021] released via Feeltrip Records. The album's pounding dance rhythms were inspired by the group's shows supporting their 2019 debut Heavy Handed: "being in an audience of freaks, queers, fetish people, all in the same room sweating together, and we all knew our purpose, and we were manic and arrogant," vocalist Rita Lukea says.
Lukea and bandmates Jonathan Freund and Tyler Ommen used crowded clubs as inspiration for refining ARENA during the pandemic that cut off safe socializing. The group conceived of nightlife as a respite from the titular arena, the combative conditions of everyday life. "My head is also an arena," Lukea says. "Swinging from mania to depression, struggling with my body image and eating disorders, addiction, anxiety, and gender confusion. When you are different, you don't have a seat at anyone's table. The ARENA album is me saying fuck your table."
Pixel Grip's songs confront wealth disparity, mental illness, and gun violence alike with over-stimulated confidence, audible in the relentless beats, Lukea's vocals, and the purrs of guest vocalist and trans icon MONĀE on "Demon Chaser". "Don't play this album in your car unless you're ready to get into a car accident," Ommen jokes.
The palpable tension throughout the album culminates in the gentle release of closer "Double Vision," written while Lukea was feeling sophisticated dressed in loafers and a silk shirt. If the bulk of ARENA takes place in the post-apocalyptic nightclub of your dreams, "Double Vision" is the sound of leaving the city and losing yourself in the blinding light of the desert - until night falls and you feel the urge to return to a dark club. ARENA is meant to be screamed along with at maximum volume, in anticipation of the day Pixel Grip can overpower a crowd full of freaks all over again.