AEG Presents
Twin Temple
with VOWWS
Mar, 5 @
7:00 pm
( Doors:

7:00 pm

)
Majestic Theatre
All Ages
$22.50 Adv./ $25 Day of
All Ages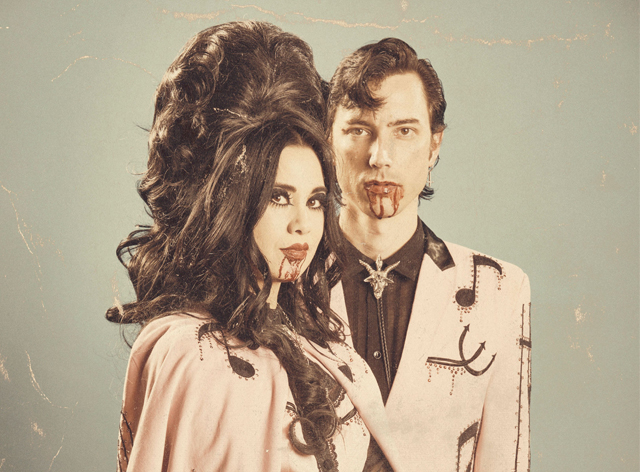 Additional Info
Artist Presale:
Wed. November 15 @ 10am - Thu. November 16 @ 10pm
Majestic Presale:
Thu. November 16 @ 10am - 10pm
Public On sale:
Fri. November 17 @ 10am
The Crane Mezzanine
• Exclusive views of the Majestic stage
• Private Lounge style seating
• Early venue access before doors
• Private Restroom
• Private Bar
• Complimentary Coat Check
• Includes a GA ticket to the show
• Limited Availability
Artists
Twin Temple
Everybody knows that the Devil has all the best tunes. From Robert Johnson selling his soul at the crossroads to the blood-soaked black metal of Norway, Satan has long loomed large over the music world, striking fear into the hearts of the sanctimonious. But nothing that has gone before will prepare you for the arrival of Twin Temple: Los Angeles' one and only purveyors of Satanic Doo-Wop. Devout Satanists and meticulous preservers of rock'n'roll's ancient, timeless spirit, this black-clad and effortlessly stylish duo have created a sound that blends their Satanic ideology with the irresistible sass and melody of classic '50s and '60s rock 'n'roll. The result is Twin Temple (Bring You Their Signature Sound…Satanic Doo-Wop), a debut album that not only serves to salute the Dark One, but also delivers some of the catchiest and coolest music to emerge from any genre in years.

"It's really just a reflection of everything we love," explains vocalist Alexandra James. "We've always loved rock 'n' roll, especially from the golden era of American music, but we're also Satanists and study the Occult. We both practice magick. It was just a crazy idea– 'Why can't you love Roy Orbison and hail Satan at the same time?' Satanism has been relegated to the metal scene for so long, but we are Satanists and listen to The Platters and Buddy Holly, you know? We love metal too, but this is a reflection of who we are as people. This record was something we wanted to create for ourselves… we were happy to see that it resonated with other people out there, too."

Originally released independently by the band and limited to a suitably malevolent 666 vinyl copies & given a full release on Rise Above in Spring 2019, Twin Temple's debut is so beautifully conceived and executed that it sounds like a long, lost classic from the '60s, unearthed in some dusty studio vault. With Alexandra's soulful but siren-like voice and partner Zachary James' dazzling, authentic arrangements, songs like The Devil (Didn't Make Me Do It) and I'm Wicked pledge their allegiance to Satan in the most bizarrely accessible and infectious of ways. Bolstered by plenty of analogue hiss and a devotion to old school recording techniques, it's an album that brings the band's unique and enlightened take on Satanism to vivid, vital life.

"Something we're sick of is all the overproduced records," says Alexandra. "It just takes the soul out of music. With this record, we wanted to get rid of all of that. We looked at how all our heroes made records in the '50s and '60s. They weren't even mixing in stereo back then, so that's why we made the record in mono. We did everything, including the vocals, live to tape. We went in the studio, played the songs two or three times and chose the best takes. The whole record was done in a day and a half. It has a rawness to it because we wanted to capture the human element, instead of overproducing everything. Perfect is boring."

With a Satanic philosophy that prizes individualism, respect, equality and defiance, Twin Temple are intuitively in tune with rock'n'roll's integral outcast culture, even if the fiendishly seditious sound of Alexandra singing enticingly about Sex Magick may make more than few music critics and unsuspecting punters spit their coffee across the room. Ultimately, this transgressive act of musical mischief is as subversive as it gets in this age of societal division, insidious ignorance and empty hostility.

"To us, there is a connection between Satanism and rock 'n' roll – they're both very much defined by transgression, rejection of societal norms and a fierce sense of individualism and outsider culture," Alexandra avows. "Historically, American rock 'n' roll played an integral role in social justice and equality. In the face of racist Jim Crow laws of the south & segregation, you had black and white teenagers dancing together at the Frankie Lymon shows. This was about social change, about breaking down boundaries and all oppressive norms of the old guard. In our minds, vintage rock'n'roll, doo-wop and Satanism go hand in hand. But at the same time, we recognize that it's not the most likely of pairings!"

It seems the Devil's best tunes are in safe hands. Hail Twin Temple. Hail Satan!

-Dom Lawson

VOWWS
VOWWS are an Australian Death Pop duo, based in Los Angeles. Their work explores existential angst and longing, feeding on a diet of pop culture, cinema and fashion, all while fleeting in and out of the collective unconscious.

On their first two records, 2015's The Great Sun and 2018's Under the World, VOWWS honed a unique approach to songwriting and production. The duo are most comfortable outside of genre norms, defying expectations - unexpected left turns, lilting melodic hooks, swaggering beats and atmospheric soundscapes all combine to create a world like no other. This DIY, multi-disciplinary approach also extends to the band's visual work, which both inspires, and is inspired by, the music.

Their unique world has won them some distinguished musical collaborators including Deftones frontman Chino Moreno, Chelsea Wolfe, and Gary Numan. VOWWS have also scored multiple high profile fashion campaigns and runway shows, including an in-person performance at Paris Fashion Week for iconic brand Comme Des Garçons, plus performances and compositions for Dover Street Market, Maison Margiela, Alyx, and Byredo, among others.

VOWWS have toured extensively, most recently in support of Deftones and Gojira on their North American arena tour. They have also toured with The Cult, White Lies, Poppy, Cold Cave and Billy Howerdel, as well as an 18-date headlining European tour.

VOWWS are currently finalizing their 3rd full length album, which is set for release in 2024.