Beach Goth Tour 2018
The Growlers
with Kirin J Callinan
Oct, 5 @
7:00 pm
( Doors:

7:00 pm

)
Majestic Theatre
All Ages
$25 Adv./ $30 Day of
All Ages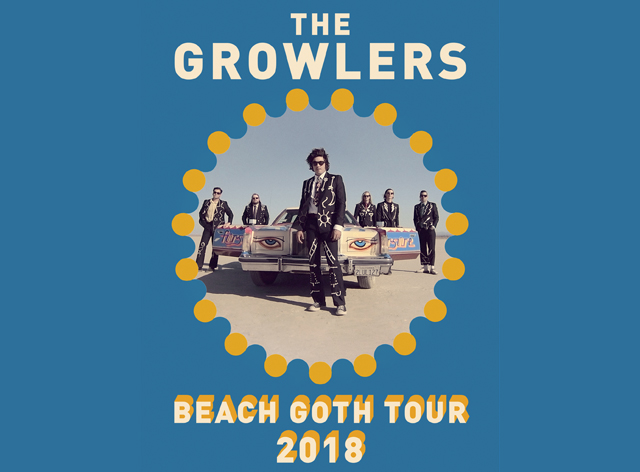 Artists
The Growlers
Since the release of their first LP Are​ You In or Out? In​ 2009, The Growlers​ have forged their own twisted path on the global music scene. They're the party band that grew into a traveling circus of psychedelia that spawned their own event, Beach Goth. Lead singer Brooks Nielsen draws a particular devotion among Growlers fans, as does chief cohort Matt Taylor, The Growlers' music director and chief guitarist. Their most recent LP was 2016's City​ Club,​ produced by Julian Casablancas, which saw them expand their palette to include West African, dance, and electronic influences. The band is currently in the studio with Jonathan Rado (Foxygen) and Shawn Everett (The War On Drugs) and preparing for their Beach Goth World Tour 2018.
Kirin J Callinan
Bravado album forward by Roy Molloy ~ saxophonist, friend &
business partner of Mr Alex Cameron; with touches from Al
Cam himself.
It's 2017, and as a fresh tide of Australian acts froth across the
world, charming international audiences with their rough & ready
style, we have a major source to credit with that Australian brand
of obscene confidence so frequently on display. Kirin J Callinan.
It's fair of you to wonder where a man like Kirin J comes from.
What mix of lust and love, violence and tenderness; what strange
turn of events lead to this apparition riding into town?
Kirin is an Australian Man. He's heat shimmer on a road and
waves white against ocean blue. Built like an amateur boxer, long
and strong, and dressed like a toreador. Tiger blood and a dick like
a chair leg. Drinks salt water and holds eye contact after offering
you a sip.
This is a man who could have settled for a life of patronized
excess. Been a kept man on any continent on earth. Lying
poolside, skin browned, slick with sun oil, a drink in hand, fucking
some poor shmo's grandmother and living like a prince.
And yet he's here, stood on a stage at midnight, surrounded by
drunks. A fantasy creature existing firm in reality. And when he
takes to his guitar, flanked by amplifiers, girt by Boss, cables
growing and spreading like vines from out around him; he
produces sounds at once captivating and beautiful for their
violence and creativity. It's hard to explain the feeling. The tension
in your heart. The strange, sexy feeling you get from peeling
a banana. Melodies make you wince at their pure creativity. Euro
trash is another man's treasure. Beyond pastiche. Sonically out
amongst the corpses and flying bullets; not stooped in the
trenches. A man on the front line.
Kirin J Callinan is an apex predator. A butterfly. A grassfire. A
beautiful baby boy wandered curious into the gun safe. You're
listening to something very specific when you're hearing Kirin J
express himself. And you're right to be wondering if this mania, this
insanity, this total abandon exists within all of us.