Devil's Night
Fright Fest 2018
with Twiztid, Motionless In White
Oct, 30 @
6:00 pm
( Doors:

6:00 pm

)
Majestic Theatre
All Ages
$25 Early Bird / $30 / $35 DOS
All Ages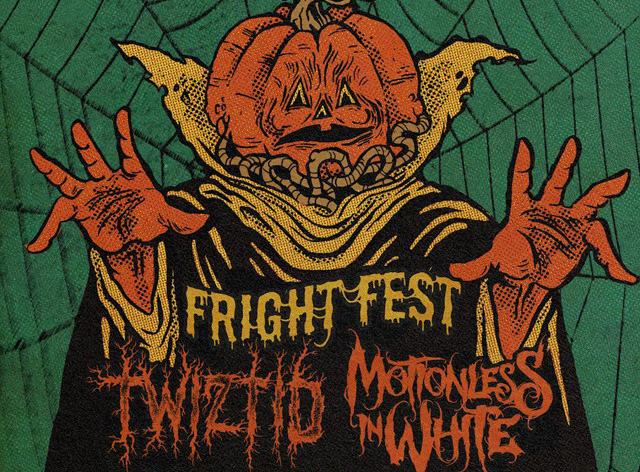 Artists
Twiztid
Since forming in 1997, Twiztid have changed the face of music, redefining the relationship between rap and metal while pushing the limits of lyrical creativity. By remaining true to underground culture, they have built an international movement: Despite receiving little mainstream airplay, every album they've released has reached the Billboard album chart. Nevertheless, in 2012, the duo, comprised of the rappers Monoxide and Jamie Madrox, left Psychopathic Records to begin a new chapter. Now, for the first time in the career, they have true independence.
Things have moved fast. In 2014, Twiztid formed a label of their own, Majik Ninja Entertainment, and it now includes underground favorites like Blaze and Boondox alongside rising stars like Young Wicked and G-Mo Skee.
"We have artists that are killing it in every different type of music," says Madrox. "We're keeping alive these old ideas that other motherfuckers let go to the wayside, and at the same time, we're offering a whole bunch of new type of flavor as well. We're putting out stuff that makes you say, 'Damn, that's what it's about!'"
Twiztid have become experts in the art of releasing records. Now they're using what they've learned to guide the next generation of underground talent. But this isn't limited to music—Majik Ninja is on its way to becoming an independent conglomerate worthy of Tyler Perry. "Music is just the kickstart," says Monoxide. "Five years from now we might not even be talking about a Twiztid record. We'll be talking about the movies we're making, and the other artists on Majik Ninja."
At the moment, however, there's still time for the studio, and the duo has more to say than ever. In January, Twiztid released a new album, The Continuous Evilution of Life's ?'s, to widespread acclaim, debuting at Number Two on Billboard's Rap Albums chart. One listen reveals why: This is one of the most energetic releases of the band's career, pushing the pedal on a furious sound that recalls fan favorites like Mutant (Vol. 2).
Fans and critics have pointed to the record's amplified metal influence, but Monoxide takes a more nuanced approach. "As far as talent—song structuring, songwriting—I think this album encompasses everything from where we started to where we are now," he says. "There is metal, but to me it's 75 percent a rap record. Only now we've found a way to encompass both worlds without it being forced." He laughs as he considers the accomplishment. "We actually got good at it!"
"This album is pissed off," says Madrox. "That's what rock is really about."
Twiztid was formed in Detoit—Detroit proper—in 1997. They released their first album, Mostasteless, in 1999, and followed with their legendary Freek Show LP, which contained the single "We Don't Die," in 2000. All 11 of the group's albums have reached the Billboard album chart. W.I.C.K.E.D., released in 2009, peaked at Number 11, making it the biggest independent release in the country.
Twiztid left Psychopathic Records in 2012, and they independently released their A New Nightmare EP in 2013. Underground Australia would name it the best album of year, making it the first EP ever to win the award. They released their first album on Majik Ninja, The Darkness, in January of 2015. It too won Underground's album of the year poll.
The group has collaborated with rappers like Three 6 Mafia, E-40 and Tech N9ne, and scored deals with Island and Def Jam. "Lyor Cohen pulled us into his office as was like 'You two motherfuckers can rap,'" remembers Monoxide.
Outside of music, they've co-starred in the movies Big Money Hustlas and Big Money Rustlas. Their radio show, Ashtrays & Action Figures, has expanded Majik Ninja's reach into podcasts and digital media. Never compromising their integrity, they've remained on the cutting edge of music for 20 years and counting.
"We're the epitome of the underground," says Methric. "There's nothing in the world like us, and our entire record label is built on that principle, promoting other artists who are like that too. We saw a lane open up, and we were like, 'That's it. This is our calling.'"
What does it mean for a group like Twiztid to remain underground in 2017, especially after so many years of success?
"For us being underground means continuing to be what made you true—staying true to that," says Monoxide. "We don't have to worry about anyone taking our songs off the radio. We don't have to worry about TV not playing our videos. Because we control everything. We found a way to survive without it."
"But make no mistake," adds Madrox, "if they want to put us on TV and see what it's like to be inside of our world, we still might show y'all."
Motionless In White
An industrial city situated in Northeastern Pennsylvania, you could say Scranton quietly prides itself on a tried-and-true Rust Belt blue-collar work ethic.
For their fourth full-length album and first for Roadrunner Records Graveyard Shift, Motionless In White—Chris Motionless [Vocals], Ricky Horror [Guitar], Ryan Sitkowski [Guitar], Ghost [Bass], and Vinny Mauro [Drums]—dug into the roots of their hometown's pervasive attitude.
"We're a band that came out of the small town blue-collar spirit," affirms Chris. "We put ten years into growing this and working hard to do what we love the most. We look forward to putting in another ten. Both the area we come from and the fan base brought us to this point. Graveyard Shift is all about that work ethic. It's been instilled in us. Early on, we realized if you give the time and effort to chase a dream, it's possible to achieve it by the sheer amount of drive and passion you have."
Since 2006, that ethos has fueled Motionless In White's rise to the upper echelon of modern rock. Albums such as 2010's Creatures and Infamous in 2012 would galvanize a rabid fan base around the quintet. During 2014, Reincarnate reached new heights, bowing at #9 on the Billboard Top 200 and claiming #1 on Billboard's Top Rock Albums Chart. The title track and lead single turned into a Top 20 Active Rock smash and notched 13.2 million YouTube views and 9.8 million Spotify streams. Simultaneously, they have shared stages alongside everyone from Slipknot, Korn, and Breaking Benjamin to A Day To Remember and Marilyn Manson in addition to making arresting festival appearances at Warped Tour, Aftershock, Rock On The Range, Rock Allegiance, and beyond.
In 2016, they entered a Los Angeles studio with producer and longtime collaborator Drew Fulk [Emmure, Crown The Empire] to record what would become Graveyard Shift.
"It was all about writing bigger, better, and more refined songs," exclaims the frontman. "On Reincarnate, we felt like we had discovered our true identity. This record wasn't so much centered on experimentation as it was on refinement. In the past, I feel like I always placed the vocals second to music. This time, there was a focus on trying to make sure the vocals had their big moments. That was a major key in really making Graveyard Shift separate from all of the other albums. I haven't really been able to look back at anything I would've done differently or something I didn't feel like I put my whole heart into here. I just feel incredibly confident about everything on the record."
Motionless In White introduced this latest body of work with the galloping gut punch of "570"—the area code of Scranton and something of an homage to home. In less than three months, it amassed 3.1 million Spotify streams and amplified anticipation for the full-length's impending arrival.
"Last summer, I had the opportunity to meet with a lot of fans on Warped Tour and have some very intense, personal, and deep discussions," recalls Chris. "I walked away from these meetings feeling energized. Whether the conversations were dark or uplifting, I was ready to approach anything in my way with how I felt afterwards. Our current single, 'LOUD,' is a direct result of that energy. I wanted to encourage people to feel the same way. It's definitely one of the more powerful and inspirational messages on the album."
Throughout its 12 tracks, Graveyard Shift weaves together various personal vignettes. From embracing one's dark side on "Necessary Evil" [feat. Jonathan Davis] to the hypnotic and humorous ode to Danny Elfman's influential body of work, "Not My Type (Dead As Fuck 2)," the record remains unpredictable at every turn. "Eternally Yours" signals a first for the group.
"It's our first true love song," Chris goes on. "There was a very poetic and romantic approach. That's something, as a lyricist, I have been trying to explore more of within myself over the past few albums. It's a special song for all of us."
Scranton plays a subtle role in the overarching narrative itself. Chris can recall finding early inspiration in the city's once fertile music scene, which slowly dissipated over the years. At the same time, he and his bandmates have transported that energy worldwide with Graveyard Shift.
"I like to think we're taking our favorite traits of this area on the road and showing the rest of the world what Scranton created out of all that great camaraderie, those friendships, and the memories," he says. "We all come from the same spot. It's something I think many people all over the world can identify with. We're not content to just sit still and let life happen. We want to show you can take the initiative, go out there, and make a difference for yourself. That rings throughout all of the songs and speaks to the true meaning of Graveyard Shift."
Ultimately, Motionless In White have the power to electrify a new love for rock music in the process.
"We're quite a simple band in terms of our intent," he leaves off. "Turn off your head, detach from reality, listen to the music, and enjoy the songs. That's what we're encouraging. We want to give people something to latch on to away from life's bullshit. I hope they walk away feeling their love for music was either restored or upheld."