AEG Presents
EELS
with The Inspector Cluzo
Apr, 26 @
6:30 pm
( Doors:

6:30 pm

)
Majestic Theatre
All Ages
$35 Adv./ $40 Day of
All Ages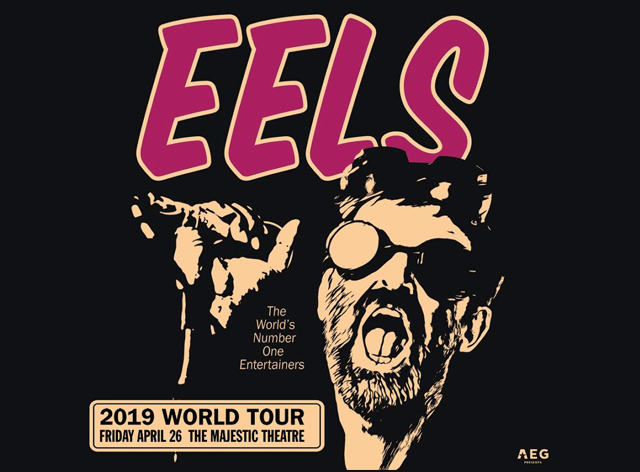 Artists
EELS
We could do the usual record company "bio" about this new record, but, seriously...who gives a fuck? The world is a mess. This is just music. Music by someone who tends to believe that change starts in your own backyard. I'm just optimistic enough to believe that kind of thing can still help people. It doesn't have any answers, other than maybe that there is no answer, the dust never settles, everything is out of control, etc. But it offers this: you can make changes. Thus, you can change the world. Right? Maybe if there's anything we have any true control over, it's how we see things. There's a song about that here. The "our" of "In Our Cathedral" is the collective "our" — all of us. Your point of view. As the great Roger Miller once said, "You can't roller skate in a buffalo herd, but you can be happy if you've a mind to." He said it better than I did. The other thing we can do while everything's such a mess is just try to be kind. Why not? We all have bad days, but why not put in the effort whenever possible? Nobody has it easy, however their story may appear from a distance. So why not try to be nice? Starting with yourself. That's a nice change for the world right there. Good things will grow out of that. There are some songs along those lines here as well. I've been through some stuff, but I'm no expert. I'm trying to dead reckon my way same as anyone. I'm really just talking to myself here, looking for what's really there under all the defenses. But maybe it could help you too? Or: Fuck all this jibber jabber and see if you like this new record! Here are 15 new EELS tracks that may or may not inspire, rock, or not rock you. The world is going nuts. But if you look for it, there is still great beauty to be found. Sometimes you don't even have to look for it. Other times you have to try to make it yourself. And then there are times you have to tear something apart to find something beautiful inside.
The Inspector Cluzo
Americans have just the right words to describe songs of the land -- they call them country music, and folk music – 'music of the country' and 'music of the people'. In the Gascony region that gave the Americans a few of its illustrious hot heads – the Cadillac family for example, The Inspector Cluzo plays their kind of country music, their kind of folk music – a sort of folk music, if you like, but not at all folksy – it's much too electric and furious for that. In any case, nothing would be more unfair than to try to put these raging ambassadors – Laurent Lacrouts and Mathieu Jourdain – into a charming folklore box. It is easy to see that they are one of a kind, they don't
hold back. They live a double life like you read about in novels – six months on the farm, taking care of their geese and ducks, their stubborn goat, growing corn – then six months on the road all over the world -- guts and 'foie gras'. The Inspector Cluzo is proud of their heritage – they learned their lesson from a godfather that gave them the urge to abandon promising careers as overqualified scientists, in order to work on the land. They are both proud and eager to represent their region and their local traditions, but they don't want to fall into the category of being a local band. Their land is where Laurent and Mathieu share ideas, blow off steam, learn and discover things – that's their stage, their natural habitat where they relentlessly go about their daily unpretentious routine. But they've got another land – and that is wherever people are – people they meet and talk with from Japan to South America. Their big plot of land is the world – people and places -- to visit, to explore. Their smaller plot of land is Lou Casse, their farm in the Landes, in the southwest of France – that's where their physical labor allows them to break away from the incessant brain hyperactivity – 24/7 -- anytime, day or night, you can receive an email from these guys who are bothered by what you might think is a small detail, or awakened by what may seem to be a trivial thing. As the Americans say, idle hands are the devil's workshop. But that's how these guys do to create their music and prepare their concerts, cleverly hiding behind their genuine good-natured nonchalance. Music of the people, music of the earth – boots caked with mud and blues . . . Every concert is played with a full display of celebration – every concert is a victory for these two guys – these self- proclaimed Rock Farmers – Gentlemen Farmers also because of their old-style manners and courtesy – and for their respect for the old way of doing things. This is also what connects them to the roots of soul and blues – but electrified by a fiery spirit of urgency, by fury and anger. «Bring the animals in before the storm» – it's an old farmer's adage - it's farmer logic. During their concerts, The Inspector Cluzo creates a sort of mantra, fully charged with high decibels, finishing their concerts dripping with sweat – exhausted but alive, fully alive. As their neighbor, Daniel Ducournau says in the Rockfarmer documentary, 'There's always room for a chapel next to the cathedral' He's talking about agriculture, but that goes for general culture as well. The Inspector Cluzo is free and independant, because Laurent and Mathieu are free and independant -- They don't listen to those who give orders. They are their own label, their own editor, their own manager, their own agent – and they've found that they can get along very well without a bass player. It's their level of thriftiness – on a human scale. Here drums, guitar and voice is all they need to write universal music – a rough sort of blues, with the force of revolt and passion. During one of our visits when we went to see the group at their farm, Lou Casse, Mathieu summed it up: «There's an activist side to what we do – it's our independance as musicians and as farmers – we are here because of our convictions – far away from the glossy image of rock stars. It's all so logical – the practical side comes from our training in physics – we always want things to balance out. You find it in the way peasants live». The Inspector Cluzo's new album, that celebrates their ten years as a duo, is called 'We the People of the Soil'. «It's a song but it's also a story about the earth – our Earth – it's the message we keep trying to spread – Never cut yourself off from the earth -- never lose your connection with the soil».