AEG Presents
The Interrupters
with Skinny Lister, Sharp/Shock
Nov, 9 @
7:00 pm
( Doors:

7:00 pm

)
Majestic Theatre
All Ages
$25 Adv./ $30 Day of
All Ages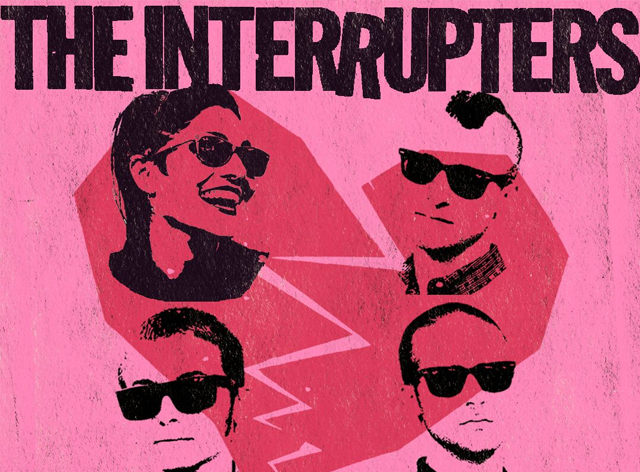 Artists
The Interrupters
Formed in 2011, The Interrupters got together soon after the Bivona brothers' former band appeared on bills with Aimee during a 2009 tour. With their self-titled debut arriving in 2014, the band soon shared stages with bands like Rancid, Blink 182 & Bad Religion. In support of their second album - Say It Out Loud, they toured all around the world headlining their own shows as well as supporting Green Day in Europe, Australia and South America.

The follow-up to Say It Out Loud, Fight the Good Fight finds The Interrupters delivering their two-tone-inspired, powerfully melodic, punk-fueled sound with more vitality than ever before. Working with Rancid frontman and Grammy Award-winning producer Tim Armstrong (who's now produced all their albums) and Grammy Award-winning mixer Tom Lord-Alge, Aimee and the Bivona brothers channeled that raw energy in part by recording almost entirely to tape. Garnering critical and commercial success with singles 'She's Kerosene' and 'Gave You Everything', The Interrupters continue their forward momentum into 2019.

Skinny Lister
As music fans we're only ever given fragments of lives well lived, and we scrabble vicariously through them. Skinny Lister, though, have really given us as much as they can since 2009, passing the growing flagon of their experiences with every album and tour. They've led an endless parade gathering fans old and new, from the respected folk circuit to the riotous Download Festival, igniting pogoing mosh-pits at each. Over the past ten years they've travelled from rain-soaked London to the vast arteries of the USA, upgrading from narrow boat to Salty Dog Cruise, played huge tours across Europe and North America with Frank Turner, Dropkick Murphys and Flogging Molly as well as headlining themselves across festivals, sweatboxes and ever-larger venues.

Sharp/Shock
Have you ever heard the inarguable sound of what materializes when you let fate direct the future? What if that sound was influenced by twenty years of British and American punk cultures colliding? For the members of Sharp Shock, growing up with the bands that defined music with an honesty and passion that can be rarely found in modern times, cleared a very obvious path for what they wanted to do with their own lives. Sometimes in music, the storybook tale of determination, sacrifice and despair can be thrown around hastily. To some, those three things describe a reality that very few can truly understand, and for the members of Sharp Shock, they are only a few attributes that make up their unique story.
Having all played in bands from a young age, the work ethic it takes to move your life around the world just isn't something that most people possess. Playing in garages to arenas and back again, sleeping on floors and in vans for the better part of the last fifteen years, they found their way to Southern California and were pushed only by that dream so many end up letting slip away.
Singer/Guitarist Davey Warsop (Beat Union, Suedehead) and bass player/vocals Dan Smith (The Dear & Departed) are UK exports. Smith by way of New Zealand and also widely known for his achievement in the tattoo world, they both moved to California in the early 2000's without knowing each other. Korey Kingston (The Aggrolites/Suedehead), a San Diegan drummer raised on a healthy diet of Reggae, Ska and a West Coast view on that same upbringing, would end up completing this trio perfectly. Despite their different geographical beginnings, they quickly realized they were all very much from the same place. "The timing couldn't have been better" says Smith. "As the story goes, both myself and Korey reached out to Davey by way of text message, coincidentally within a minute of each other, suggesting we start something. We hadn't even met, so i think Davey saw that as some kind of synchronicity, perhaps too much of a coincidence for him to ignore. Then before we knew it, we were already in the studio recording".
It was only a matter of time before the hiatus they were all experiencing and this coincidence would essentially bring them together. Musically, it is exactly what you might expect kids schooled early on The Jam and Stiff Little Fingers would sound like. Then, submerse that in the sun drenched beach cities of Southern Californian surf,skate and punk culture and the sounds of The Descendents or early Green Day and you will find Sharp Shock. The way the band formed can only be described as organic and after some time away from playing and being rather disheartened with the machine of the music industry and not knowing where they fit in, they all agreed to take much more of a DIY approach this time. Warsop, having produced and engineered countless records over the years at Hurley studios shortly after moving to the US, was a key piece in the productivity of self producing the debut album. "We tracked the majority of this record live, to keep the performances honest and fun. Like our name suggests, we're trying to keep everything about this band direct and to the point. From the songwriting being short and snappy, to us being a trio…we don't want to overcomplicate anything." says Warsop. Sharp Shock had their first record under their belt within a very short amount of time and it would be no surprise if a second wasn't too far away. "This feels like it did when i was covering my favorite bands in my garage as a kid. We are doing only what we know…and doing it from the heart" say Smith.
Unlearn Everything will be released via Heart & Skull Records this summer.