AEG Presents
Freddie Gibbs
with Album of the Year Tour, Cousin Stizz, Benny the Butcher
Nov, 14 @
7:00 pm
( Doors:

7:00 pm

)
Majestic Theatre
All Ages
$25 Adv./ $30 Day of
All Ages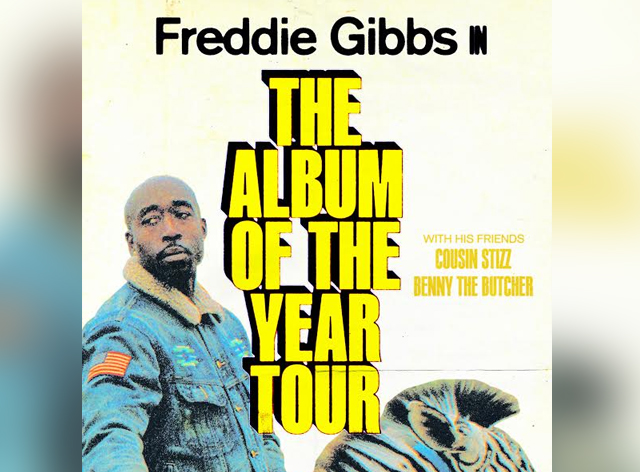 Additional Info
Album of the Year VIP Meet & Greet Package:
•One general admission ticket
•Exclusive meet & greet with Freddie Gibbs
•Personal photograph with Freddie Gibbs
•Specially designed Freddie Gibbs dice set
•Collectible Freddie Gibbs 'bandana' (exclusive to VIP package only)
•Official meet & greet laminate
•Limited availability
Contact
INFO@FUTURE-BEAT.COM
with any questions concerning VIP
Artists
Cousin Stizz
27-year-old Boston bred rapper Cousin Stizz is cementing himself as one of the top up-and-comers in hip-hop. Born and raised in a rough part of Boston's Dorchester neighborhood, Stizz was forced to mature quickly. At the age of 13, Stizz was faced with a harsh reality when his close friend was killed by a gunshot wound, causing Stizz to misbehave. His mother then had to give him an ultimatum; he could either attend military school or high school in the suburbs to stay out of trouble. Stizz chose the latter, which served as both a huge culture shock and turning point in his life. While there, Cousin Stizz learned a lot about himself and how to adapt to others and his different surroundings. His schooling and experiences, which he calls the best four years of his life, greatly helped to shape his musical journey.

As a teenager, Cousin Stizz enjoyed freestyling and liked to rap for fun, but didn't think much about making it a life career until his friend Michael Christmas started to become popular in the hip hop community. With the inspiration from his friend's success, he owed it to himself and his family and friends to take his talent seriously and started recording music. This led to the release of his first mixtape Suffolk County in June 2015, which has received over 12 million listens on SoundCloud alone. He followed up his debut mixtape with MONDA, a mixtape dedicated to and named after his good friend who passed away from cancer. His RCA label debut, 2017's One Night Only, proved to be worthy of all the anticipation with features from some of the biggest names in hip-hop like Offset and G-Eazy. He now follows that up with Trying To Find My Next Thrill. With guest appearances from City Girls, Smino, Freddie Gibbs and more, TTFMNT tells the story of Stizz's rise out of Boston to present-day – the newly found fame and the trials and tribulations that have morphed over time, but still exist as memories from the past both haunt him and inspire progress.

Benny the Butcher
Benny The Butcherknew by the age of ten that he wanted to be involved with music. He self-released his mixtapes in the late 2000s asB.E.N.N.Y., including The Mayor's Back andChains Bond.In 2014, Westside Gunn founded Griselda Records, through which Benny, Conway and Westside Gunn would self-release their own projects. In 2016, Benny released his album titled My First Brick followed by the mixtape Butcher on Steroids with DJ Green Lantern in 2017.March 3, 2017, Griselda Records signed a deal with Eminem's Shady Records, a subsidiary of Interscope.On November 23, 2018, he released his album Tana Talk 3, produced byThe Alchemistand Griselda associateDaringer, and includes features from Westside Gunn, Conway and Royce da 5'9". The album was critically acclaimed and he began to gain widespread attention.On June 21, 2019, he released the extended play The Plugs I Met, which includes guest appearances from Black Thought, Pusha T, 38 Spesh, Jadakiss, and Conway The Machine.On August 6, it was announced that Benny signed a management deal with Roc Nation.