AEG Presents
The Pineapple Thief
with Gavin Harrison, Special Guests
May, 13 @
7:00 pm
( Doors:

7:00 pm

)
Majestic Theatre
All Ages
$35 Adv./ $40 Day of
All Ages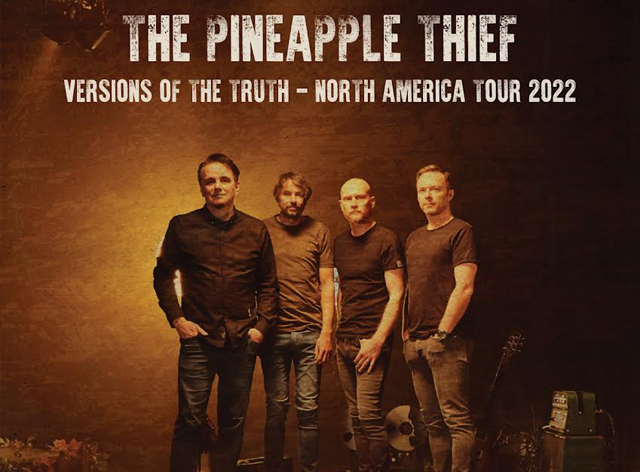 Additional Info
All attendees will be required to show proof of a negative COVID-19 test within 72 hours of the event OR proof of full COVID-19 vaccination for entry. Negative tests must be lab-administered; at-home tests are not accepted. Full vaccination means 14 days or more have passed since the attendee has received a single-dose vaccine or the second dose in a two-dose series. Acceptable vaccination documentation may be a physical copy of a COVID-19 Vaccination Record Card, a digital copy of such card or such other proof as is permitted locally.


Artists
The Pineapple Thief
For Bruce Soord, there's a quote that sums up Versions Of The Truth, the stunning new album from his band The Pineapple Thief. It comes from The Leopard, Giuseppe Tomasi di Lampedusa's 1958 novel about political ambition and personal upheaval in 19th century Sicily:

'... a fact has scarcely happened five minutes before its genuine kernel has vanished, been camouflaged, embellished, disfigured, squashed, annihilated by imagination and self-interest; shame, fear, generosity, malice, opportunism, charity, all the passions, good as well as evil, fling themselves onto the fact and tear it to pieces; very soon it has vanished altogether'

Giuseppe Tomasi di Lampedusa wrote those words more than 60 years ago but for Soord they are more pertinent than ever. From the political to the personal, from world leaders to personal friends and enemies, truth is more than just a malleable commodity – it's a weapon in the hands of whoever wields it.
That blurring between the real and the perceived, between meaning and intent, is the idea behind Versions Of The Truth. It's an album that holds up a mirror to the chaos and conflict of 21st-century life and tries to make sense of the distorted reflections that gaze back at it. The title says it all: this is the soundtrack for a post-truth world.
"When you have conflict, the truth gets bent and kicked around, the facts get changed," says Bruce Soord. "That's why people argue or get divorced or fight – because nobody can agree on what the truth is. That idea of different versions of the truth especially applies to the world we're living in right now. All these things are happening where nobody has any idea of what the real truth of anything is because everything is so distorted."
What has emerged stands as The Pineapple Thief's finest album yet. It takes the creative and commercial triumphs of their last two albums, 2016's breakthrough Your Wilderness and its follow-up Dissolution and magnifies them. Musically bold and lyrically thought-provoking, this is the sound of a band determined to push themselves forward.
"You strive to make something different with every album," says Soord. "We didn't want to make another Dissolution. We didn't want to make another Your Wilderness. We wanted something that sounded different, yet still sounded like The Pineapple Thief."

"I think our sound has evolved, and these new songs are more to the point," adds drummer Gavin Harrison.
Inspired by the success of Dissolution, which gave TPT their first UK Top 40 album, as well as the birth of his baby daughter, Soord began working on music for the band's next album. "Four or five" songs emerged from this burst of creativity, the very first track of which was the album's lead single "Demons", a track whose deceptively upbeat sound masks a deep well of emotion and darkness.
"I've never written a song that has that kind of playful, bouncy vibe, but with such dark lyrics," says Soord. "At a certain point the song breaks down and it suddenly dawns: 'Hold on, this is a really dark song.' It's one of the most direct songs in terms of sentiment: the older you get, the more demons are idling in your closet, and you have to learn to live with them."

As Soord continued writing, he began bouncing ideas off Gavin Harrison, the former Porcupine Tree/King Crimson drummer who joined The Pineapple Thief in 2014.