AEG Presents
Aurora
with Sub Urban
May, 28 @
8:00 pm
( Doors:

8:00 pm

)
Majestic Theatre
All Ages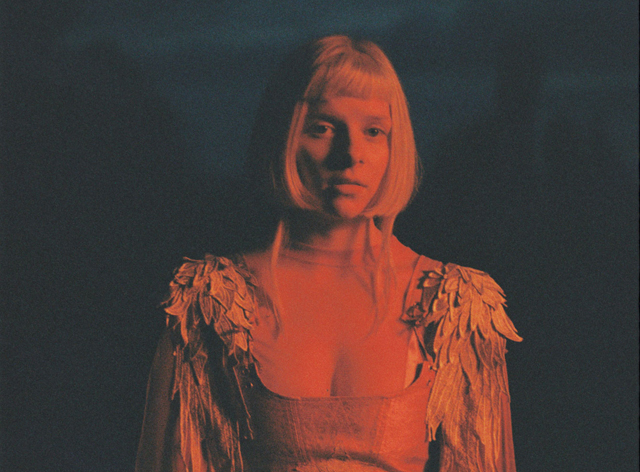 Additional Info
All attendees agree to follow venue policies (including health and safety policies) and posted instructions while at the venue. According to the CDC, older adults and people of all ages with serious underlying medical conditions may be at higher risk of death or severe illness from COVID-19. All attendees should evaluate their risk in determining whether to attend the event. By entering the venue, attendees voluntarily assume all risks related to exposure to COVID-19 and confirm that they will adhere to local quarantine mandates and the CDC quarantine requirements, available
here
.
https://www.majesticdetroit.com/theatre-health-policy
Artists
Aurora
Every time I make an album I feel like I know why I'm here," smiles beloved-to-millions singer, songwriter, unexpected TikTok sensation and omnipresent pop enigma Aurora. "There are so many dark forces roaming around the earth but music can be such a beam of light, if you allow it to be."

In a world so beautifully overrun by multifaceted pop artists, Aurora leads the pack. Admired by many of her peers — from Billie Eilish, Troye Sivan and Doja Cat to Katy Perry and Shawn Mendes — there's a strong case to be made for Aurora being your favourite popstar's favourite popstar. You know Aurora, even if you don't know Aurora. So yes, that was Aurora's face beaming out into the darkness during the Chemical Brothers' 2019 Glastonbury headline slot, but yes that was also Aurora's voice on 2015's John Lewis Christmas ad. There she was at the 2020 Oscars, performing her contribution to Frozen 2's pivotal track Into The Unknown, but there she also was at Coachella and at Lollapalooza, and across all those US talkshows, and that's her music on millions of TikToks and, well, you get the idea. "I suppose I am a diverse human being," she laughs. "But then, I think all people are, deep down. I just do what I want. I'm like an animal sometimes — to be honest most of the time I relate to the animals more than humans."

In 2019, approximately 48 hours after she released the second instalment of her two-part second album A Different Kind Of Human, Aurora started thinking about her next release. "Making music is my favourite thing to do," she reasons, "so why should I not do it all the time?" Except this time her thinking was a bit different. She thought about extremism, the creation of enemies and moral superiority; false good and false evil. She thought about religion and then she thought about the concept of shame. "I couldn't get past the sadness of how much shame is afflicted on us, just for being human," she remembers today. "Shame for natural urges, and natural things. Shame that's been so hurtful for so many groups of people. We beg forgiveness for not being perfectly divine, even if in many ways we are, actually, quite perfect."

She went to Australia and wrote Cure For Me, a song about unshackling from shame. It made her think of Panacea, the Greek goddess of remedy. Something was starting to make sense. "I realised my first album All My Demons Greeting Me As A Friend was very internal: its message was, if you're having pain, accept that pain and be with it. The second albums were about how, once you've mended yourself, you can look outwards and see if you can do something for the world." Now what if, Aurora wondered, her third album completed some sort of triptych? What if, after looking inward, then outward, she now looked skyward?

"And that," Aurora says, in the way that only Aurora can really say it, "is when I rented a castle." She chose Rosendal, a structure surrounded by mountains, to record the rest of the album. The result is The Gods We Can Touch, an elegant but provocative album about shame, desire and morality, seen through the narrative prism of greek mythology. In each of the album's songs we meet a different god. On Exist For Love, it's Aphrodite; with Everything Matters it's Atlas; God of endurance. We also meet Persephone, queen of the damned (on Heathens), Morpheus (This Could Be A Dream) and Peitho, the personification of seduction and persuasion (A Dangerous Thing). "The Greeks had gods and goddesses for everything," Aurora notes. "For anxiety, for wine, for sex… Long ago when this concept of gods and goddesses started they were more human, more relatable, and almost touchable. Most importantly, they had flaws."

It's through those perceived flaws in even gods and goddesses that Aurora has been able to explore the redundant concept of shame. "In short, this album is a celebration of the things we should never be ashamed of," she adds. In the middle of it all we find core values like instinct, empathy and a sense of adventure. We also find acceptance, in Aurora's words, "of what makes us different."

Giving In To Love, one of the album's key songs, celebrates that difference. "It's about not letting yourself be distracted by the demands of the world, and not forgetting what makes you divine," she says. "There are so many factors in the world today that make it extremely hard to be human. Most of those things that affect our mental health and, and self image and our pride." She mentions Prometheus, the Greek god of fire who created humanity from clay. "Giving In To Love," she says, "is about seeing the value of the fire that we keep within us."

Growing up surrounded by forests and mountains near Bergen, Norway, Aurora first felt the compulsion to sit alone and create at six years old; by the time she was twelve she'd written Runaway, a song that would later receive a full release and, later still and thousands of miles away, inspire another twelve-year-old, Billie Eilish, to make her own music. "I didn't understand where the melodies or words came from," Aurora admits. "I used words whose meanings I didn't even know. But I knew I felt good. And I couldn't stop. It's been all-consuming ever since. Sometimes I struggle to find meaning in anything else, because nothing else can compare."

Aurora's success happened quite by accident. When a local performance was posted online Aurora, still just 15 years old, was tracked down by an impressed manager, who asked if she wanted to be an artist. Her response was instant: no. "I didn't see any point in becoming an artist; that's not that was driving me," she remembers. But when she realised she could become an artist without jettisoning her individuality or her strength of spirit, that no turned into a yes. And since 2015 that yes has turned into platinum discs, a million album sales and a billion streams.

And surprises along the way. The Gods We Can Touch was originally planned for a slightly earlier release, then an unexpected TikTok trend brought Runaway to a whole new global audience meaning that six years after release and 14 years after it was first written, Runaway was clocking up 300m daily views. "I find it as refreshing as it is surprising," she says now. "Sometimes there are forces bigger than us, urging us to change our habits and plans. I just let the world go where it wants to and take my music where it wants to take it." With Runaway's success complicating her album's planned release date, Aurora embraced the situation and wrote two extra songs: Giving In To Love, which became pivotal to the album's essence, plus You Keep Me Crawling, a song about powerplay and relationship dynamics. "I'd been trying to explain the soul of this album," she says, "and when I made You Keep Me Crawling it felt like the last word. After I had written it, I wasn't hungry for more. I felt like I was satisfied."

When you hear The Gods We Can Touch you'll realise the story, spectacular as the last six years has been, is only just getting started. The album finds Aurora reunited with longterm producer Magnus Skylstad, and this time she's also pulled together a carefully-curated cast of collaborators: from guitarist Fredrik Svabø, to previous collaborator Askjell Solstrand on piano, to French singer songwriter Pomme (who contributed French translations to Everything Matters), and renowned bandoneon player Per Arne Glorvigen on, well, bandoneon. A lot of what you'll hear on the album, from instrumental contributions to Aurora's own vocals on songs like Artemis and Exist For Love, are first takes. "It's just that kind of album," Aurora smiles. "That's the energy I wanted." The spontaneity of the recordings combines with the painstakingly constructed thematic elements to conjure an intoxicating album that's somehow both immediate and timeless. It sounds a lot like an album that was made in a castle.

Aurora recalls that when she arrived at Rosendal and began converting its old stable into a recording studio, she noticed the beauty of the nearby forests. "The leaves on the trees were the most wonderful colours," she remembers. "By the time we left, with the album finished, the trees were naked and it was snowing."

Something had changed. Something in the trees that had enveloped the recording sessions, for sure, but for Aurora herself something else had shifted. "With every album I try to figure out what music means to people and why it's so important," she says. "I ask myself: 'What would people wish to hear right now? What words do they need to hear? What could do good?'" In answering that question, she's recorded an album that celebrates how spectacular each of us can be, by reminding us how unspectacular we also are.

"It's easy to make people believe they're crazy, and it's scary how quickly we can believe it," she says, returning to the album's central theme of shame. "We're told we're not normal. But we are. We're so very, brilliantly normal."